Supporting Your Social Media Manager in an Impossible Job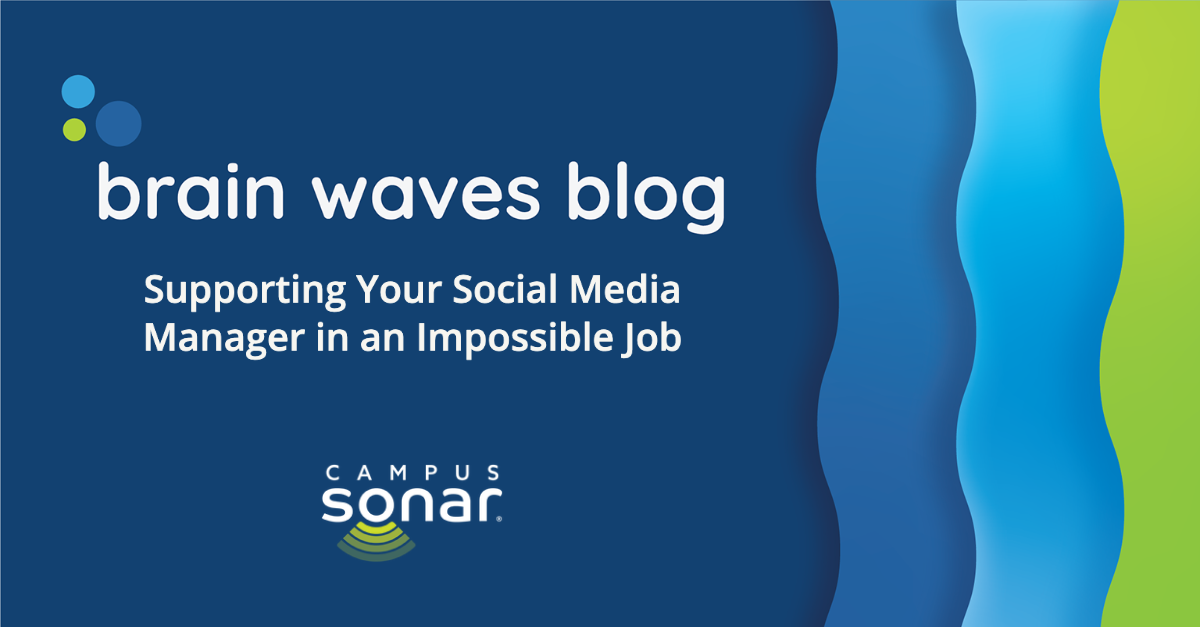 Your campus social media manager's job is never done. They're on call 24/7, very few people understand exactly what they do all day, and their talent and expertise are regularly dismissed by colleagues and the general public. Often they're not appropriately compensated for their skills, overtime hours, and the comments and DMs they monitor and respond to may hurt personally even if they're not meant for them.
On the flip side, they also have moments of pure joy when they make a valuable connection with their audience through content or conversation, when they can tie their work to an enrolled student or fundraising goal met, and when they gather with industry colleagues at professional events. They also feel that given the right support and enough time, they could take the campus to places they hadn't imagined.
"With every new channel that is added to a social media manager's list of duties, so is a list of required skills," says Jon-Stephen Stansel, former higher ed social media manager who focuses on saying things louder for the folks in the back. "Facebook and Twitter required us to become community managers. Instagram required us to become photographers and graphic designers. TikTok required us to become videographers and even on-camera talent. And all these skills are on top of the basic understanding of marketing strategy, social listening, and an overall understanding of the higher ed industry."
"We're past the point where the job can be done by a single person." Jon-Stephen Stansel, Director of Social Media at Chaotic Good Studios
Social Media Management Is a Team Effort
You can provide the support and resources your team needs to not just survive, but thrive in this important role for your institution. Start with understanding what high-profile, high-potential communication channel social media is. Encourage your team to approach their work in this manner and help your campus leadership (and others) recognize the value and impact of the work. Here are some more ways you can offer support.
Staff an appropriately sized team.
A key area of support is making sure they have the resources they need. That starts with staffing an appropriately sized team for your goals. It's a common theme among higher ed social media professionals that there aren't enough people allocated to do the work, particularly when they're managing flagship accounts and institutional social media strategy.
A full-time person is able to fill their time and more in this role even on the smallest campus. If you have a more sophisticated social media strategy or larger community you might need to dedicate a team of three or more to this effort. In reality, most higher ed social media pros report being a team of one, or devoting only part of their time to social media. When it's only part of someone's role, it downplays the importance of this work and its part in your overall goals.
Also consider the numerous required skills for higher ed social media managers or strategists beyond the degrees they must hold. Hiring people with the right expertise is the first sign of support.
Encourage your team to cross-train so the social media managers aren't the only people who can do social listening/monitoring/responding. The best teams share the responsibility and know what social media managers do, even if it's not their primary role. This also helps if someone is out unexpectedly, leaves the position, or just needs a mental health break.
Supply your team with the required technology and equipment.
No matter the size of your team, they'll need certain software and equipment to build an effective strategy. Equipment includes a camera and video camera, along with a cell phone or tablet. Depending on your program and goals, software might include social media management, social listening (or a listening partner), design, and mobile apps.
Successful use of many software solutions—especially for social listening—requires time and training. We can help. Our experts can provide the data and insights your social media manager needs to align goals and strategy, saving them time and effort. Make sure you're securing the budget to get them the technology, equipment, and additional capacity they need to succeed.
Provide professional development for your team.
As Tony Dobies shares, social media managers need to be experts to be successful in building a strong foundation for their social media program. Professional development is essential for your team to grow and innovate over time. Regular face-to-face connections with experts in the field provide invaluable opportunities to learn from industry use-cases, stay up-to-date on current issues, and build valuable relationships that can blossom into daily development opportunities. Also consider what Jon-Stephen Stansel shares as everything social media managers need to keep on top of to stay relevant and effective in their role.
Include them at the decision-making table for crisis planning and management.
Your social media manager is on the front lines and may often be the first person aware of an impending crisis. Including them in crisis planning and mitigation shows the value of their unique perspective, but also keeps them informed, ensures proper dissemination of information, secures appropriate support, and more. Your social media managers have multiple roles during a crisis and ensuring their inclusion shows your support.
Foster collaboration and cohesiveness.
Provide your social media manager the freedom and flexibility to create a collaborative network with campus colleagues. This brings awareness to your goals across campus and establishes your team as a central part of strategy. Building connections also creates cross campus buy-in for your strategic messaging and minimizes brand fragmentation.
Collaboration within your team is just as important. Encourage other MarComm staff to consider social media in their content development planning. Make it part of your team's process to have the person who wrote an article always consider social media and provide captions or descriptions, even if the social media manager does the final drafting and editing. It saves time and makes sense that the people most familiar with the content shape the social posts.
Model self-care and encourage your team to do the same.
In 2021, West Virginia University surveyed social media managers about their mental health. On a scale of 1–10, their mental health was at 5.83 on a normal day and 4.15 during a crisis. While COVID is not at the same level it was in 2021, our industry research shows that many of the trends we've observed over the last three years remain consistent.
Given this, check in on your social media managers and provide them with the support they need. Model self-care in your own position as Jenny Petty (Chief Marketing and Communications Officer, University of Montana) shares, "Going back to self-reflection, you also need to display and role-model what it looks like to take care of yourself, because your teams are paying attention to that, too."
Empower them to engage and problem solve.
Part of a social media manager's job is to problem solve and remain calm under pressure. Support them as they work through unexpected challenges and pivot when things don't work out as planned. Effective social media managers engage and collaborate with all campus areas to tell their stories and achieve their goals. Encourage them to feel empowered and to set expectations for other staff who use social media on behalf of the campus.
Another way to support and empower your team is to bring professional development to them. Our workshop brings industry experts to your campus for in-person learning, strategizing, and planning to meet your campus's unique goals.
Strategy Workshop | Limited Sessions Available
Our industry-specific workshop provides your campus team with the the support, resources, and skills they need to level up their strategy and achieve your campus and team goals in the year ahead. They'll learn how to develop an outcomes-focused plan, increase capacity, and build relationships around a shared foundation of knowledge and collaboration.