Superhero Squad: Partnering with Campus Sonar to Achieve Niche and Meaningful Goals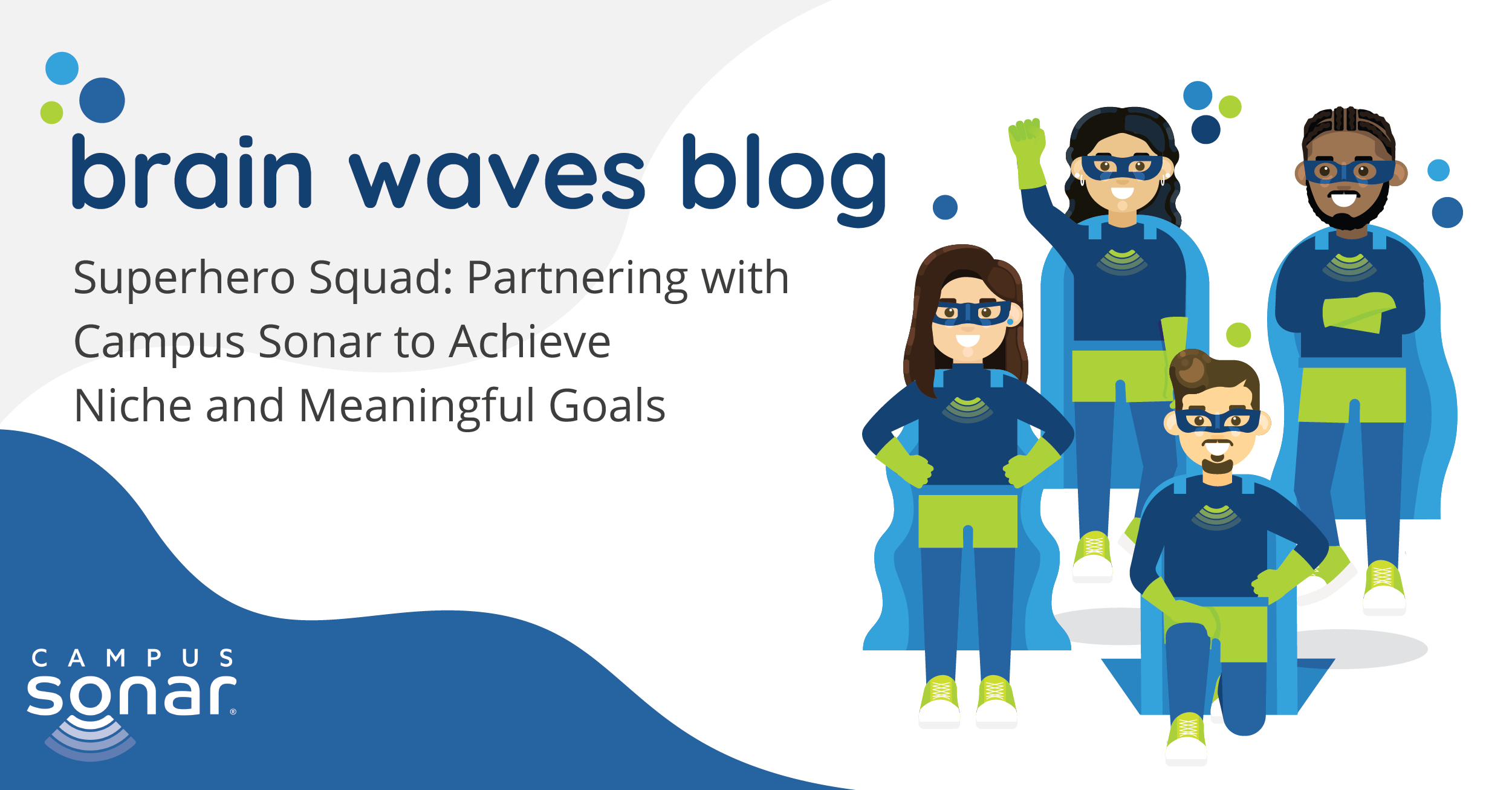 Batman and Robin. The Avengers. Link and Epona. The Fellowship of the Ring. X-Men. Harry, Ron, and Hermione. Aang, Katara, Toph, Sokka, and Appa.
These are lists of nerdy but amazing heroic duos and small teams that work together to achieve something meaningful.
Now, imagine adding to that epic list Campus Sonar and … whoever you are. Yeah, it tracks.
We may not be saving the world or rescuing a princess, but together we embark on a journey of discovery, storytelling, and strategy seeking.
When Campus Sonar partners with a client, we become an extension of your team dedicated to your success. We contribute to that success by providing continuous listening to online data—data we can segment (or isolate) to meet your needs. We do that so you don't have to spend your time on data collection, validation, and analysis. Instead, you can focus on strategies—specific strategies relative to certain topics or audiences that are backed in data.
Y'all, let's talk about why Campus Sonar is the Groot to your Rocket Raccoon.
The Dream Team
You've already seen examples of how partnering with Campus Sonar helps with brand and reputation, content strategy, and capacity building. You may have even read what a partnership entails.
Campus Sonar doesn't give a one-size-fits-all approach when it comes to partnership clients. We don't spit out identical weekly reports that simply regurgitate information our clients could find in a dashboard. No. We do so much more than that. We:
Listen to you and help identify your goals and pain points
Write a heckin' good query to capture the majority of the online mentions about your institution
Segment your data into meaningful categories for you and your team
Validate mentions to ensure the data populating your dashboards isn't irrelevant or spammy
Custom build dashboards to reflect the data that matters most to your goals and decision-making
Draft weekly or monthly summaries highlighting key points of information, along with deeper analysis and strategic insights so you and your team have what you need to succeed
As the client, you see this unfolding. What you don't see are the Slack channels dedicated to your accounts where there are almost constant conversations between your dedicated Analyst and Strategist discussing key mentions that emerge during listening, reviewing areas for client experience improvement, assessing trends over time, and so many other things.
We are literally in this with you. We are in it together.
We won't go over each of the bullet points above because we've already written about a few of them, such as queries and validation. Instead, let's focus on the importance of segmentation within these partnerships.
We touched on segmentation in the May 2021 newsletter, describing segmentation as a "superpower" and a differentiator between human and machine. Who wouldn't want to take advantage of understanding key audiences or topics, especially when they can have a critical impact on admissions, enrollment, advancement, or overall brand health? That's why we bake custom segmentation into our strategic partnerships.
Segmentation as a Superpower
While you won't usually hear someone say "data segmentation" in response to the question, "If you could have any superpower what would it be?," analysts around here have been overheard saying to total strangers, "I segment data. What's your superpower?" (Okay, they've never been overheard doing that … but I'm sure they sing it in their hearts as they type their custom Boolean strings).
Depending on the client needs, we may offer a few options for segmentation, such as built-in options related to admissions audiences (prospective and admitted students), alumni audiences (engagements on social or appearances in the news), or athletics mentions, or we may offer custom options. The custom options are … well … custom and depend on the client and their goals, whether it's tracking waitlist announcements, brand rollouts, or marketing campaigns.
In the last year, we've seen a focus on COVID-19, emerging crises, and diversity, equity, and inclusion as popular segments clients want to better understand. We've also seen campus name changes and other initiatives at the forefront of our client's minds. It's (almost) guaranteed that if you have a topic you want investigated, we can find it for you online.
In general, audience segmentation allows an institution to better understand a particular group of people (e.g., prospective students, admitted students, current students, alumni) and it can allow greater visibility into engagement opportunities within these groups. This knowledge and these connections help form deeper bonds between the institution and the individual!
Topic segmentation allows an institution to better understand a specific area of conversation occurring around their brand. This can be helpful to mitigate crises, keep the temperature on campus climate, or understand salient brand pillars in online conversation. Regardless, this knowledge arms an institution with the ability to be proactive and understand topics that matter to their constituents.
Analysts, ASSEMBLE!
Once a client selects their topics or audiences of interest, we brainiac analysts get to work understanding what the segmented data is supposed to represent, how that could come out in online data, and from that information we build a string of Boolean, test it, rewrite it, test it some more, and then run it. (If you're interested in the nuts and bolts behind this process, check out this blog post on codebooks).
If we're looking for a specific audience, we may use a combination of Boolean and our ability to search public-facing Twitter profiles for key pieces of information. Without giving it all away, wouldn't it be nice for you to better understand your alumni who graduated within the last four years? We can aggregate the online conversation from these individuals and identify trends and topics of interest for them. That is but one example of what we can do.
Once all of this is done and we're successfully parsing out key segments of data, it's not over. It's a partnership, after all. We continue to listen to your campus conversations and make small tweaks to our Boolean or approach to make sure we're still grabbing as much of the conversation around your identified segments as possible—and that the segments are correctly identified.
This is a continuous process. And we don't have to tell you why it's better to have a human at the wheel than simply a machine.
"We Are Groot"
We know you're busy, and we know resources can be limited. We also know that you care deeply about your institution and your students. You have specific goals in mind, things you'd love to learn about online conversation related to your institution, people you'd love to connect with online.
Let us help you. Let us join your mighty team, whether you're a team of one or a team of many. We'd love the opportunity to partner with you, find those niche topics or audiences you'd like to learn more about, and support your strategic journey.