How Clients Use Campus Sonar Partnerships: Content Strategy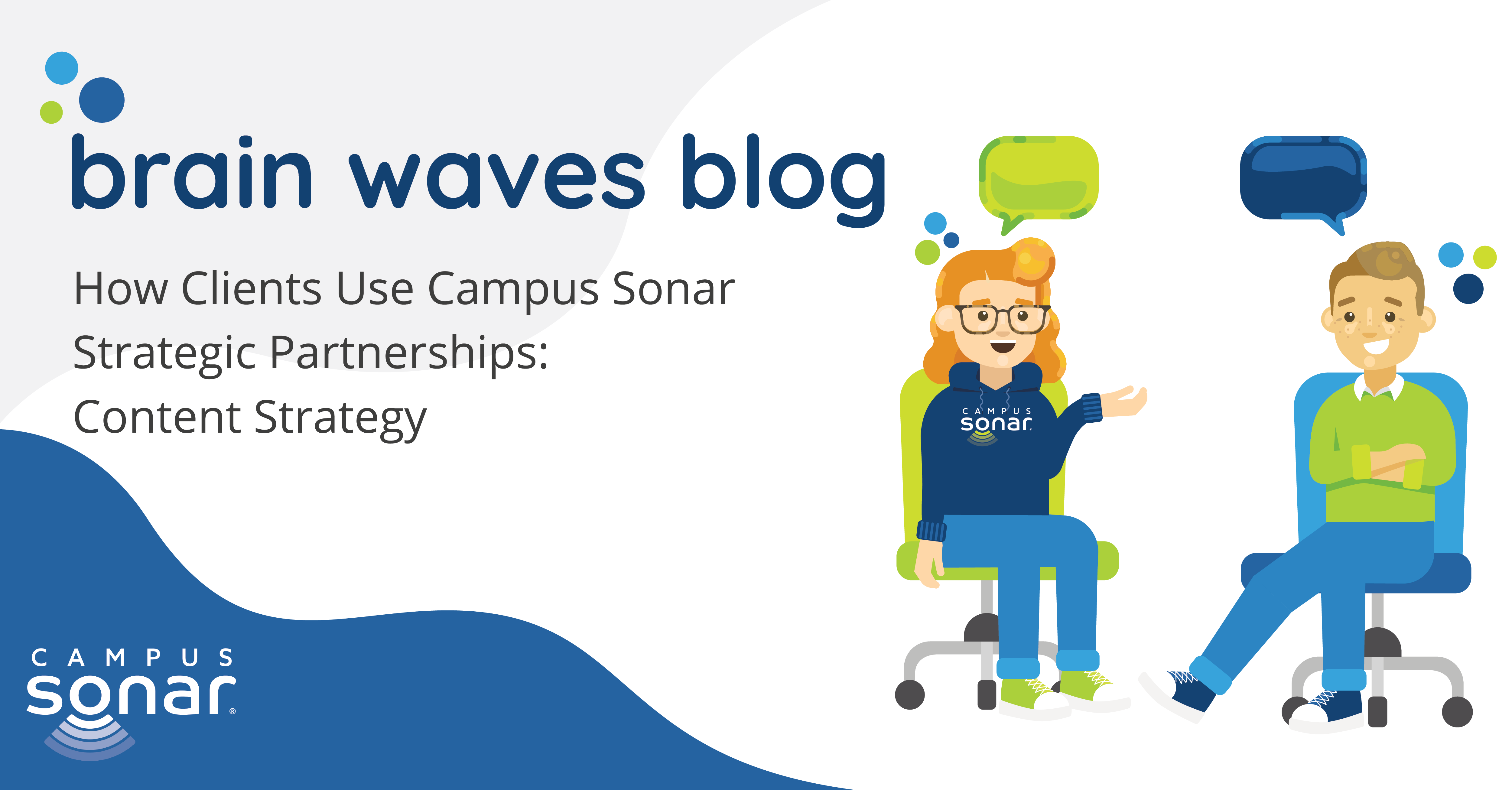 How would your marketing team shift its content strategy if you intimately understood the differences in how prospective, admitted, and current students talked about your campus? That's the question Tony Dobies, Senior Director of Marketing at West Virginia University (WVU), found himself asking in the fall of 2020.
In this article, we're sharing the second in a series of articles about how Strategic Partnership clients use Campus Sonar. If you missed our first article in this series, social listening for brand and reputation featuring BYU, read it here.
Now, back to Morgantown, West Virginia.
For some Campus Sonar clients, the goal of a Strategic Partnership isn't to engage in the practice of social listening—it's to engage in more strategic social listening. That was the case for Dobies and his team, who were previously listening via a Sprout Social subscription.
Having a software subscription allowed the WVU marketing team to capture plain-text mentions of the campus on social channels, as well as a few key aspects of their brand, like their socially active President. But surface-level software features, as well as limited internal bandwidth, meant WVU wasn't able to fully capitalize on social intelligence the way they wanted. For a team focused on tying every paid and organic marketing effort to bottom-line revenue, they knew higher quality social listening insights could make a quantifiable difference for their team.
WVU's Need and Pain Point
At the brand level, the WVU team noticed increased negativity on social media in recent years, so they wanted to rebuild the relationship with their audiences and win back their trust. At a more tactical level, the team wanted to use audience insights from social listening to inform paid advertising messaging with prospects. They also wanted to spend less time discovering meaningful mentions and more time engaging with their audience—a strength of the team.
The Results
Social listening segmentation—the ability to categorize and separate conversation based on author characteristics, words, or phrases included in an individual mention, or a combination of the two—means the team at WVU can analyze the earned conversation about their campus for each lifecycle stage separately, giving them clear insights that inform their social strategy for prospective and admitted students. Knowing when prospects and admits talk about them, the questions they ask, and who they're competing with allows WVU to craft messaging that resonates with their audience. And engaging with newly discovered mentions from prospects and admits allows them to support enrollment management through the admissions funnel.
They've also been able to better understand student concerns on campus, both in conversations shared amongst each other and directed at WVU. Insights around current students are less about understanding reach and engagement, and more about student pride points as well as where they feel less heard by the university. The latter intel directly addresses the team's desire to listen to and build trust with a key audience.
Hear from WVU
Tony Dobies, Senior Director of Marketing: "The quality of expertise and information you receive from Campus Sonar is unmatched. Not only will Sonarians give rich data, but they will provide much-needed context behind it—something most pieces of software just won't be able to do for you. We've always 'monitored' our accounts, but now we're 'listening,' too, and finding value in social media posts and comments we would've never known about in the past."
---
We're going to continue featuring stories of ways campuses use our Strategic Partnership.
If these use cases resonate with your campus needs, connect with our expert sales team.