How Clients Use Campus Sonar Strategic Partnerships: Brand and Reputation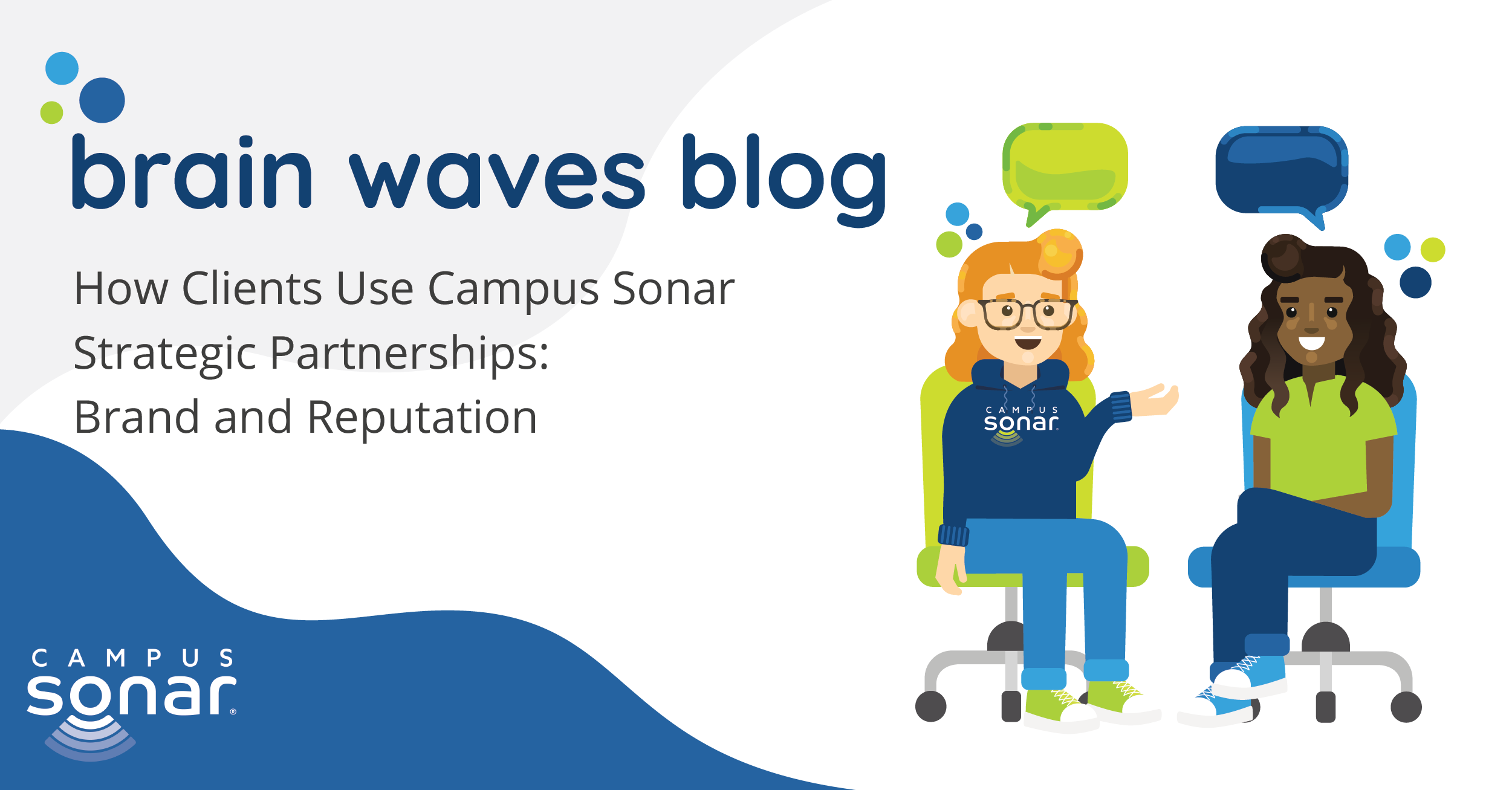 We see you. Yeah you, on campus. You've been following Campus Sonar since our founding in 2017. Maybe you saw Liz speak at a conference; maybe you listened to a podcast episode that featured a Sonarian. Or maybe a friend or colleague of yours told you to check out this new agency called Campus Sonar.
No matter the moment, you bought in. "Social listening seems important," you thought. "Every campus needs to be doing this," you said. But as you've followed along, you've struggled to pinpoint exactly how you might use social listening on your campus.
If that's you, that's okay. You're not alone. Social listening is full of potential. As our Research Manager Amber Sandall likes to say, "Anything is possible." But that's good and bad. Because the limitless nature of social listening can make it hard to identify how you might get the most value out of our expertise.
This blog post series is for you. Signing on with Campus Sonar for a Strategic Partnership is like adding a seasoned social listening expert for your team. We're talking custom reporting, tailored dashboards, and "wait you can really do that?" level conversation segmentations.
And while there are common themes among our clients, each one has a unique twist on their partnership. In the coming weeks, we'll share more stories in this series of the different ways campuses use our Strategic Partnership.
First up: brand and reputation.
In higher education, brand and reputation is everything. And, whether you like it or not, your reputation is in the hands of the general public. It's what is said about you, not to you, that affects your reputation.
Understanding the conversation about your brand gives you greater control and data to support your campus branding strategies and initiatives. And social listening provides you with this understanding. The challenge for many campuses arises when internal resources are spent on collecting and reporting on conversation, leaving little to no time to make strategic decisions based on the data collected. In essence, reporting becomes the end game, not the starting line.
Brigham Young University
That was the situation at Brigham Young University (BYU), where, despite software subscriptions to assist with listening, reporting was time-intensive and increasingly manual. There are more than 36,000 students enrolled at BYU, and the marketing and communications team isn't afraid to talk about difficult topics with them. But with so many students, nearly 400,000 living alumni, and increasingly popular Division I athletics, the volume of conversation taking place about the campus made it hard to find the signal through the noise. They needed a partner to focus on the details of the analysis so they could step back and focus on strategy. Enter Campus Sonar.
BYU's Need and Pain Point
BYU wanted to level up their brand and campaign strategies as well as identify and manage emerging issues. They also wanted to understand how their owned content resonated with current students specifically to inform their content strategy and increase engagement. The team lacked the in-house resources to support a sophisticated social listening program—when they had time to listen, they were focused on reporting rather than strategy.
The Results
When sensitive topics arise on campus—some common, like racial justice movements, and others more specific to the campus community—Campus Sonar is able to segment conversation, helping the team at BYU understand the scale of the issue, the share of voice of each issue within overall campus conversation, which audiences are driving that conversation, and where the conversation is taking place. BYU has 24/7 access to their conversation via their dashboards, and also receives timely reports summarizing online conversation. After one recent incident, the team at BYU made the decision to pause social publishing and dedicate their week solely to listening, with the goal of using their earned conversation to have productive conversations moving forward.
By segmenting current student conversation, we've made it easier for the team at BYU to spot student influencers, identify areas of pride and concern, and learn more about where student conversations surface online. Access to this specific area of conversation makes it easier for the team to make strategic decisions surrounding their content strategy and engage students even when they aren't directly tagged.
BYU's Response
Since we've been utilizing @CampusSonar at @BYU, we've been able to see some really interesting data surrounding athletic-vs.-non-athletic brand conversation. The volume is staggering.

Excited to see Steve's piece. These have been very top-of-mind considerations for me lately. https://t.co/gAWUORs43L

— Jon McBride (@jMcBee84) January 11, 2021
---
We're going to continue featuring stories of ways campuses use our Strategic Partnership.
If these use cases resonate with your campus needs, learn more from our service sheet or connect with our expert sales team.