When Students Become Storytellers: Students as Influencers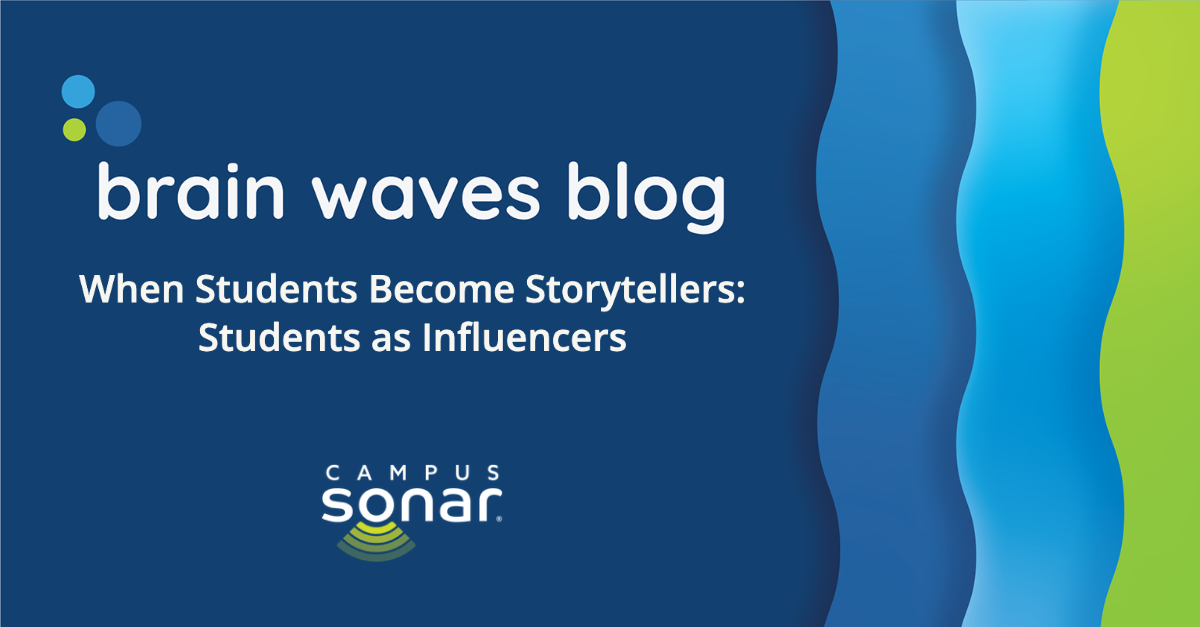 Getting social with students is more than sharing news and updates about the university via Facebook, Twitter, Instagram, and Snapchat. It's about creating content that resonates with prospective and current students. That's why we, as universities, need to turn to students to reach our target audience.At the University of Central Florida (UCF), we use influencer marketing through student social media ambassadors to create, collaborate, and distribute content on behalf of the university. By finding students who are eager and passionate about the university, we're able to reach a greater, more influential market of like-minded individuals and create authentic advocacy for campus.
The UCF Social Media Ambassador Program
To get build an influencer program, we created an application for students to become social media ambassadors. The application includes information about each student, such as their college, class year, and favorite social media platforms. Having an application was a good starting point, but then we questioned how to find influential students who are willing to publicly share their UCF experience with their followers.
When you're thinking about who you want to represent your brand on social media, you want someone who is trustworthy, active, and has a decent following. To find these students, we put a call out on our social media channels and asked students who reached out to us independently. But we also found students by searching keywords on YouTube, Instagram, and Twitter−looking for high quality images and videos. When we found students who fit our brand, we confirmed their class standing with admissions. That's how we stumbled across Sonali Prabhu, a then-sophomore who had more than 10,000 YouTube subscribers and was already creating content about UCF on her channel.
The UCF Partnership with Sonali
As a social media ambassador, Sonali collaborates with UCF to increase her personal brand awareness, as well as gain experience working with the Communications & Marketing office. This past spring, we started our YouTube vlog series The Campus Knights, which is made for students, by students. My interns ran the series, but during off weeks Sonali created and posted videos about UCF on her channel that aligned with our content calendar. For example, she posted a "Top 10 Study Spots" video and created a "Perks of Being a UCF Student" video for our channel. Her video leads viewers to our UCF account and our videos featuring Sonali link to her account, creating a mutually beneficial partnership. My team also collaborated with Sonali to create timely videos for The Campus Knights, such as tips on where to take graduation photos.
This month, Sonali was recruited as a Social Media Intern in our office and will lead the charge for The Campus Knights' YouTube series to assist in producing videos for this channel. We're in the process of creating her introduction video and planning out our content calendar to collaborate with other social media ambassadors and campus partners.
When we're searching for student ambassadors, we've learned to have no shame. Students who already work hard on their social media platforms love to know that the university found their profile interesting enough to be a part of something bigger. When we find a student we'd like to have on our team, we message them that we love their page and request that they fill out the ambassador program application−this works 99.9% of the time.
Benefits for the Ambassadors and UCF
What's in it for the students? Aside from exposure on the university's social media platforms, we offer referrals or letters of recommendation, the opportunity to learn and collaborate within the university's communications and marketing division, and the chance to participate in exclusive events. We've created a team of 15 members and keep in touch with them on a weekly basis through a GroupMe chat and a Google drive account where everyone shares their motives and personal goals. We've found that keeping consistent contact is key.
UCF Social Media Channels
We've also learned that it's important to understand our ambassadors' motives for working with us, so we make sure they benefit from the program. Most of our student ambassadors want to learn more about social media, grow their personal channels, and create good content. To help them, we set up Lunch 'n Learns and customized activities and goals that align with their motives.
Using social media ambassadors has helped increase our followers, raise brand awareness, and generate content at a higher volume. The more prospective and current students trust and believe our ambassadors and see similarities to themselves, the more effective our influencer marketing is. By growing a group of students now, we'll hopefully increase our enrollment rate and create positive brand awareness.