Using Online Reviews to Deliver Higher Education Insights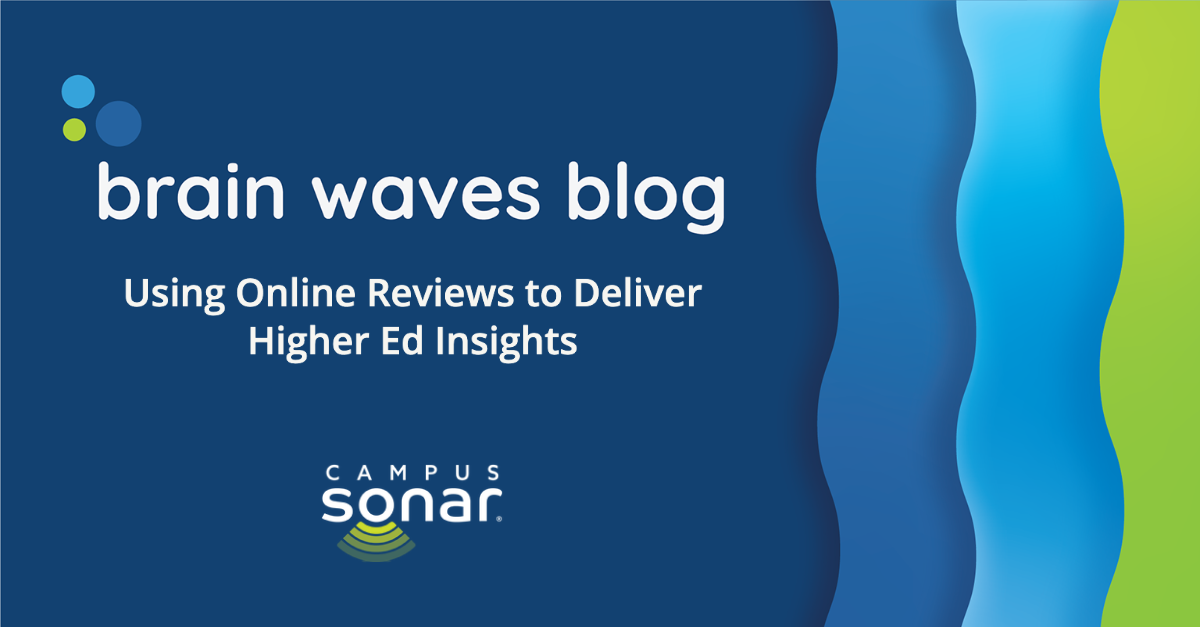 Sometimes when people hear social listening, they think that online analysis is limited to social sites like Twitter, Facebook, Instagram and Reddit. Luckily—for both analysts like myself and for our clients—that's not the case! As many colleges and universities earn reviews from prospective and current students, alumni, and parents on sites like College Confidential and Cappex, it's important to understand the picture these reviews paint of higher education institutions. Campus Sonar uses social listening to gather reviews from these sites and analyze both positive and negative comments. We capture the thoughts about a higher education institution from across the internet, which could include: the typical student, why others recommend (or don't recommend) it, opinions on academic programs and resources, or other trending topics from the cost of tuition to the food in the cafeteria.
Why Analyze Online Reviews?
Prospective and admitted students (as well as their parents) may have certain impressions of a school after reading the online reviews. Typically, the outcome of an online reviews analysis can help a college or university with efforts such as the following.
Adjusting brand research strategy to account for online sentiment.
Reviewing programs or processes that may be frustrating to students (and thus affecting retention).
Aligning marketing communications with positive, unknown brand attributes from reviews.
Assessing any other discrepancies between what school administrators believe the school is known for—and what online reviews report.
Online Reviews Analysis: A Case Study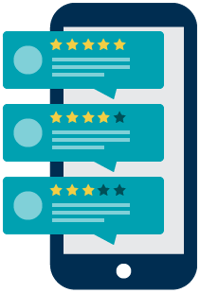 Recently, one of our clients was interested in understanding the online reviews about their institution. A private university in the Midwest, with approximately 3,000 undergraduate and graduate students, our client wanted to better understand what reviewers said about them online and have a general assessment of online reviews in order to inform their marketing strategy.
I created a social listening audience research plan to capture the school's online reviews, identified seven college review websites appropriate for this research effort, and outlined my methods to capture the reviews. Once I put my plan into action, I was happy to find that I captured reviews from approximately 100 individuals—a mix of prospective and current students, alumni, and parents over about 12 years.
Review Analysis and Insights
Whether you access the online reviews manually or with software, you'll have to tag (or code) each mention based on patterns that emerge. For example, as I analyzed the reviews for this client, they fell into clear buckets, such as descriptions of the typical student, why others should attend, academic rigor, and descriptions of the facilities, academic resources, and location. The insights I uncovered illustrate opportunities for the university to capitalize on their strengths—as identified by their current audiences.
Consistency between reviews. Overall, reviewers were consistent in their description of the typical student at the university, and why others should attend. Additionally, university marketing materials available online aligned with what reviewers shared about the school.


Prospective and current students value small classes. This was very clear in the review analysis, and consistent with the university's message to prospective students. However, I pointed out that many students value small classes because of the personal relationships they're able to develop (not for the sake of small classes). This insight could cause a shift in communications to prospective students, who might balk at the price of a private education, but ultimately want one-on-one relationships with instructors (something that larger, public institutions may not be able to offer).
Location may actually be a strength. It's clear the university highlighted campus safety features and processes in light of its proximity to a larger, urban city. What came as a surprise was that current students indicated that the proximity to a larger city was a selling point—they were able to enjoy the comfort and security of a rural campus and the benefits that a larger city brings for events, entertainment, and community involvement. This is an opportunity for the university to position their location as a strength for prospective students.
Additionally, I identified a few insights for the university to consider for additional investigation.
Student satisfaction with programs the university is well known for seemed to be low. The university's messaging emphasizes two undergraduate programs that they're typically known for. However, current students and alumni expressed some discontent about the impact of these programs and how they're run. While the sample size of this study wasn't statistically significant, this finding is something the university should investigate more. The potential discrepancy between programs they're known for—that they actively recruit for—and the actual student experience could cause problems now (with retention) and in the future (if and when another school offers similar, competitive programs).



The review analysis we received from Campus Sonar is incredibly rich… It reinforced some things we've been hearing students say about attitudes toward certain programs. We can't fix the fact that they're saying these things, but we have to know what they are.

—Director of University Marketing for Campus Sonar client
Cost of attendance and financial aid processes were reported as unclear and frustrating. Many students reported that it was unclear that tuition would increase every semester, and some found that the cost presented to them at the start of their program didn't mirror the amount they paid at graduation. Additionally, the process of getting financial aid was frustrating to most students. As a result, students, in their reviews, seemed disillusioned with the university and in some ways, felt duped. For long-term retention and recruitment purposes, this is an area I identified for the university to follow up on and assess current student sentiment.


The main campus is considered a "commuter campus," but students were able to describe many involvement opportunities. This discrepancy may be something for the university to look into further. If the idea that campus is solely for commuters continues to persist, the university may consider promoting the numerous involvement opportunities on campus—not only to entice prospective students, but also to encourage current students to get involved and support the idea that the campus is not just for commuters.
With the above insights from their online reviews (and a few others I didn't include) that I delivered through social listening research, our client is equipped to understand what people are saying about them online. The research supports strategic goals and should spark additional assessments on campus as appropriate, and inform our client's brand, outreach, and marketing strategies.
Don't miss a single post from Campus Sonar—subscribe to our monthly newsletter to get social listening news delivered right to your inbox.
The post Using Online Reviews to Deliver Higher Education Insights originally appeared on the Campus Sonar Brain Waves blog.