To Increase Social Media Engagement, Campuses Must Be More Engaging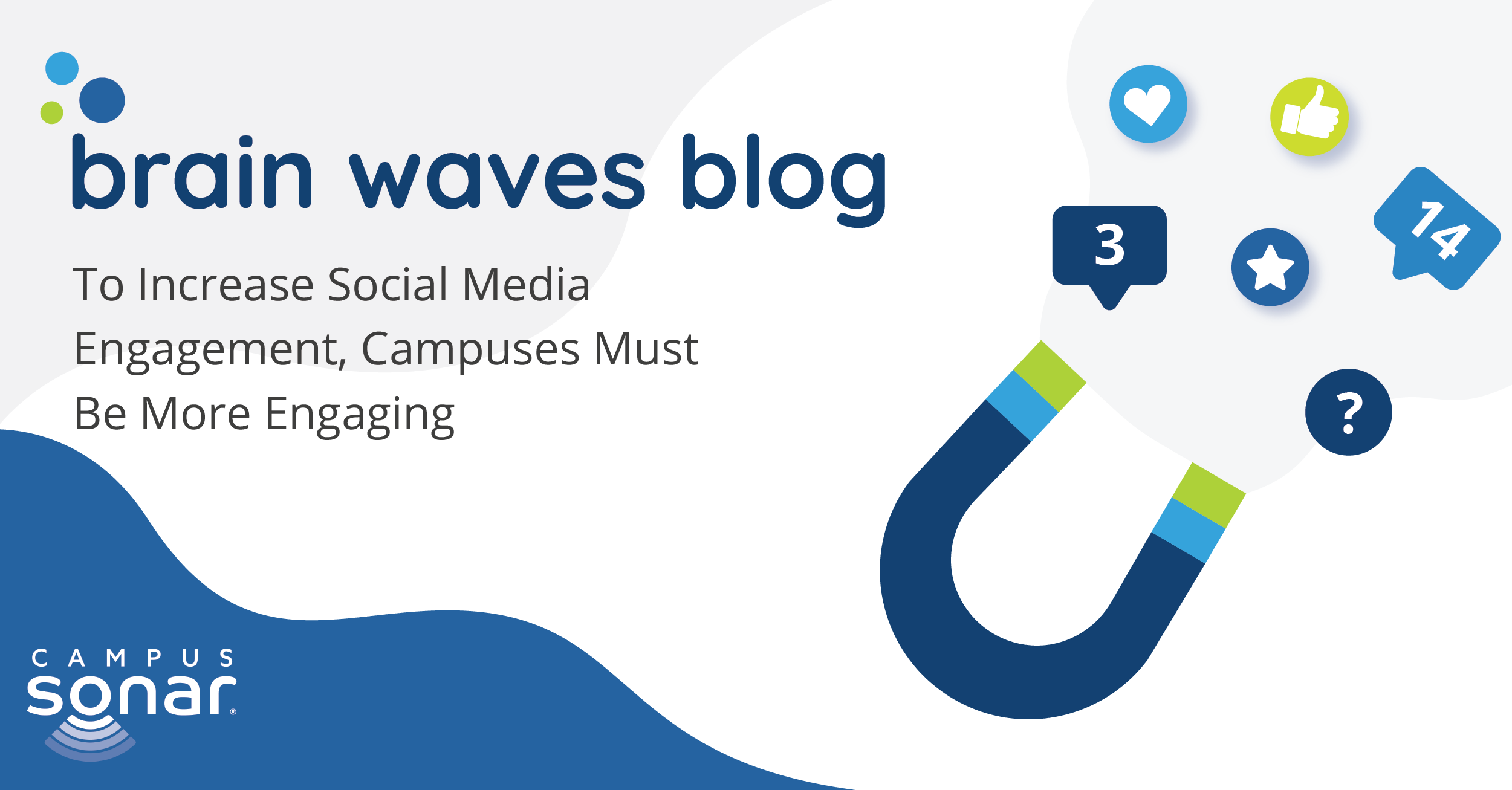 So you want to increase your social media engagement? I've got a hot tip that will outlast any algorithm change, meme trend, or "when to post" advice.
Be more engaging.
I'm not being dismissive. I'm serious.
In the quest to increase engagement, marketers focus almost exclusively on engagement rate; i.e., the percentage of people who see a post who interact with it. You post, your audience responds. If they don't respond with the fervor you were hoping for, you blame your content, the algorithm, the time you posted, or the size of your following. Then you go back to the drawing board to make your content more engaging. Or worse—you're pleased with your engagement rate so you never stop to think about what kinds of conversations you're having or what portion of your addressable audience is engaging with your posts.
You can stop this cycle by shifting the expectation of engagement from your audience to yourself. If your goal is to increase engagement (in order to improve retention, alumni giving, or something else related to your campus goals), your strategy should focus on what you can control, rather than hoping for the algorithm to smile upon your content.
Consider which of the following scenarios is most likely to happen so you achieve your goal.
You compel others to change their behavior with your engaging social media content.
You change your own behavior to find and engage with the people who matter to your campus.
When considering how engaging you are, most campuses have lots of room to grow. Replies (i.e., engaging with other accounts) are typically 1%–2% of owned content about 4-year campuses (the rest are individual posts and retweets/shares). This astounds me. I've seen some campus accounts go an entire year without replying to someone else. A reply is your opportunity to directly engage with an individual. Why aren't social media managers in higher ed replying more?
With a simple reply, you can:
Provide a timely response to a question
Congratulate a prospect, student, alumnus, or faculty/staff member on an achievement
Make someone feel seen
Encourage positive behaviors
Ask a question to gather feedback
Celebrate together
Make a connection to another person or resource
Set a small goal to be more engaging—try to post one reply for every five pieces of original content you publish. That should easily put you above the industry benchmarks. Find posts to reply to by monitoring mentions, conducting social listening, and checking in on your followers' feeds. You could be engaging on Twitter, Instagram, YouTube comments, TikTok, LinkedIn, Facebook, Tumblr, blog comments, and perhaps even Reddit.
While you may not have time to create branded content for each of these platforms, you should make time to engage proactively. The burden of increasing your engagement rate shouldn't fall to your audience you're expecting to engage more. Rather, you can take on the responsibility to be engaging and interact with your audience in ways that matter to them.
---
We share how engaging with your audience builds authentic relationships, including examples of opportunities and how to respond to them.