Higher Ed Social Media Professional Development: Blogs, Newsletters, and Conferences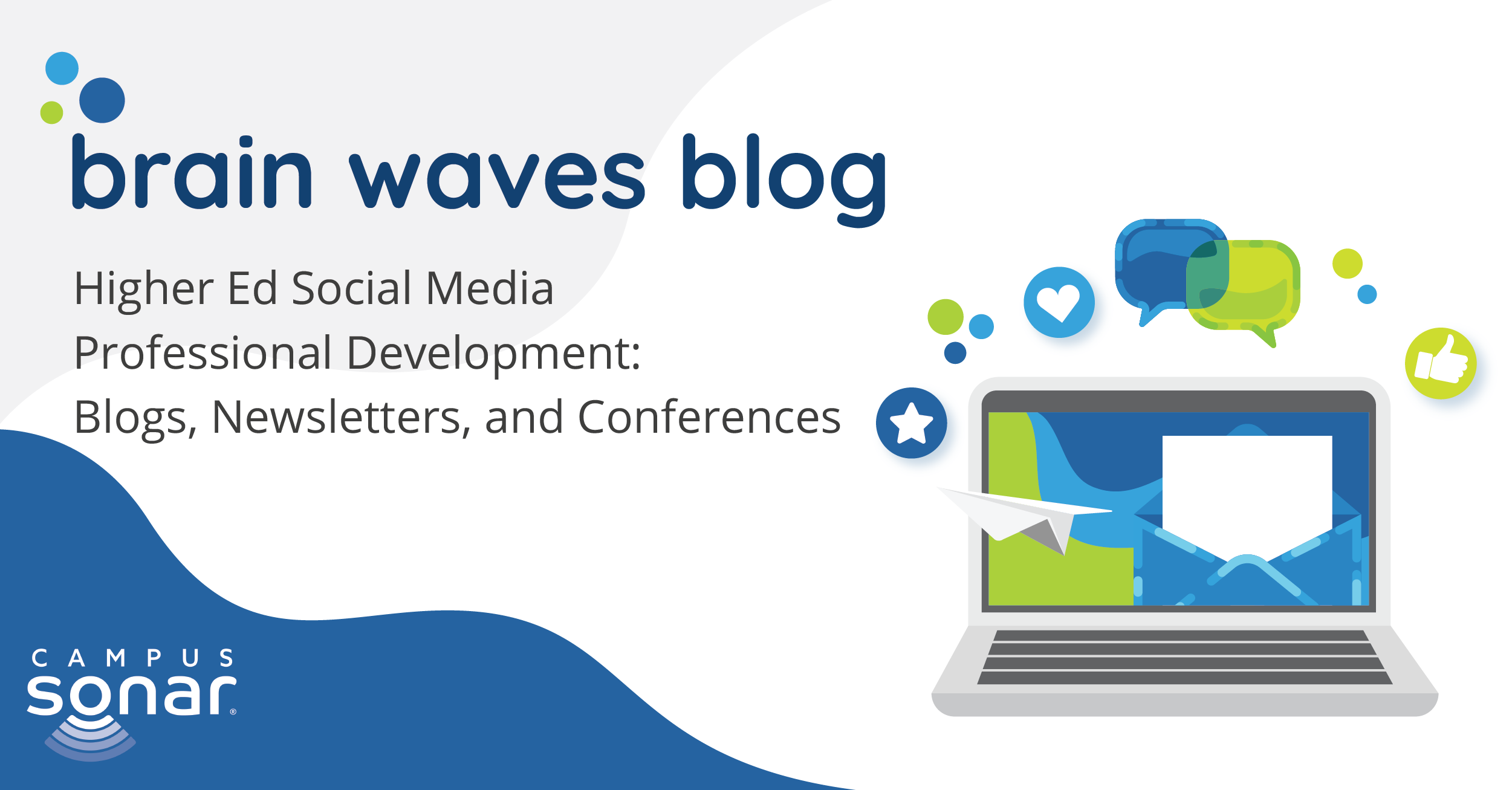 If part one left you wanting more, I'm back for part two of the best higher ed resources to keep you informed and connected. One of the things I love about this industry is the contributions from the community. We learn together, and it's never too early for you to contribute your expertise. To that end, I've also included suggestions for ways to share your work and knowledge with others.
Blogs
Blogs provide up-to-date, detailed coverage of the latest issues facing our industry. Whether from a company, campus team, or individual, these blogs give you relevant information and valuable insights into current issues in higher education and social media. Consider subscribing via an RSS reader (I use Feedly) or via email to the blogs you like most so you don't miss a post.
In addition to these industry blogs, consider subscribing to the blogs published by each social media platform and the podcasters listed in part one.
Newsletters
The humble email newsletter is back. With all the noise of social media, getting a well-written, personalized letter in your inbox feels special. Here are a few I recommend.
Conferences
It's unclear what the conference landscape will look like this year and beyond, but I'm continuing with my plan to list the most relevant conferences for higher education social media professionals. This is based on a decade of experience attending many of them prior to 2020.
National Conferences (United States)
Timing

Who You'll Meet

What Stands Out

American Symposium for the Marketing of Higher Education

November

Mid-level and senior marketers from all types of campuses, most often from the central marketing office. A few social media specialists, but many more marketing generalists or executives.

Attendance: 1,000 to 1,300

Focus on brand marketing. Large and engaging exhibit hall.

CASE Social Media and Community Conference

March/April

Entry- and mid-level social media specialists, including campus staff who have social media responsibilities as a small part of their job.

Attendance: 175 to 300

Social media focus with a good balance of strategy and tactics. In-depth workshops prior to the conference. None or very few exhibitors.

Eduweb Digital Summit

July/August

Historically attendees are entry- and mid-level campus professionals who work in some sort of digital capacity. The conference is actively working to offer more content at the vice president level.

Attendance: 400 to 600

Dedicated social media track. Committed, loyal attendee base.

HighEdWeb Annual Conference

October

Entry- to director-level marketing and web development professionals, with a few senior administrators in attendance. You're just as likely to find a social media manager or a Drupal developer.

Attendance: 600 to 750

Good mix of campus and consultant presenters. Excellent social events. Ongoing community after the conference via Slack, emails, and community discussions.

Higher Education Social Media Conference (online)

December

Entry- to mid-level social media professionals. This has always been an online-only conference, so the focus is on the content but networking is possible via chat and the Twitter backchannel.

Attendance: 40 to 50 campuses

10-minute presentations that always stay on schedule. Incredibly affordable registration fee.

Social Media Strategies Summit

October

Entry- to mid-level social media professionals.

Attendance: 125 to 200

In recent years it's been combined with the larger Social Media Strategies Summit, so you can jump between the higher ed and corporate tracks.
International Conferences
Regional and Campus Conferences
Although they haven't been as predictable as the other conferences listed, keep your eyes open for a chance to attend a regional conference hosted by a professional association or higher education vendor. In recent years campuses have hosted conferences they've opened to the public (e.g., Indiana University Social Media Summit or University of Michigan State of Social). You'll likely find out about future events like these if—you guessed it—you stay connected to the communities described in part one.
Contribute to Shared Community Knowledge
Whether you've been a social media professional for one year or ten, you have knowledge to share. Don't wait for someone to ask; start contributing today. The easiest way is to participate in discussions in the communities described here; everyone should strive to contribute at that level. I'd encourage you to go further.
Write About Your Work
Whether it's a campaign you're proud of, a mistake you don't want others to make, or a process you finally documented, others will find value if you write about it. There are many options for publishing your work.
Present About Your Work
Conferences aren't just for learning; you could also teach. If you're new to conference presenting, I suggest looking at the Call for Proposals for Higher Ed Experts' online conferences. In addition to the Higher Ed Social Media Conference, they host a Digital, Content, and Analytics conference. You'll hear back about your proposals within a few days after the deadline (while many conferences take months to make decisions), presentations are just 10 minutes, and you'll have the opportunity to do a full tech check and test run. Many excellent conference presenters got their start in one of these conferences. Karine Joly, Executive Director of Higher Ed Experts, gives excellent advice to higher education pros crafting proposals for any conference.
If you're nervous or not sure what you could talk about, find a presentation mentor. As you peruse conference agendas, you'll notice many names show up again and again. Reach out to one of those people and see if they'd be willing to meet with you, review your proposal, and help you practice. If your supervisor is a regular conference presenter, ask them to help you.
I'll never forget Dayana (Day) Kibilds's experience at the HighEdWeb 2017 Annual Conference. As the Manager of Undergraduate Recruitment at Western University, The Art and Science of Collaboration was Day's first conference presentation. Her peers chose it as the best of over 70 sessions at the conference. While accepting her Best In Conference award on stage in front of hundreds of people, she thanked Ashley Budd for helping her craft a proposal and rehearse her presentation.
In addition to the value of finding a mentor, Day teaches us something else: we all have a presentation hidden within us. Her session wasn't about a fancy campaign or a secret talent—it was about how to work with colleagues to get things done, using examples from her personal experience. At the 2019 conference she won the red stapler (best presentation in a track) for Get. Stuff. Done., a presentation that included tips for writing better emails, scheduling meetings, and handling multiple versions of documents.
You may think if you don't have big budgets or flashy results, you don't have anything worth sharing. That is absolutely not true. The more you talk about your work with your colleagues, the more you'll realize what resonates and has potential for a conference presentation.
Speak Up When Others Ask Questions
As you spend more time in professional communities and at events described here, you'll run into people asking questions like, "Has anyone ever done X" or "Could someone tell me how you approach Y?" Don't hesitate to answer those questions with your experience and accomplishments. Not only will it help others, but it can lead to features in publications, podcasts, and conferences. Every one of the people whose work I mention in my writing either took the time to answer one of my questions or promoted their own work within the community. Reporters, authors, and trainers want to highlight your work. Give them a chance to do it by speaking up.
I hope you've found some value in this mega-list of resources. Have any you love that aren't on the list? Email me at lgross@campussonar.com or share them with me on Twitter at @lgross144.
And don't forget to download our new book, Fundamentals of Social Media Strategy: A Guide for College Campuses, a comprehensive guide to social media strategy. This post is from Chapter 20, and you'll find invaluable strategy and resources in the rest of the 19 chapters. Already downloaded it? Share it with a colleague who'd get value from it.