Coronavirus Higher Education Industry Briefing: March 31

Campus Closures Amplify Students' Struggle to Meet Basic Needs
Today's Briefing analyzes publicly available online conversation in the U.S. and on Reddit and YouTube (which span beyond the U.S.) about the coronavirus and higher education from March 27–31. In this analysis of volume, topics, sentiment, and key audiences, we highlight the impact of events at Liberty University on the industry conversation and student conversations about topics other than courses. Spoiler alert: they're angry, sad, and many of them are struggling financially.
If you'd like to receive each Briefing in your inbox as soon as we publish it, sign up at info.campussonar.com/covid19. You can also review all prior Briefings. Because of the changing nature of social media data and our understanding of the conversation, each briefing covers a distinct point in time. Comparisons from briefing to briefing may be helpful, but we can't draw correlations like we could if we were using other datasets such as surveys or historical social media data.
Download a slide deck with the data from this post.
Volume Decreased as Higher Ed Focus Increased
We identified about 382,000 mentions of coronavirus and higher education March 27–30, ranging from 70,000–126,000 mentions per day. Remember, our industry-level analysis only captures general higher education mentions. If someone mentions the name or acronym of an institution without using a higher ed term (e.g., campus, university, college, classes, etc.), it's not included in this analysis. Actual volume of conversation across the industry is likely much higher.
The continued volume decrease in industry conversation is consistent with decreasing online conversation about the coronavirus in general. The daily executive briefing from Turbine Labs, which considers all media articles, blogs, and social media posts about coronavirus, is reporting daily volumes of 11–13 million for our analysis period, compared to 15+million earlier in March.
Once again, conversation volume dipped over the weekend, increasing again on Monday. While total conversation is slowly decreasing (March 27–30 conversation was about 17 percent lower than a week earlier, March 20–23), the percentage of conversations focused on higher education increased to 39 percent. This is the highest percentage of higher ed-focused conversation we've seen since starting our Briefings, likely because the coronavirus cases at Liberty University entered the news cycle and social media discussion on Sunday. On Sunday, March 29, 28 percent of all higher ed-focused conversations mentioned Liberty University or Jerry Falwell Jr.
Don't Ignore Reddit if You Want to Find Student Conversation
Two thirds of the industry conversation about coronavirus occurs on social media, with another 12 percent each on forums and news sites, and approximately 10 percent on blogs/Tumblr. When the conversation is focused on higher education, it's more likely to be on social media (78 percent of mentions). Similar to prior Briefings, the source of conversation changed dramatically when students talked about their experience in the first-person. From March 27–30, 41 percent of student conversations we identified were on forums (mostly Reddit), followed by 36 percent on social media (mostly Twitter) and the remaining on blogs/Tumblr.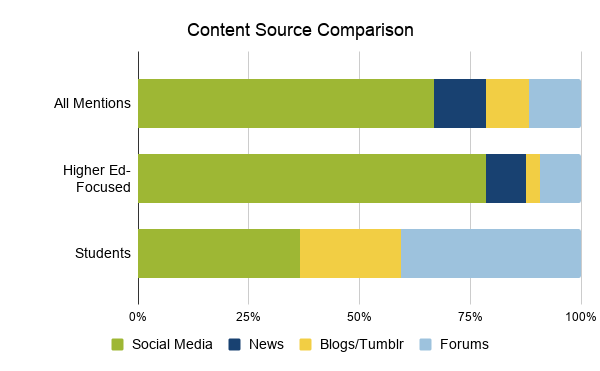 Consider the strategy you're using to identify, respond to, and learn from conversations about your institution. It's likely you'll see more conversations from the general public on Twitter, while many students converse on Reddit, Tumblr, and other sources of conversation not included in this analysis. Remember that due to data access restrictions, we aren't including Facebook, Instagram, Snapchat, TikTok, or LinkedIn in our analysis. Your campus social media manager is the best source of information regarding conversation on those networks. Depending on the software used, social listening for a specific campus can include Facebook and Instagram mentions once account managers verify admin access.
Trending Topics: Liberty University, Online Classes, Student Finances
The news coverage of the coronavirus cases at Liberty University and related social media conversation dominated the higher ed-focused topics, as demonstrated in the following word cloud of the top 100 people, phrases, and emojis. Liberty or Falwell accounted for 13 percent of all higher ed-focused mentions March 27–30.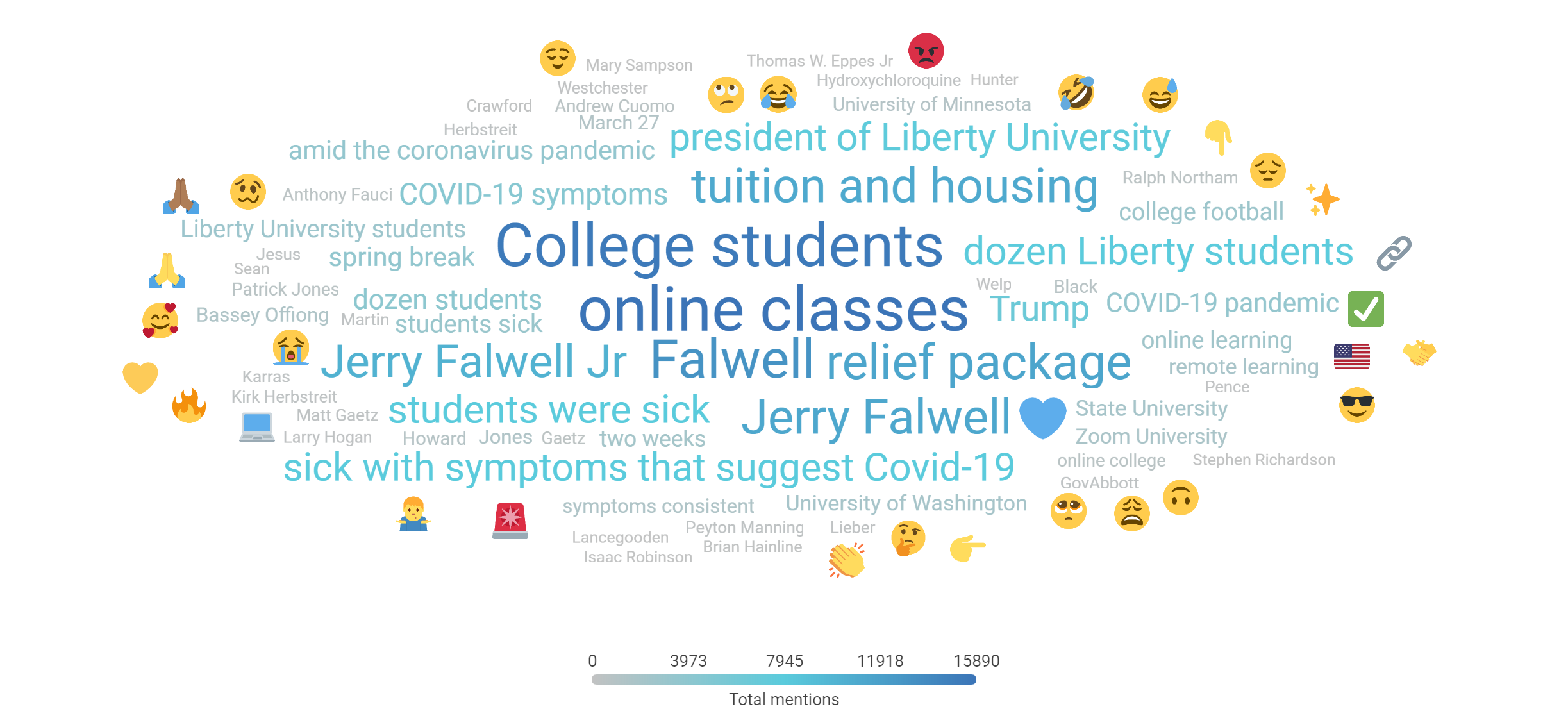 To understand other prevalent topics, we created a second topic cloud, excluding all mentions of Liberty University.
The remaining topics reveal themes similar to the March 27 Briefing: online courses, the relief package passed by congress, and other political terms.
The phrase "tuition and housing" was mentioned frequently alongside "relief package" largely because of a viral tweet published the evening of Saturday, March 28 by a student at the University of Iowa. Despite having just over a thousand followers, her tweet was retweeted 25,000 times and received over 125,000 likes.
As a college student I have been
~ laid off my part time job
~ denied unemployment
~ left out of the COVID-19 relief package
~ left out of my parents relief package
~ rejected from multiple jobs bc online class schedule
~ gotten 0 refund from my tuition and housing

— Isabella O'Connor (@isaroconnor) March 29, 2020
Negative Sentiment Decreases Slightly; Students Still More Negative than General Public
28 percent of higher ed-focused conversation displays negative sentiment, which is closer to what we would expect in a crisis situation after last week's elevated negative sentiment. Sentiment from students, however, remains much more negative at 44 percent.
Audience insights: Focus on Hidden Voices of Students
When the conversation is this large it's hard to find the individual voices. While over 123,000 individual accounts are contributing to higher ed-focused conversation, only 3 percent of the mentions are first-person accounts from individuals who reveal an affiliation with a campus (n=4,240). These hidden voices represent lived experiences that provide valuable insight as you craft your communication and service delivery.
In our last Briefing, we highlighted student conversation related to online courses. Today we'll focus on what students are saying about topics other than coursework.
Students Remain Angry and Sad
Every emotional analysis we've conducted of student conversation related to the pandemic's impact on higher education has yielded similar results: students are angry and sad. This remarkable consistency suggests a continued need to care for students. While reviewing student conversations from March 27–30, mentions displaying sadness varied from missing friends, disappointment that family members weren't supporting students' needs, grieving cancelled or postponed graduations, loneliness, and a desire to continue mental health counseling they received on campus.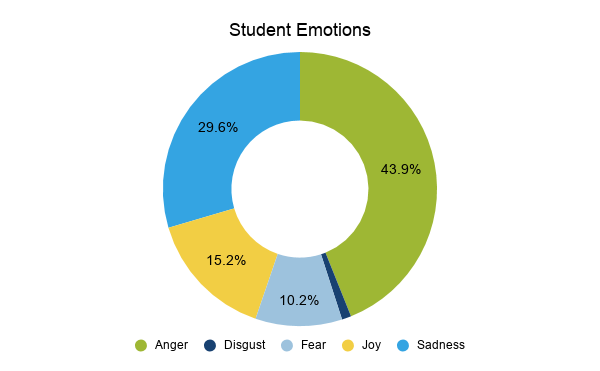 Now more than ever, it's crucial for campuses to consider how they can continue to provide student support services remotely. If your institution is still implementing solutions in this area, here are a few ideas.
Financial Impact of Closures on Students
The viral tweet from our topic analysis was excluded from our student segmentation, but it represents one of the themes in student conversation: finances. In addition to commentary about courses moving online, students share their struggles related to losing jobs, supporting their family financially now that they're at home, losing access to room and board, and paying bills. These themes are evident in the top 100 keywords and phrases from student conversation, with words like work, job, and pay in the top twenty.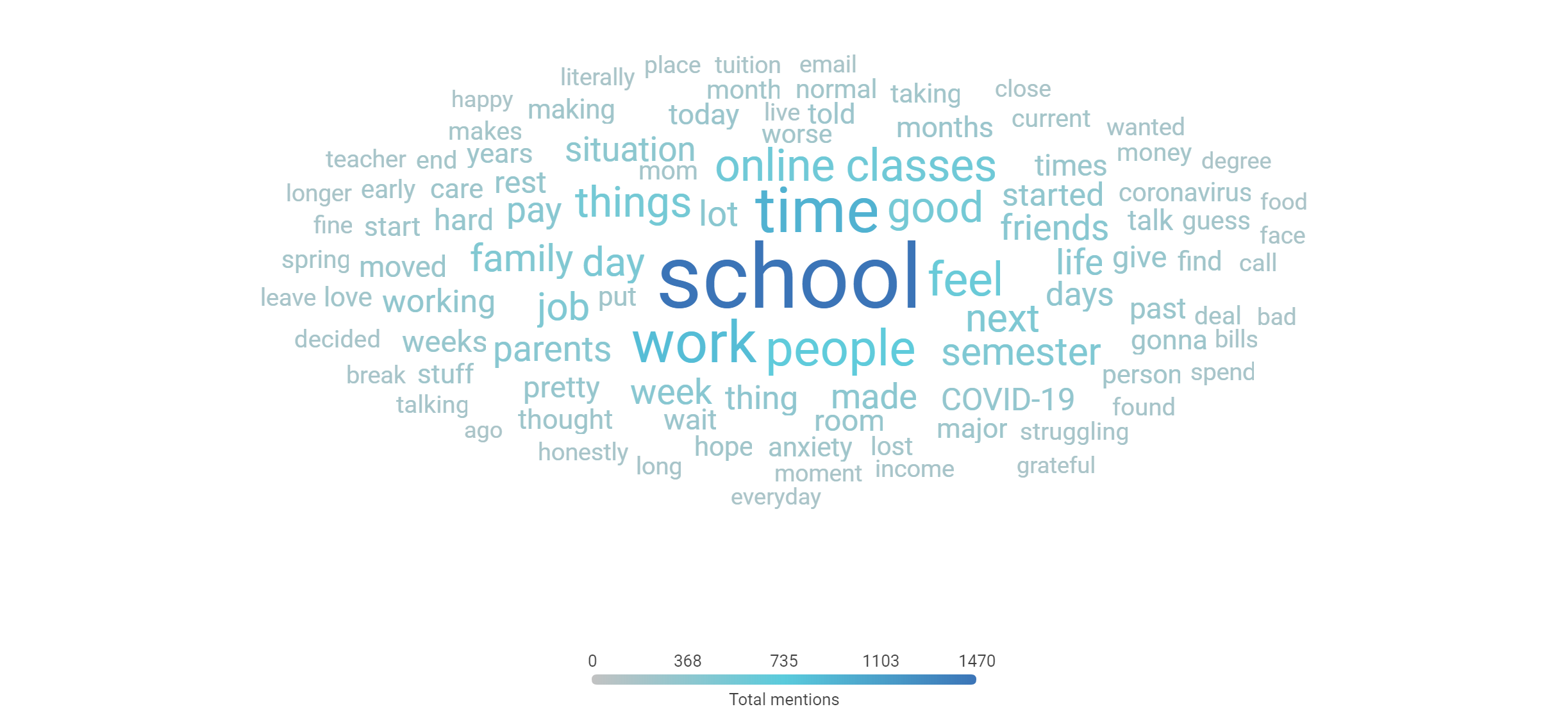 Direct pleas for funding demonstrate the severity of this financial theme. One student pleaded with Microsoft to make Windows 10 free right now after paying $140 to upgrade their system in order to access online courses. Others are reaching out to online celebrities (like Jeffree Star mentioned in the March 24 Briefing) directly with their CashApp username and asking for funds. The following are direct quotes [sic] from some of their requests.
I could use the help I live with my disabled mother and we are barely paying bills so we have no money for groceries in our house my college closed recently and Ive been applying place nonstop but ppl arent hiring where I live
my account is overdrawn and i have bills coming in left and right. i'm struggling since they closed my college and i need all the help i can get.
Still have to pay rent at my college apartment that I'm not able to live at bc of corona
I am a college student who has lost a job and isn't allowed to cut my lease at my university, even though I was told to stay at home and not return to the area. That's making me pay at least $800 for an unused room.
i am so poor i go to college full time & my job is closed & i pay all my bills myself plz literally like $5 would be cool
I'm a broke college student, my school is online now and Idk when it'll stop, my job closed down and idk what my next paycheck is gonna be
I'm currently left with no income. Can only work on campus due to my visa and my school is closed. Still have to pay for my apartment these months. It's going to be rough. Anything helps
single mom, laid off work & my college courses went online. what a stressful time
Students have tangible needs exacerbated by campus closures. Not only do they cause immediate stress, but financial struggles today may impact a student's ability to enroll in courses this fall, or even finish the current semester. Make sure you communicate the services available to students from campus, local communities, and national communities related to basic needs. The Syracuse University Office of Financial Literacy is a great example: they've published a list of COVID-19 emergency resources including a national food pantry finder and the process to access mini-grants from their student opportunity fund. More than just a list of resources, they're offering virtual appointments with a Smart Money Coach by email request.
If your institution needs guidance in this area, The Hope Center has a list of COVID-19 response resources and a guide for students surviving COVID-19.
Opportunities Continue to Engage Admitted Students
We're still not seeing a lot of coronavirus-related mentions from admitted students, but I suspect that's because they're naming campuses specifically, or generally mentioning missed tours or questions about test scores (general mentions aren't captured by our current query). However, your institution should actively seek mentions from admitted and prospective students and engage appropriately; every touchpoint counts when many traditional yield activities have been cancelled or modified.
One mention got pulled into our data set that's worth highlighting. Hailey was supposed to visit Purdue last Friday. Since visits were cancelled, her family created a substitute at-home experience and Hailey tweeted about it.
my college visit to purdue was suppose to be today but it got canceled due to corona and i came home and my family had made me a purdue tour in our house🥺 pic.twitter.com/iBBzO1MOsD

— hailey🦋 (@HaileyOwens19) March 27, 2020
Not only is her family wonderfully supportive of her college search, both the Purdue flagship account and the School of Nursing responded to her tweet (which didn't tag the institution but could be identified via social listening). Even better, current Purdue students and alumni responded to encourage her. Hailey has less than 100 followers, but this tweet received almost 1,000 engagements so far. Perhaps it's making an impression that a traditional campus visit couldn't.
Make sure you're not missing opportunities like this one. In 2017 we provided guidance on how to identify engagement opportunities. If you need additional help we'd be happy to talk to you about our services. Campus Sonar offers an engagement opportunity alert service to help with this.
Summary and Recommendations
Conversation continues to decrease slightly, but the portion of higher ed-focused mentions was higher than we've seen in previous Briefings. Social media remains the largest conversation source, although students are more likely to share personal experiences on Reddit and Tumblr than the general population. Online classes remained a common topic of conversation, along with Liberty University and how students are financially affected by campus closures. Students remain angry and sad, as they have since campuses started to announce operational changes. Their conversation demonstrates a need for co-curricular student services related to mental health and basic needs.
Based on our analysis, we offer the following recommendations.
Know where students share online. Refine the strategy you use to identify, respond to, and learn from conversations about your institution. It's likely you'll see more conversations from the general public on Twitter, while many students converse on Reddit, Tumblr, and other sources of conversation not included in this analysis such as Instagram and TikTok. If student conversations are a priority to you, make sure you're looking where they're likely to occur.
Provide access to mental health services. Students are experiencing a variety of mental health issues. If you haven't already, explore remote options for campus counseling services and ensure students know how to access them. You may find ideas and examples from the COVID-19 campus counseling Facebook group, the University of Illinois Urbana-Champaign, or the CDC.
Acknowledge and assist with basic needs. Students are facing a variety of financial challenges in the wake of campus closures and job losses due to COVID-19. Provide assistance and access to resources so they can meet their basic needs. Resources are available from The Hope Center to get you started.
Seek out online yield opportunities. Proactively search for opportunities to engage with admitted students online. Consider not only responding from campus accounts, but also encouraging students and alumni to engage.
Stay Connected with Future Briefings
The Coronavirus Higher Education Industry Briefing is new territory for Campus Sonar. If you find it valuable, please let us know (tweet us at @CampusSonar, email info@campussonar.com, or comment on this post).
Do you have additional questions about the conversation you'd like us to consider for a future briefing? Let us know.
We'll be back on Friday with our next briefing. Here in Wisconsin, we finally saw the sun come out this week. I'm looking forward to getting out of my house, breathing some fresh air, and replenishing my vitamin D. I hope you have a chance to do the same.
Download slides and receive future briefings.
Don't miss a single post from Campus Sonar—subscribe to our monthly newsletter to get social listening news delivered right to your inbox.
The post Coronavirus Higher Education Industry Briefing: March 31 originally appeared on Campus Sonar's Brain Waves blog.