What's Normal? Benchmarking Higher Ed News Sources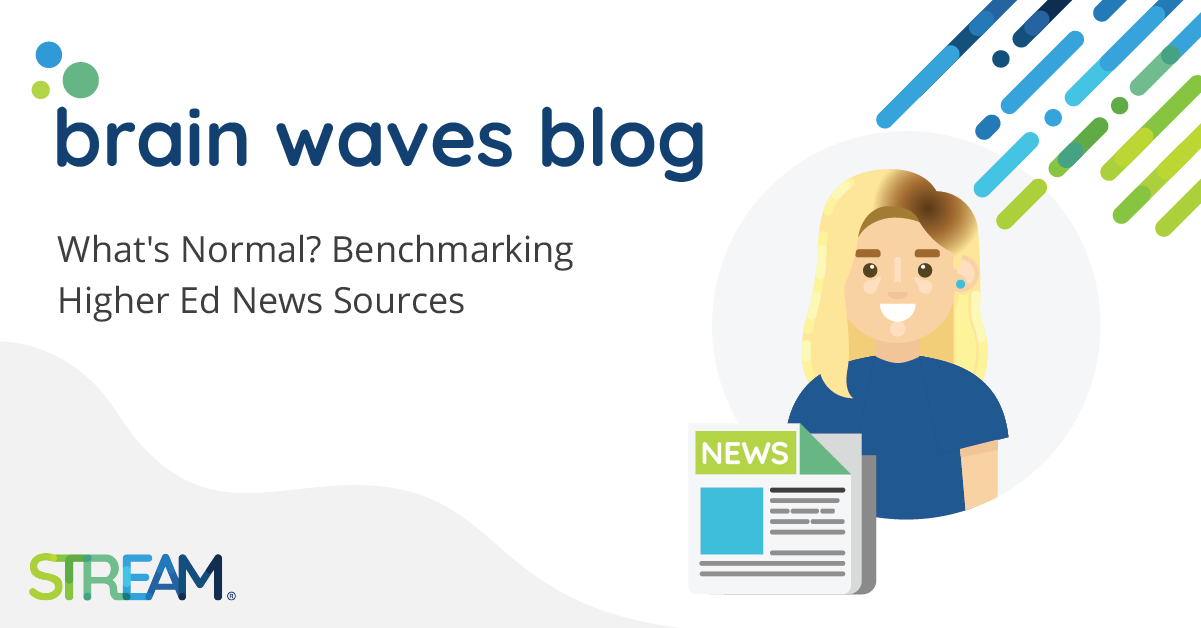 We're sharing a sneak peek into the types of insights our client partners get by digging into some aspects from our report, Social Listening Benchmarks for Higher Education: January 2021. If you caught our last blog post, we explored social media as a conversation source and how you can analyze your campus's online conversation against a comparable sample. Now we're looking into news as a content source and how sites labeled or promoted as news sources can inform your content strategy. The posts should give you an idea of the depth of analysis and insight you can get as a partner.
News Conversation
We shared in Social Listening Benchmarks for Higher Education: January 2021 that the internet is real life, and understanding how your campus's online presence stacks up compared to similar institutions can inform your campus strategy. In the benchmarking report, we analyzed conversation for the August 2018 through July 2019 academic year from a representative sample of higher education institutions (ranging across program types, enrollment sizes, geographic regions, and public/private designations). Analysis across our sample uncovered trends you can use to benchmark your campus's online conversation, and here we'll take a deeper look into the specific benchmarks surrounding news.
We analyzed a total of six conversation sources, with two of them (social media and news) driving 91% of the conversation. While social media drives the largest amount of online conversation at 73%, news sources are a distant second with an average of 18% of conversation volume. We expect this type of difference in volume—your audience reads formal coverage of your campus on news sites, then offers their thoughts and feelings on social media, generating additional conversation.
News conversation topics focused not only on academics and athletics, but also on current events, especially on Donald Trump and other politicians, and campus scandals. In fact, we found that public events that drew on strong emotions, such as current events and athletics, were more common than academic topics.
Despite the fact that emotional stories were common, news conversation was generally neutral as news stories are most frequently written to be objective. To gauge how your audiences feel about a news story, look to the conversation they share on social media.
Conversation Volume: How Many People Are Talking
When evaluating your own campus news mention volume, you can compare it to the benchmarking news mention volume, which was between 8% and 23%. If your news mentions align with this range, they're typical.
Sentiment: How People Feel When They're Talking
News mentions were the most neutral of all the sources we analyzed. Neutral mentions ranged between 73% and 85%, positive mentions were between 7% to 12%, and negative mentions were 5% to 18%. You can expect most of your campus news mentions will be neutral; and when they're not, they're more likely to be positive.
Your impression of your campus's news coverage is often that it only receives bad press, especially during a crisis. This research should reassure you that your campus is just as likely to receive positive news mentions.
Earned Conversation: What People Say About You
News mentions were 18% of total annual conversation volume, with nearly all of it coming from earned sources (that is, sources writing about your campus). Your campus should strive for news mentions to comprise between 8% and 22% of total conversation.
Takeaways
Knowing the typical ranges for campus news conversation helps you set clear goals and expectations for your own campus, based on your strategic priorities and available resources. To bolster your campus's news volume, engage with local and regional journalists who may cover campus activities. Repurpose positive earned news mentions on owned channels to share the stories to a wider audience. And monitor social media conversation to uncover how your audiences feel about a news story, keeping in mind that social sentiment can provide an early warning of a coming crisis.
Consider These Questions for Your Campus
Does your campus conversation align with the news volume benchmarks? If you're at the high end, do you know what drives your volume up? If you're at the low end, what opportunities exist to build a stronger news presence, if that's a priority for your campus.
If you have a media relations team, how can you support proactive story pitching or research placement?
Social media and news are tightly related; are your campus teams closely coordinated? Have you developed a content strategy that incorporates both critical channels?
Do you have open lines of communication between your media relations and social media staff? Do you have a process to share information or escalate issues if they arise? If not, can you develop this feedback loop and provide opportunities for social media teams to share audience intelligence with media and PR teams?
This post originally appeared on Campus Sonar's Brain Waves blog. It features major contributions from Social Media Data Analysts Amanda Jeppson and Sarah Marks.