What the Boolean! Get the Most Out of Your Social Listening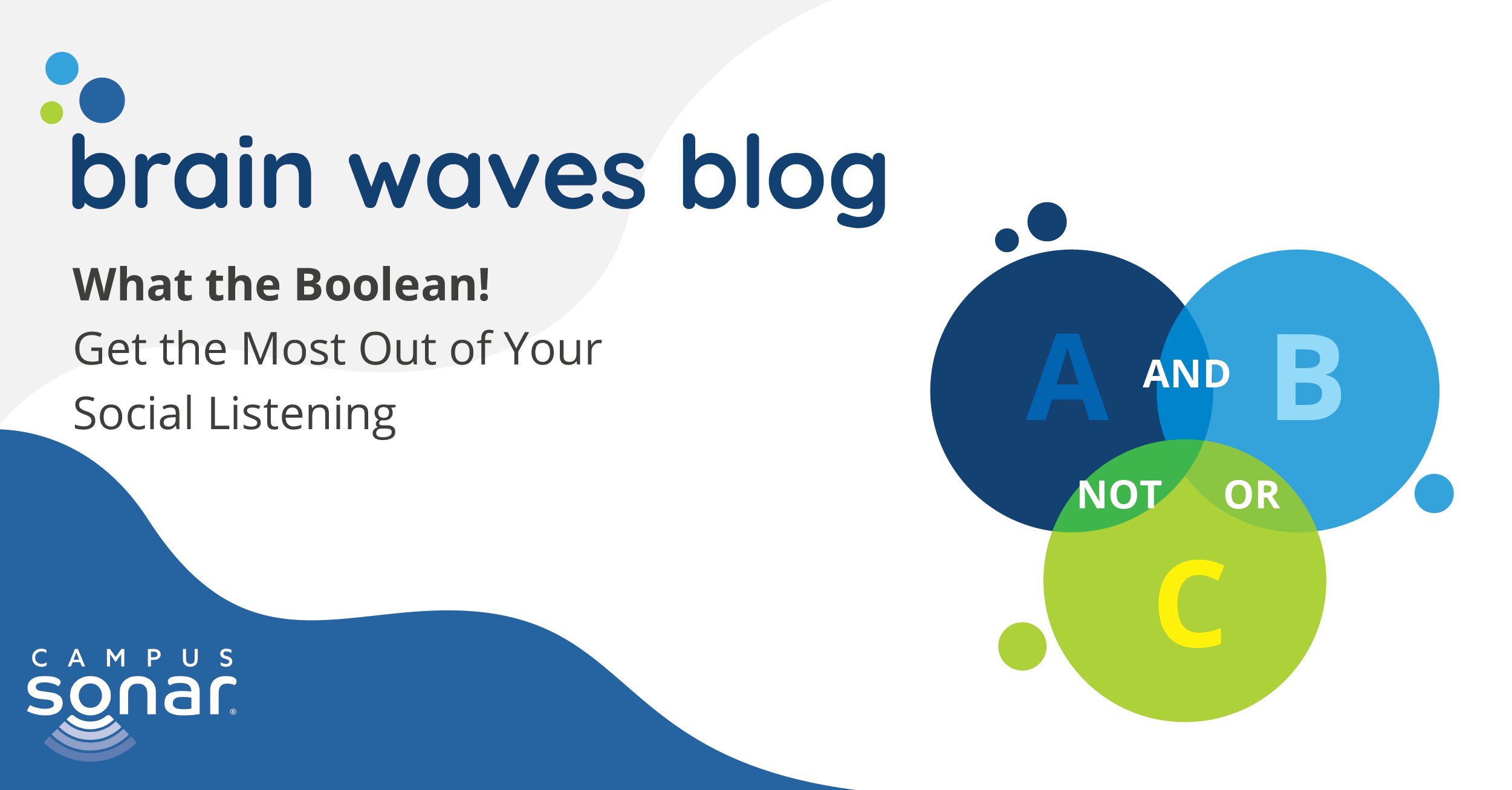 From publicly-available social media posts to blogs to news to forums and more, there is an incredible amount of conversation happening online each day. While there are ways to monitor and measure some of this conversation manually (think, Google Alerts, social media analytics, some social media software), truly strategic social listening not only captures more conversations of interest to you, but does so more consistently over time—ensuring that you're not only capturing the conversations that matter, but also that you're able to analyze larger trends in conversation over time.
In order to do that, a successful social listening program depends on more than just access to the right social listening software. Strategically selecting software is key, since it should be:
Compliant with social media platform privacy rules (e.g., GDPR, terms of service)
Offering access to a robust number of online data sources via proprietary crawlers or partnerships with vendors
Top of line in data visualization and analysis for both breadth and depth of use
Even more important is who uses the social listening software—that's where the human side of social listening comes into play. A social listening analyst should be well-versed in writing boolean queries that leverage all operators strategically, find creative ways to identify key terms and phrases, and review data in multiple ways for analysis and insights.
Together, critical decisions around social listening software and human expertise support the outcomes mentioned earlier: capturing more relevant online conversation that matters and analyzing larger trends in conversation over time.
Online Data Sources
Enterprise-level social listening software has access to a feed of publicly available social content as well as millions of other online sources such as blogs, forums, and news sites. Our campus queries return conversations from a wide variety of sites, including:
National and small town newspapers
Local television station websites
Trip Advisor
Instagram
Reddit
College Confidential
Student Doctor Forums
Tumblr
Kickstarter
Legacy.com
YouTube
The sources you have access to are determined by the social listening software provider you use. The amount, type, location, historical data, and data retention period included in each software package varies widely. If you want a strong social listening program, make sure you have access to more than just Twitter and Instagram. You may also want to consider worldwide coverage (including Asian/Pacific sites), and support for multiple languages, depending on the type of conversations you want to find.
Analysis Tools
Robust analysis tools enable you to examine conversations at a macro level and drill down into individual conversations when necessary. Most software provides pre-populated dashboards to monitor volume, sentiment, sources of conversations, as well as conversation influencers. Software built for bespoke analysis allows you to customize every data view, tag, and categorize your data in the way that makes the most sense for you (and your campus), filter based on dozens of criteria, and automate alerts and reporting once you've identified patterns. Strong analysis tools allow an analyst to function like a researcher would with any other data set, using both qualitative and quantitative methods to answer research questions—ranging from what is my online reputation to how much of brand attribute X is present in conversation about my campus online?
Boolean Queries
The backbone of strong social listening is building a good query in the social listening software. A query is a request for information from the social listening database maintained by the social listening software provider. It defines the scope and type of the conversations you collect through the software. Queries are constructed with Boolean operators, which are search functions that ensure conversation results are refined, accurate, and useful. The most common Boolean operators are AND, OR, and NOT. We use software that supports 48 Boolean operators, but some social listening software supports as few as three or four.
Using simple operators, a query to find all mentions of Harvard and Yale, but not conversations about football at Harvard and Yale, would look like this:
(harvard AND yale) NOT football
All social listening software should support this type of query. It's even simple enough to type into a Twitter search. However, many campuses require a more complex query to ensure data collected is robust enough to fully understand a campus' online reputation.
For example, when your campus shares a name with a street, city, high school, and even a handful of other colleges, advanced Boolean operators make all the difference. This is illustrated in the query we wrote for Loyola Marymount University (LMU). Following is a portion of that query; the entire query approaches 4,000 characters. It excludes schools with similar names, other campuses named Loyola (except mentions from Los Angeles, where it's common for people to refer to LMU as Loyola), and other phrases that are abbreviated as LMU.
(raw:LMU OR "Loyola Marymount" OR "LMU Lions" OR "Loyola Lions" OR "lmu.edu" OR "lmulions.com" OR "kxlu.com" OR (loyola AND city:los2) OR ((loyola NEAR/10 "LAW SCHOOL") NOT (chicago OR maryland OR "new orleans")) OR hashtags:(ilovelmu OR livinglionnation OR lmualumni OR lmulions OR lmuexp OR lionstrong) OR ("loyola marymount" AND (site:(collegeconfidential.com OR cappex.com OR unigo.com/colleges OR glassdoor.com OR ratemyprofessors.com))) NOT ("Ludwig Maximillian University" OR "LMU Munich" OR "Lincoln Memorial University" OR "Landmark University" OR "last minute upgrade" OR "lmu duncan school of law" OR "Loyola Maryland" OR "Loyola Chicago" OR "Loyola New Orleans" OR "latin monetary union" OR "location measurement unit")
Good queries find as many publicly-available conversations as possible, while avoiding spam and irrelevant mentions. For LMU, this query returned between ten and twenty thousand relevant conversations per month in 2017. In one year, only 27% of LMU's mentions included the phrase "Loyola Marymount." Searching for your campus name is a good first step if you're just dipping your toe into social listening. The only way we found the other 73% of the conversation was a human analyst building context into the query with Boolean operators.
Social Listening Research Produces Valuable Intelligence
If you're doing manual social listening, you're answering questions like:
How many tweets used our graduation hashtag?
What sorts of photos were posted on Instagram on move-in day?
When you leverage the combined power of excellent social listening software (access to many conversation sources and great analysis tools) and an expert human analyst (adept at building Boolean queries and conducting qualitative and quantitative data analysis), you can answer questions like:
What frustrations do our prospective students express during the application process?
How has the media coverage and online conversation about our Big Annual Event changed over the last three years?
Suddenly, this super-powered social listening offers strategic campus input, instead of being a task that the social media person does to gather a few stats.
---
If you're mastered building simple queries, check out a more advanced approach. You'll also get a glimpse into the amount and depth of consideration a human analyst puts into building a query and validating data.