Using Benchmarks: The Madness of Athletics Conversation and Sentiment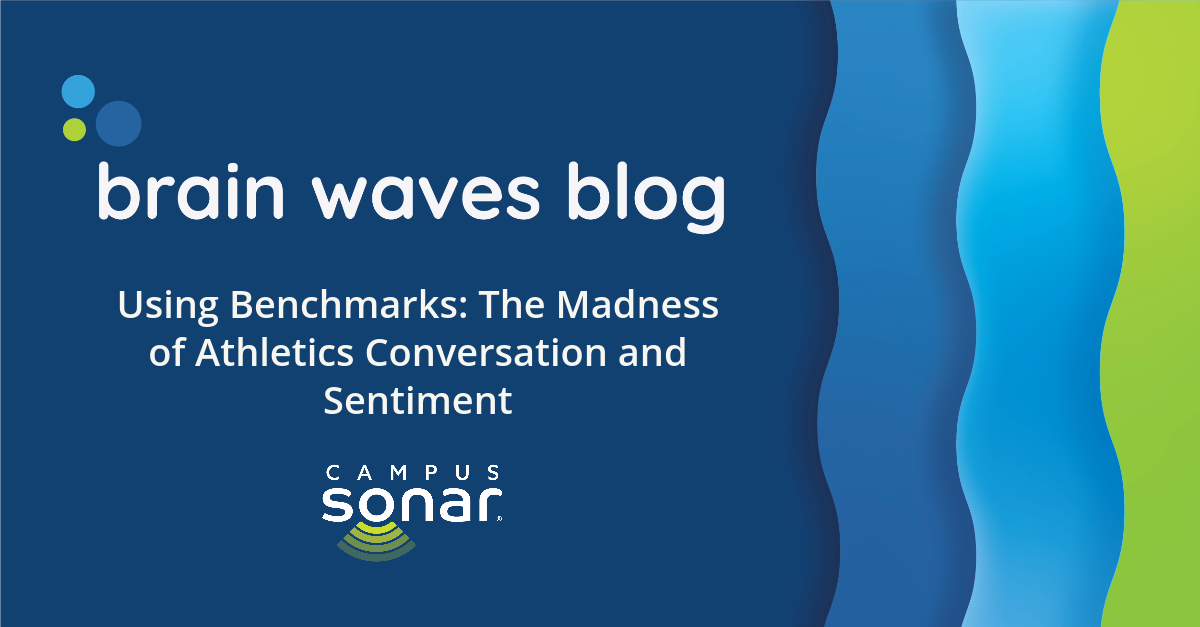 Late in February, with the college basketball season hitting its home stretch, the sport's biggest rivalry returned to the biggest stage, with the eighth-ranked North Carolina Tar Heels visiting the top-ranked Duke Blue Devils.
Always a spectacle, hype for the game reached unprecedented levels. The game drew an A-List crowd, and tickets for Cameron Indoor Stadium reached heights typically only seen for the Super Bowl, with the cheapest available ticket priced at $2,500.
Why the extra attention? Freshman phenom Zion Williamson.
Williamson, at 6'7" and 285 lbs, is a linebacker in a forward's body. The presumptive #1 pick in the upcoming NBA draft, Williamson took the NCAA by storm in his freshman season, averaging 21.6 points per game while producing highlight-worthy plays on a near nightly basis.
But a mere 30 seconds into the most anticipated game of the season, Williamson was injured. Pivoting to his left, his foot, adorned in newly-released Nikes, slipped and blew from his shoe as his right knee twisted. Williamson collapsed awkwardly to the court. His night—and for all intents and purposes, the game—was over.
Immediate Social Conversation
Reaction to the injury was swift and severe. Fans pointed the majority of their anger at Nike, whose stock dropped 1.37 percent in premarket trading the following morning, costing the company almost three billion dollars.
Duke University wasn't spared, and the injury renewed conversations about the NCAA, amateurism, and the balance of power in college athletics. Many fans used the injury to criticize Duke and call out the hypocrisy that in a game featuring record ticket prices and the top paid head coach in college basketball—Duke Head Basketball Coach Mike Krzyzewski earns $8.89 million per year—Williamson, the star player, wouldn't be compensated.
Coach K makes $9M/year. Duke athletic director Kevin White makes $1.45M/year. Zion Williamson, RJ Barrett, Cam Reddish, and the rest of the team that everyone from Pres. Obama, LeBron James, Spike Lee, etc. come to watch earn a combined $0.00. #AbolishAmateurism

— Ted Tatos (@TedTatos) February 22, 2019
Impact of Athletics on Total Conversation
If you work on campus, you already know that college athletic programs can generate almost unimaginable reach and brand awareness for colleges and universities. And if you're one of the lucky administrators whose basketball team qualified for this year's postseason tournaments, you were undoubtedly hoping to be this year's UMBC­—a Cinderella run can be a boon to website traffic and application volume.
But new audience research from Campus Sonar shows the effects of athletic conversation can cut both ways.
Certainly, the existence of an athletics program drives conversation volume for schools. In Campus Sonar's 2019 Online Conversation Benchmarks for Higher Education report, institutions with an athletics program received more than half of their total online conversation from athletics-related topics, on average. For these schools, athletics increased a school's total online conversation by 236 percent on average and the number of unique authors for each institution by 118 percent on average. Put simply, people love to talk about college athletics.

Importantly, the impact from athletics isn't just reserved for high-performing or well-known athletics programs. In fact, the opposite may be true. Of the 22 institutions in the Campus Sonar study with a higher-than-average percentage of athletics-related conversation, 73 percent play in NCAA Division III or other affiliated sports (e.g., NAIA, USCAA) and all but two institutions are classified as small or very small.
But more conversation doesn't necessarily equal better conversation, as the Zion Williamson injury demonstrates. Indeed, in the report, 64 percent of institutions with athletic affiliation saw a decrease in positive sentiment in their overall online conversation when athletics conversations were included.
What's behind the decrease in positive sentiment? Sentiment algorithms are more likely to code athletics conversation as neutral, especially game-related posts such as game recaps and play-by-play updates, which, it should be pointed out, also do nothing to advance your brand.

Increasing Positive Sentiment through Athletics
Left untouched, the wave of conversation volume added by the presence of an athletics program can easily become at worst a liability and at best a missed opportunity. But it doesn't have to be that way. Six institutions in Campus Sonar's study saw an increase in positive sentiment in their online conversation with the addition of athletics mentions. And while these institutions do not uniformly possess championship programs, there are commonalities in the way that they treat athletics conversation that you can bring to your own campus, regardless of whether your basketball teams contributed to the madness of March.
First, the schools that experienced an increase in positive sentiment when incorporating athletics conversation make it a priority to cover individual athletes outside of competition, rather than strictly team results. This tactic makes sense, especially for smaller institutions, as an increase in athletics-related positive sentiment is likely tied to a personal investment in an athletics program due to geographic proximity or a personal connection. Beloit College accomplishes this through off-season check-ins with athletes, but you should also consider student-athlete Q&As (especially on Reddit and Instagram) and behind-the-scenes looks at life as a student-athlete.
We're drawn to sports, and March Madness in particular, due to its unpredictable nature, but that unpredictability can wreak havoc on a brand. When institutions promote athletics reactively, they lose control of the tone of conversation and are left to the whims of their fans, who have been shown to become angry, rather than sad, after a poor result, and increasingly turn to social media to voice those frustrations.
That's why it's crucial to proactively tie your athletics conversations back to your institutional brand, showing the value of athletics beyond the playing field. Hamline University did a great job with this when they shared photos from a recent meeting of their Student Athlete Advisory Committee, which reinforced their brand pillar of a dedicated, accessible faculty.
Whether you're cursing another busted bracket (guilty) or basking in the glory of a perfect final four or unexpected tournament run, it's important to remember that athletic programs play an important role in an institution's online conversation. But left unmanaged, that conversation can have an unexpected, even damaging effect on total online conversation. That doesn't have to be the case. As the examples from Beloit College and Hamline University show, there are ways to coach better results online from your athletics staff and student-athletes.
To learn more about how athletics influences an institution's total online conversation, download the Online Conversation Benchmarks report, available now.
Don't want to miss a single post from Campus Sonar? Subscribe to our monthly Brain Waves newsletter to get the latest and greatest about social listening in higher education delivered right to your inbox.
A version of this post originally appeared on the Inside Higher Ed Call to Action Blog.