Be Prepared: Response Chart Offers Guidance in Social Media Crises

You can never be too prepared when it comes to social media.
Social media managers, how do you start each work day? Email? Seeing how yesterday's posts performed? I like to jump right into issues management. What kind of fires do we have to put out today? From viral videos on Twitter of students canoodling in the library to faculty gone rogue to good old-fashioned trolling. You never know what's in store when it comes to working in social media.
Virginia Commonwealth University (VCU), where I worked for the last eight years, is a large research university with more than 700 social accounts managed by a number of folks, many who would not call themselves social media managers (Hello, other duties as assigned!). Over the last year I created a document to unify the responses and create a consistent voice and tone around issues management and monitoring so I could ensure our larger community that we're all on the same page.
A few other schools have similar documents that I reviewed for inspiration, but I created a version to best suit our needs. When we started, free speech was a big topic on campus, of course it still is, but there was a lot of criticism and navigating the conversation was difficult. Because of this, the first area we identified for our new guide was criticism. The flow chart design makes it easy for anyone to pick up and use, which is very important in a time of (potential) distress, such as during a social media crisis on campus.

Other areas we identified were spreading misinformation, questions or requests, and urgent issues.
Spreading misinformation—rumors, inaccurate information, and trolls.
Questions and requests—anything from a basic "How do I apply to your school?" to asking if we can promote someone's business.
Urgent issues—probably the most helpful area of this document for our admins because all the folks they might need to contact are right there in one place, from the Dean of Students to Equity and Access to Freedom of Information Act (FOIA) to the police.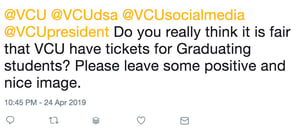 We might use the document for a tweet like this one about graduation tickets, something I'm sure we've all dealt with.
First, we document the comment and decide what category it falls under. This is definitely a little bit of trolling (the account seemed fake), but overall it is criticism.
Next, we just follow the flow chart to the final resolution. This example is about VCU.
Then we determine if we can help. I specifically can't, but the folks who organize commencement can weigh in. We contacted them to alert them of the situation so they knew we would direct the Twitter user to them for further assistance.
After the referral, continue to monitor the comment to ensure it doesn't escalate or gain traction with other users on the platform. This could have been a fake account that was just trolling us, but you never know what will take off with students.
If you want to make a chart like this for your campus, be sure to get these folks involved.
Your university-level social media team. As the person in this role, I like to know what other areas in the university are doing, so even if you're at the school or department level, share the wealth and make it a group project.
Your university legal council. This is critical because you want to make sure you're communicating information with the rest of the university that is by the book. Many of the topics this type of document navigates (like free speech and potential legal issues) could develop into something larger.
Your constituents. This chart won't work if you can't provide folks with the correct contact information for urgent needs.
One thing that's really important to stress is that you're not in this alone—your central office is there to provide back-up. We always want to be the point of contact if someone doesn't know what to do so we can ensure a smooth response from the start.
Questions? Tweet them to me at @Erika_Boltz or email me at efboltz@gmail.com.
Don't miss a single post from Campus Sonar—subscribe to our monthly newsletter to get social listening news delivered right to your inbox.
The post Be Prepared: Response Chart Offers Guidance in Social Media Crises originally appeared on the Campus Sonar Brain Waves blog.