Making the Switch from Software to Sonarians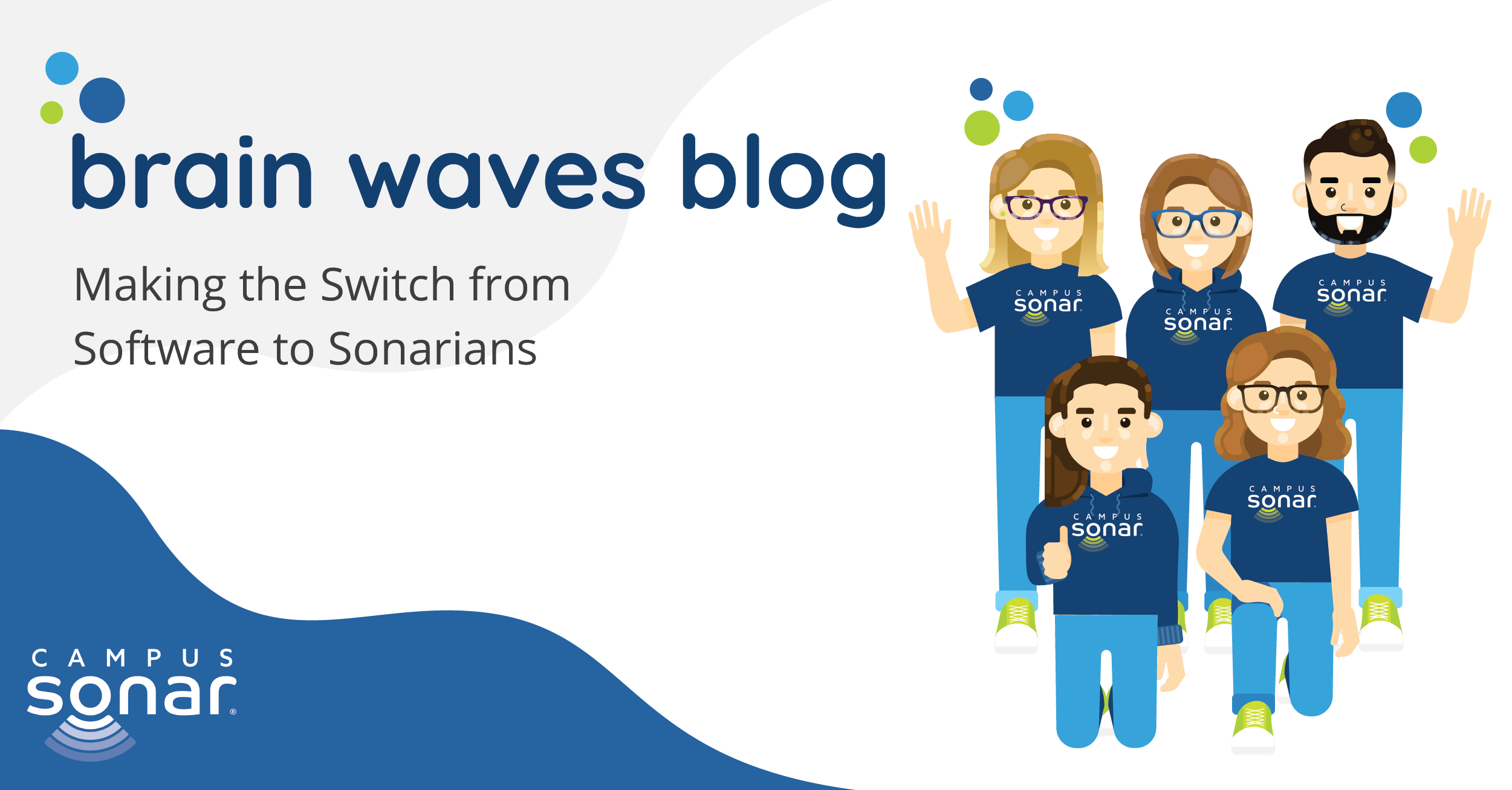 At Campus Sonar, we take perhaps too much pride in telling the world that we're NOT a software company. It is within social media management software, however, where most of our clients accomplish their listening prior to living the #SonarianLife. For some, incorporating Campus Sonar into an existing tech stack feels redundant. For others, transitioning away from these products to Campus Sonar can feel daunting. So we sat down with three campus pros who made the switch from listening with social media management software to Campus Sonar. We asked them about their tech stack prior to Campus Sonar, making the move from software to Sonarians, and what life has looked like since the move.
Your Software Subscription
Campus Sonar: Let's start by talking about your life before Campus Sonar. How were you approaching social listening? What software were you using?
Tony Dobies, Senior Director of Marketing, West Virginia University: We did everything within Sprout Social. We used their core product for social media management and their listening add-on for social listening.
Jon McBride, Associate Athletic Director for Communications and Media Strategy, BYU: Prior to working with Campus Sonar, we used social listening tools from Talkwalker wrapped into a large package with Hootsuite.
Campus Sonar: How would you describe that setup? What worked and what didn't?
Dobies: From a listening perspective, we were able to perform active searches on Facebook, Twitter, Instagram, YouTube, and Reddit. For us, listening was less about metrics and more about finding opportunities to engage with our audience. Sprout did that, but it wasn't comprehensive; our team didn't find it any more helpful than going through networks natively each week.
McBride: We loved a lot of things about Hootsuite's tools and the vast options and possibilities that were presented to us. But we quickly realized, as I'm sure many in higher ed have, that we just didn't have the personnel and individual bandwidth to take advantage of the many tools at our disposal. We also realized that the advanced social listening tools were the most valuable thing we were paying for. But again, it took a lot of time, energy, and relearning how to set up dashboards, do searches correctly, and just integrate the tools into our everyday workflows. Ultimately, it felt like we weren't getting the most out of what we were paying for.
Making the Switch
Campus Sonar: What led you to first consider Campus Sonar as an alternative to your software subscription?
Dobies: Campus Sonar reached out to us, but I think we were mutually in love with each other before we chatted officially (you can confirm that for me, though).
Campus Sonar: Confirmed.
Dobies: Haha that's great. I've always been a big fan of Campus Sonar's work and credibility in our field. The timing of the outreach was perfect. At the time, we felt like we were paying too much money for Sprout's listening product, and the company was unwilling to work with us when we asked for a price reduction due to utilizing fewer of its services.
McBride: Our switch was primarily led by the idea that we could invest, essentially, the same amount of money, but dedicate it to more robust social listening and not worry about all of the bells and whistles we never had time to integrate anyway.
Campus Sonar: What were some of the important factors you considered in making this switch?
Dobies: Certainly cost. For us, the important thing was to find another scheduling and analytics tool that would fit our price point to allow a Campus Sonar partnership. But also, if we were going to go with Campus Sonar, we wanted to make sure the partnership could be tailored to our team's wants and needs.
Campus Sonar: As you explored Campus Sonar, what were some of the most influential differentiators in making the switch?
McBride: The difference between buying software and partnering with an agency was really important. We liked the idea of a dedicated analyst who could build the dashboards for us and handle the nitty gritty code and queries. And knowing we could send an email at any time to ask our Strategist for help in figuring out how to best measure something was really appealing. So along with paying for the Campus Sonar technology, it felt like we were adding team members to our staff.
Dobies: Our conversations with Campus Sonar felt different from the start. You treated us like individuals and not just another sales pitch. Part of it was the fact that you gained my trust long before I met with you about a partnership (I wish more people would do this!). I also felt like you looked at our situation and provided a solution that worked for both our team and our budget instead of trying to fit us into a pre-decided category.
Campus Sonar: We're always more expensive than software alone. How did you approach cost/budget with your team and leadership?
Dobies: For me, this was about purchasing a software product and the brains behind it—not just a software product like we had before. Campus Sonar has industry experts from top to bottom; and more so, they provide consistent guidance and support instead of only when issues come along. In our partnership, we receive monthly advice from our Strategist, which is so valuable because they see things from a different perspective since they're not ingrained in our day-to-day activities.
McBride: For us, it wasn't so much about paying more, so much as it was about paying for more of what we could benefit from. Because again, we weren't adequately using many of the tools we were paying for in our previous setup. This felt like a better fit for us as a team.
Life with Campus Sonar
Campus Sonar: Let's talk about life since your switch. Was there a moment early in your partnership when you knew you made the right decision to switch to Campus Sonar?
Natalie Ipson, Director of Digital Communications, BYU: I moved into my current role shortly after we implemented Campus Sonar, and there were two moments early on where it was clear why.
1) Each year we roll out our admission decisions in a single go and monitor the celebrations from our admitted students via the hashtag #BYUBound. With an enrollment of 30,000+ students, the volume can be overwhelming to keep up with and we have a hard time staying on top of students who might have established robust social brands themselves.
With Campus Sonar's help, we were able to set up instant alerts to catch any new admit who was using the hashtag and had a certain amount of social media street cred. That digital net caught a few big fish that wouldn't have been on our radar otherwise.
2) Occasionally, our campus will welcome a speaker who may be facing some opposition from different social groups and we need to be on guard for any possible protests or campus disruptions. Campus Sonar has been very helpful in identifying and monitoring possible threats or chatter in these instances to help keep our campus safe.
Dobies: Once we had a chance to explore the dashboards and see all of the opportunities we were missing to connect and engage with people talking about our brand, we knew this was the right move.
Instead of our team spending time on finding what people are saying, we're spending time finding creative ways to reply.
Campus Sonar: How have your team's capabilities changed now that you're working with Campus Sonar? Are you able to make decisions or answer questions you weren't able to before?
Dobies: This has been a huge help in allowing our team to focus its energy on day-to-day management (in the pandemic, that has been crucial) and content creation—because we have total confidence that the listening piece is covered. When it comes to our overall brand, we know so much more about how healthy it is one day after another. And there are a lot of general questions from campus leaders that we can answer with more certainty thanks to this partnership.
Ipson: We all need more time in our days, right? Campus Sonar has freed up at least 1.5 days of my work week that were previously spent cross referencing different analytic platforms and scrolling through feeds to put together reports on volume, engagement, sentiment, etc. I cannot overstate how important the time-saving benefit is to me.
Now, I can just pass our regular Campus Sonar report right up the chain and spend the time I saved on developing better strategy based on those fresh metrics.
Campus Sonar: Campus Sonar doesn't offer social media management software or services. How are you handling social media management now?
Ipson: Even before the switch to Campus Sonar, we made the decision not to publish social content through a third party service or schedule social media content to roll out at a future time. There are too many opportunities for formatting bugs or you never know when a crisis is going to hit and your scheduled posts can leave you with egg on your face. I don't mind at all that Campus Sonar doesn't have social media management software services.
Dobies: We were able to work out a solution that allowed us to work with Campus Sonar and find a scheduling/analytics tool, AgoraPulse, that did what we needed for a price that was a small percentage of what we were paying for Sprout. Honestly, a Campus Sonar + AgoraPulse setup is 11/10 perfect.
Campus Sonar: Last question: what should others considering this transition know about the process?
Dobies: Social listening is just as important as content creation. Your brand is what you say it is, and what everyone else says it is—don't ignore half of your brand, otherwise it makes the other half even harder. Invest in that side of the brand just as much as you do the content creation side. And, if you're going into this, you really do want to sit down and talk about how you and the team will best utilize the partnership to get the most out of it. Campus Sonar will live up to its promises, but as an institution you have to take the insights and information and create opportunities to grow, learn, and adapt.
Ipson: I've spent nearly a decade working in higher ed social media and Campus Sonar is one of the best decisions our communications team has ever made. The information, data, and insights that Campus Sonar provides in real time are immediately applicable and add real value to our overall communications strategy. It's almost like we hired a data specialist who is constantly crunching numbers and summarizing specific KPI progress. The metrics and analysis allows us to move faster as a team in developing strategy and providing context to our upline reports.
---
Learn more about our partnerships in our blog post series, which shares stories about how we're helping campuses align and elevate their strategy.