Leverage the Everyday Impact of Athletics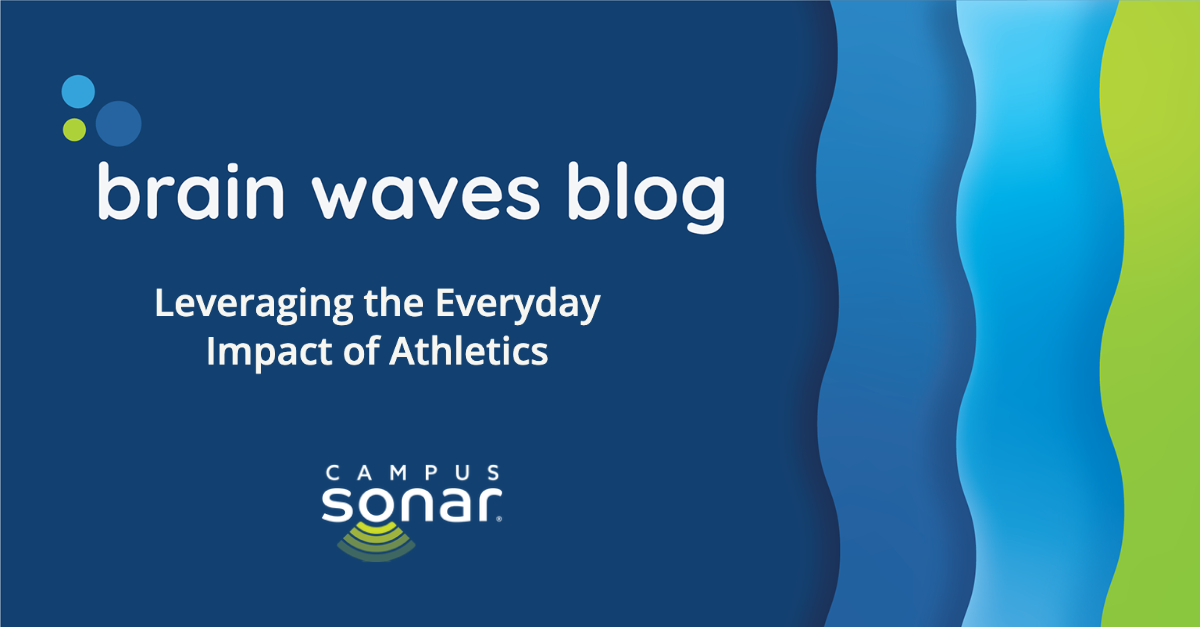 Brand fragmentation is a consistent theme we see in our industry and client research. There are lots of reasons for this, but mainly the folx charged with "managing the brand" are thinking about "the flagship." When you embrace the adage that "brands aren't what you say they are, they're what they [your audience] says they are," the fragmentation is obvious.
In the mind of your audience, your brand may be an institution of education, an employer, a sports team, an academic department, or a community theater—just to name a few. Strategic marketers work towards brand alignment—uniting the purpose, promise, and perception of all aspects of the institution under a single strategy. It's a tall order, and requires a sustained effort.
One trend we're seeing with fragmentation is just how much athletics dominates conversation, no matter the size of your institution. Often, athletics can feel like this big unwieldy thing that exists within your brand, but still feels separate, but when used as a cohesive aspect of your brand athletics has the power to be a huge differentiator.
When Athletics Success Strikes
Let's look at an example. If someone had asked you if you'd heard of St. Peter's College before March Madness 2022, you probably would've said no. But now? you probably know where they're located (Jersey City, New Jersey), their school mascot (a peacock!), and their athletics hashtag (#StrutUp). The ultimate underdog story from the 2022 men's basketball tournament 100% captured everyone's attention.
We tracked Saint Peter's conversation volume from October 2021 through their March Madness Cinderella run; in their Sweet 16 game against Purdue, they had more mentions per minute than their average volume for the prior five months. March's mentions were 12,380 times more than that monthly average.
Get more examples of how campuses leverage athletics in our webinar. Register for the recording.
Harness the Power
Your campus probably won't have a Saint Peter's moment. But highlighting their story isn't about preparing to leverage a once-in-a-lifetime explosion of attention, conversation, and engagement. It's about recognizing the impact athletics can have on an everyday basis. A metric we frequently track for our clients is their farthest-reaching owned and earned mentions. It's incredibly rare that conversation regarding athletics doesn't factor into their top three mentions (on both sides of the coin) every week.
Athletics are part of your campus. They make up a significant portion (more than half, on average) of the discussion when people talk about your school. If you're not actively integrating that athletics conversation into your overall content strategy, you might want to think about why. Are you swimming against the current and neglecting opportunities to meaningfully engage with your community by doing so? Leveraging athletics content is about taking advantage of the opportunities you're presented with—whether that's a big win, a unique experience, or a celebration of human performance.
Athletes give back to their communities. They excel academically while maintaining hectic schedules. They graduate and go on to use the experiences and education they received at your campus to succeed in the world. Their stories can help you tell even more of your campus's story. Take advantage of the opportunity.
Meet people where they are—use the topics they're interested in and want to talk about as a way to optimize your brand and inform your strategy. Use these social listening insights to align your content and messaging with your audience—creating more brand engagement and trust.
Learn more about how we empower you with the insights you need to create and execute data-informed strategies.
Get the webinar recording