How to Set Your Team Up for Success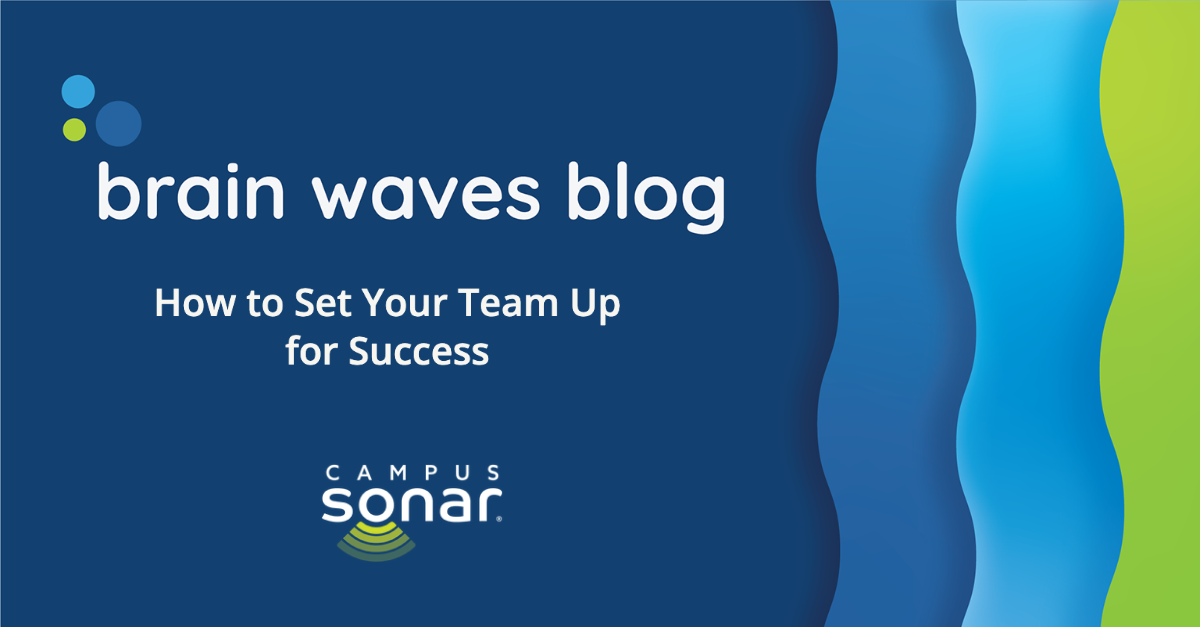 As a marketing leader you have a lot on your plate. Between managing competing goals, responding to urgent requests, attending last minute meetings, satisfying tight deadlines, and more—it's a lot. That's why support is critical to your success as a leader and campus. Setting your team up with the right tools and resources empowers you to achieve your goals.
Set Your Strategy
An effective leader provides clear direction and sets strategic, achievable goals. Effective teams need a unified purpose to be successful. Not only do teams need SMART goals, but also strategic alignment across the institution.
One way to outline goals is by applying the Goals, Strategy, Objectives, Tactics (GSOT) model. The framework focuses on how to put goals into action.
Your goals are your purpose and the driving force behind what you want to achieve.
Strategy is your plan of action and determines how you will achieve your goals.
Objectives are the metrics that define success or the ways goals will be measured.
Tactics are the actions taken to make your goals happen.
Using the GSOT model to support campus priorities allows you to identify areas of alignment across your institution and determine how your team fits into the larger landscape.
It's good practice to identify goal alignment early and often to ensure your team is headed in the right direction.
Provide Data-Informed Direction
You can be an emotionally intelligent leader, a visionary, a consensus builder and more, but none of this means anything without evidence to support your goals.
Using data to inform your decisions is a requirement for today's higher ed leaders. People value leaders who are transparent about their direction and willing to explain their rationale. A way to ensure your plans are clearly defined is to use data to drive your decision-making process. Providing data-informed context helps your team understand how their role supports your institutional strategy.
In the wake of a reputational threat, one of our strategic partners used our social intelligence data to support their president in making a data-informed response. Easy access to data allowed them to put their president's mind at ease and take swift action in preparing to speak during legislative budget sessions.
Not only can data-informed decisions be driven from a reactive model, but they can also support a proactive approach. A world-renowned business school is using our data and expertise to drive reputational growth and identify ways to prioritize marketing brand pillars, programs, and research in a competitive market. The team uses data to make progress on their goals and inform their decisions at every step of the process.
Work with your team to determine the most impactful metrics that keep you data-informed—and help you report back to your leadership and board as appropriate. Ideally the metrics should quantify how you and your team are meeting your goals.
Empower Your Team
Your team needs to feel ownership over their work to be able to save time, build their confidence, and work toward goals. You hired your team to be experts in their roles…let them guide you!
When you empower people to make decisions and focus on their own responsibilities, you expand your capacity to concentrate on executing your campus's vision and provide strategic direction.
Giving others autonomy over their work supports them and elevates institutional priorities by allowing different methods, ideas, and viewpoints to flourish that aren't bogged down by an antiquated status quo.
Many of the campus leaders we work with use our expertise to guide their team on how to use data and insights to inform their work. We often work with leaders and practitioners to identify ways to make data actionable so they can implement change on campus.
In a recent effort to expand team capacity, a campus leader encouraged their marketing team to work with us directly to grow their social media strategy, identify reporting metrics for the university's board, and reimagine their online presence. Throughout the year-long partnership, we provided recommendations to support their efforts which led to a seamless adoption in their daily work.
Define How You Measure Success
Many leaders feel pressured to deliver vanity metrics, but it's important to evaluate success on what really matters—progress toward your goals!
For example, when you evaluate the success of an admissions marketing campaign, what metrics do you think about? For many, there's a focus on likes, followers, or open rates. We encourage our strategic partners to dig deeper and focus on metrics that matter, such as how campaigns drive enrollment applications and what it means for their return on investment and their campaign.
Most recently, we customized a dashboard for one of our campus partners to make reporting to their board easier, asking them to think about:
Who is getting the report?
What do they need to know in order to make their decisions?
When do they need the information to inform their decisions?
Why does this data matter or what is the impact?
Once we created the dashboard, we encouraged them to evaluate success holistically and align metrics with strategic goals that were the highest priority for their institution.
Take a Human-Centered Approach
You can't be everything to everyone so it's important to talk to your team as a human! Don't underestimate the power of building authentic relationships to cultivate a stronger team.
Offer support. Explore ways to understand knowledge gaps and challenges so you can advocate and support your team.
Get to know your team. Make a commitment to learn about your team's needs and career aspirations. Having this shared understanding provides you with the opportunity to identify their individual strengths and align them with institutional goals and priorities.
Don't be afraid to ask for feedback. Ask your team what they need from you and how you can support them. Offer various opportunities to provide feedback whether through a questionnaire, team meeting, or informal chats. Take action from their feedback and celebrate your successes as a team.
Transform Your Team with an Onsite Workshop
We're experts at identifying and evaluating data-informed strategies to support your goals so you can focus on providing strategic direction to your team. If you need help supporting your team, we've got you!