Coronavirus Higher Education Industry Briefing: April 3

Taylor Swift Responds to Student Pleas on Tumblr
Today's Briefing analyzes publicly available online conversation in the U.S. and on Reddit and YouTube (which span beyond the U.S.) about the coronavirus and higher education from March 31–April 2. In this analysis of volume, topics, sentiment, and key audiences, we highlight institutions that have been a focus of national conversation, revisit some prior student themes, and examine questions admitted students ask.
If you'd like to receive each Briefing in your inbox as soon as we publish it, sign up at info.campussonar.com/covid19. You can also review all prior Briefings. Because of the changing nature of social media data and our understanding of the conversation, each briefing covers a distinct point in time. Comparisons from briefing to briefing may be helpful, but we can't draw correlations like we could if we were using other datasets such as surveys or historical social media data.
Download a slide deck with the data from this post.
Volume Continued on a Slight Decrease
We identified about 438,000 mentions of the coronavirus and higher education March 31–April 2, ranging from 130,000–160,000 mentions per day. This is approximately 9 percent fewer mentions than the same period one week earlier. 35 percent of these mentions were higher ed-focused. Remember, our industry-level analysis only captures general higher education mentions. If someone mentions the name or acronym of an institution without using a higher ed term (e.g., campus, university, college, classes, etc.), it's not included in this analysis. Actual volume of conversation across the industry is likely much higher.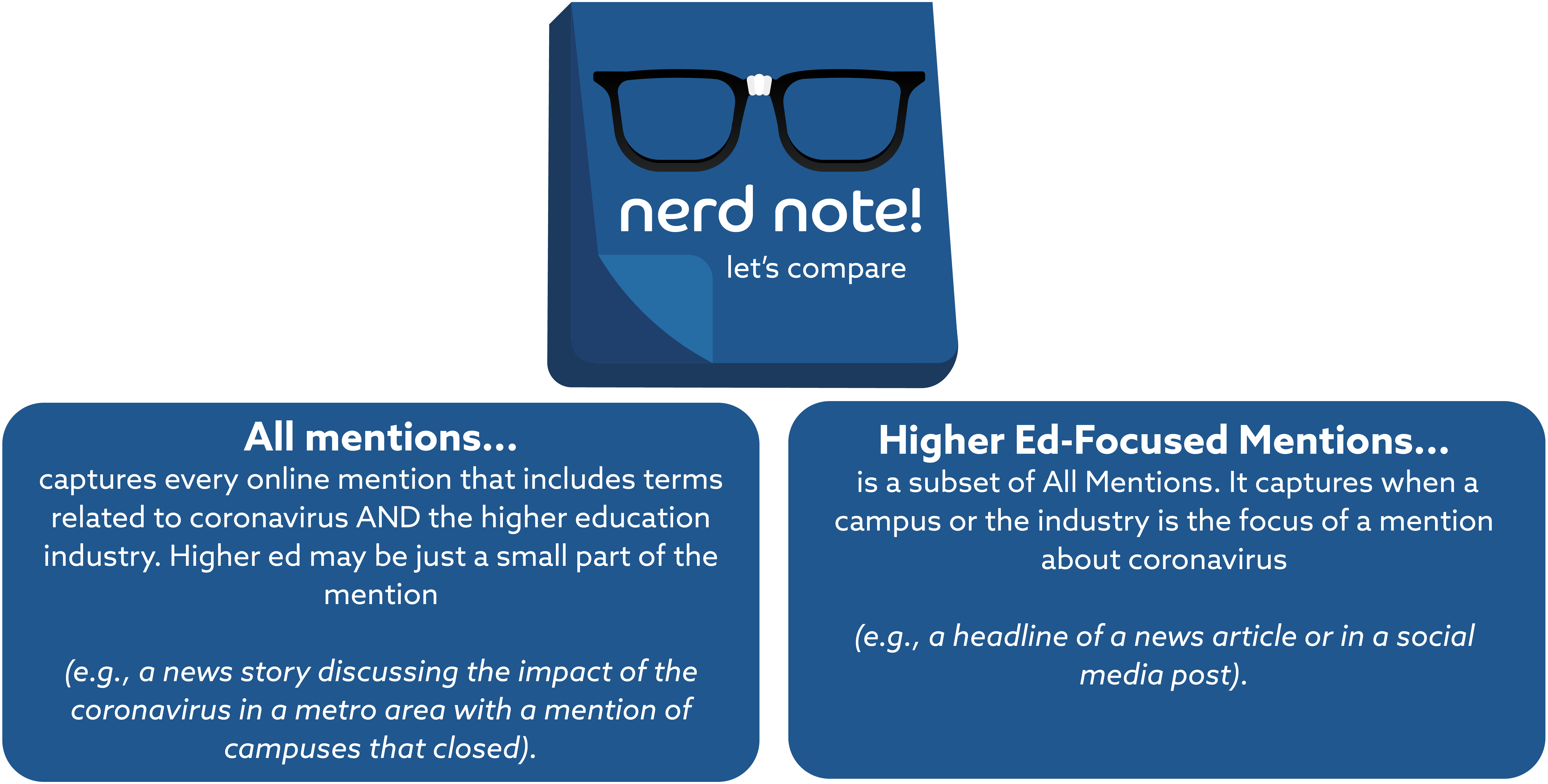 Higher Ed-Focused News Coverage Increased
About 10 percent of higher ed-focused mentions were in the news, which is higher than we've seen since any Briefing other than our first on March 11, which covered the first wave of campus closures. These 16,000+ mentions related to public health, healthcare, athletics, and the topics discussed in the next section.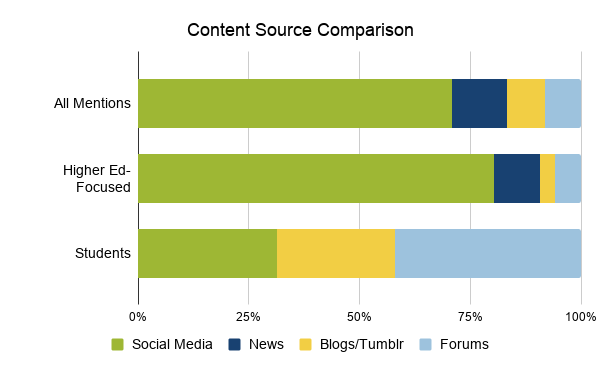 The largest source of first-person student conversation was forums (42 percent, mostly on Reddit), followed by social media and blogs/Tumblr. Remember that due to data access restrictions, we aren't including Facebook, Instagram, Snapchat, TikTok, or LinkedIn in our analysis. Your campus social media manager is the best source of information regarding conversation on those networks. Depending on the software used, social listening for a specific campus can include Facebook and Instagram mentions once account managers verify admin access.
Institutions Appear in Topic Trends
The following word cloud of the top 100 people, phrases, and emojis in higher ed-focused conversation excludes some popular online class memes such as this one from a member of the Alcorn State University class of 2023. SpongeBob fans may appreciate it.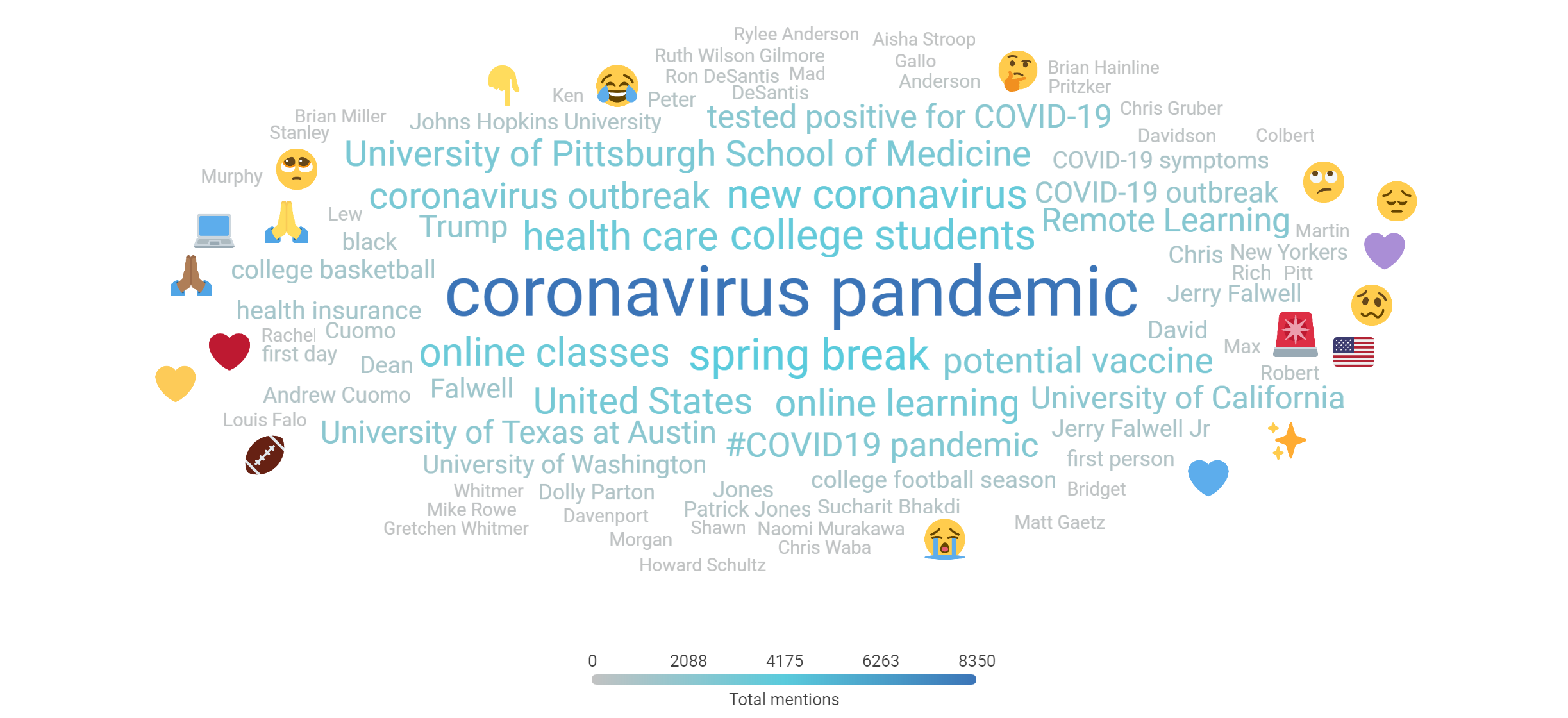 We're starting to see more campuses rising to the surface in online conversation and media coverage. Here's the context for why specific campuses appeared in the top 100 topics from March 31–April 2.
Phrases like "tested positive for COVID-19" apply to many different localities and institutions, unfortunately. This week we also started to see speculation and commentary regarding the possible cancellation of the college football season.
Discussion of Zoombombing Begins
I received a media inquiry this week that prompted me to search our dataset for mentions of "Zoom" and "Zoombombing." Conversation about Zoom increased during the two week period from March 18–April 2. Zoombombing emerged as a part of the Zoom conversation this week, and grew by a factor of four from March 31–April 2. In the following chart, the gold bars labeled "General" are all mentions of Zoom and the pink bars indicate Zoombombing conversation. Inside Higher Ed wrote about the growing concern of Zoombies.

Negative Higher Ed Sentiment Decreases, New Neutral Majority
In higher ed-focused conversation, sentiment is much less polarizing than we've seen in prior Briefings. The majority of the sentiment is neutral (77 percent), with just 17 percent negative sentiment. This may be because conversation shifted to reporting new topics related to academic expertise, testing, confirmed positive cases, and continued updates for campus operations. Outside of crisis situations, most online conversation expresses neutral sentiment. Hopefully we're entering a period of the "new neutral."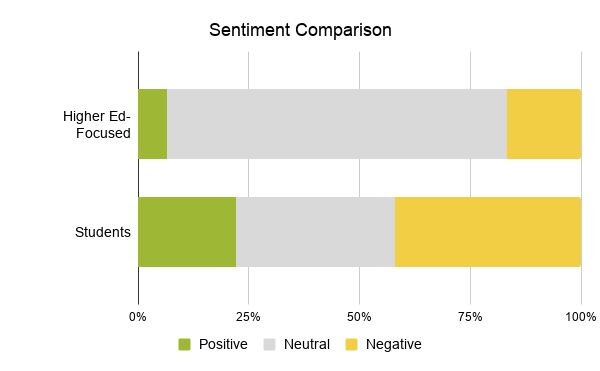 Students Have More Positive and Negative Conversations
While past Briefings showed that students are more likely to display negative sentiment than the general population, they've also consistently had a higher percentage of positive conversation than general higher ed-focused mentions. This trend continued March 31–April 2, with students more likely to display both negative (42 percent) and positive (22 percent) sentiment. It's not all doom and gloom; there are bright spots. If students feel cared for, they're speaking up.
Amidst a sea of negativity, complaints, and anxiousness, someone having a different experience likely feels the need to make a counterpoint. It wasn't an April Fools' joke; on April 1 multiple students actually praised their campus's response to the pandemic. A Drake student tweeted [sic], "Honestly my university has genuinely done everything right amidst this coronavirus—remote classes asap, room & board refunds, offering student aid, making pass/fail options available… I love Drake." Or a Clark Atlanta Student who tweeted [sic], "HUGE thank you to the BEST university MY university @CAU! ❤️ Although COVID-19 has separated us, they take care of their students all the same. I appreciate the assistance and delivery of a new laptop to successfully complete my online studies! 😌❤️"
One of these tweets was noticed and acknowledged by the campus, while the other wasn't. Make sure you're searching the social web for all mentions of your institution, not just those that tag you. It's likely you'll find praise alongside the complaints. As Mr. Rogers would say, look for the helpers.
Continued Student Themes: Mental Health, Basic Needs, Admissions Decisions
We're keeping this section short today as we head into the weekend. Much of the conversation we're seeing from students, family, and admitted students mirrors what we've seen in our seven prior Briefings (review them if you haven't already). Here are a few highlights of continued themes.
Students and faculty continue to discuss their online class experience, and in at least one instance it intersected with themes of mental health and basic needs. Jennifer J. Carroll, an assistant professor of Anthropology at Elon University and an adjunct assistant professor at Brown University shared a 19-tweet thread describing the types of conversations she's had with students during her first three weeks teaching remotely. Returning readers will recognize themes from our March 31 Briefing.
In both the March 31 and March 24 Briefings I highlighted the trend of students asking online influencers for money. At least one celebrity—Taylor Swift—sent money to some fans who wrote pleas for help on Tumblr.
Admitted Student Conversation Emerging
As we enter April, more students are starting to talk about their admissions offers and decision making process as they normally would. (Learn more about common patterns of online conversation from prospective and admitted students in the admissions study Campus Sonar released earlier this year.) In addition to the standard topics of conversation (student athletes still feel blessed to receive their offers), students discussed questions and concerns specific to the pandemic. While your admissions team may feel like the pivot from on-campus visits happened weeks ago, students may just now be starting to notice the impact of making a decision from a distance. Here are some of the questions they're considering.
How to choose between very different offers if they've only visited one campus.
How to choose between multiple offers from elite programs without visiting any of them.
If orientation will be canceled, and how that will affect their ability to find roommates or register for classes.
If international students who applied to "need aware" U.S. institutions indicating they didn't need aid should now consider applying for aid because COVID-19 changed their family's ability to pay.
If acceptances will be rescinded because of unexpected changes to senior year grades.
If accepted students should defer enrollment to ensure they won't have to take online courses.
Students are getting advice on these questions from peers and internet strangers (and hopefully the colleges they applied to). Students who visit College Confidential saw frequent advertisements for an April 3 webinar, How COVID-19 Is Impacting Admissions, where some of these questions would be addressed by admissions professionals.
Summary and Recommendations
Conversation continues to decrease slightly, although a larger portion of higher-ed focused conversation appeared in the news media. This was reflected in our top 100 topics, which included the names of seven campuses. There's also conversation about testing positive, speculation about the college football season, and the emergence of Zoombombing. Students continue to display different site preferences, and this week their conversation was most prominent on forums (mostly Reddit). Student conversation themes mirrored what we've seen in prior Briefings (e.g., mental health, basic needs, requests for money, online course commentary).
Build and promote online hubs for campus contributions to fighting the pandemic. The campuses that were portrayed positively in association with the pandemic (e.g., Johns Hopkins University, University of Washington) have easy-to-navigate, dedicated websites to highlight data or research related to the coronavirus. You may already have this stood up to communicate with your campus community; consider transforming it to serve as a public hub for journalists, the public, and campus constituents. It will help you maintain control over some portion of the narrative about your institution.

Protect yourself and your colleagues from Zoombombings. Seriously, just do it. Start with this guide from the Zoom blog.

Find current and admitted student conversations. Whether it's praise for the way the campus is handling changes to operations, constructive criticism, or questions from admitted students, social listening has never been more important now that all students are online students. Yes, I'm biased because I run a social listening agency. But imagine the power of a well-timed engagement with a happy student to reinforce their affinity and build an online advocate, or a timely response from a current student to an admit who needs help understanding campus life now that she can't visit.

Stay Connected with Future Briefings
The Coronavirus Higher Education Industry Briefing is new territory for Campus Sonar. If you find it valuable, please let us know (tweet us at @CampusSonar, email info@campussonar.com, or comment on this post).
Do you have additional questions about the conversation you'd like us to consider for a future briefing? Let us know.
We'll be back on Tuesday with our next Briefing. After that, we'll continue to publish weekly Briefings as long as the pandemic is a major focus for higher education. Just as your campus has likely moved beyond short-term, quick decision-making, our Briefings will take a step back and analyze conversation weekly rather than three or four days at a time. Starting April 14, the Briefing will analyze data from the preceding Monday–Sunday.
If you're interested in further conversation related to our "new normal," I'm joining a panel of experts for Terminalfour's April 8 webinar, Thinking Strategically in the Midst of Ongoing Crisis. I'd love to chat with you and answer your questions during the event. Register to attend live or receive access to the recording.
Download slides and receive future briefings.
Don't miss a single post from Campus Sonar—subscribe to our monthly newsletter to get social listening news delivered right to your inbox.
The post Coronavirus Higher Education Industry Briefing: April 3 originally appeared on Campus Sonar's Brain Waves blog.