Campus-Created GIFs Generate Student Engagement

At the University of Central Florida (UCF) we learned through our standard social listening on Instagram that our students wanted campus-specific GIPHY stickers. The large number of direct messages and replies asking us to create GIPHY stickers led us to dedicate time and resources to our rather bland and useless GIPHY channel. While we technically had an account, we officially transitioned it to a brand channel. A few short months later, we released our first GIPHY sticker pack—of course flaunting UCF's black and gold brand. And in just over nine months, our GIPHY channel grew from a whopping 104 views to more than 104 million views as of July 2019. That's an average of 11.5 million views a month!
Our strategic goals included attracting prospective students and gaining brand awareness—and with GIPHY we achieved both. As Instagram and Snapchat add-ons grew and evolved with interactive options and incorporating GIFs to stories, we knew we had to do the same thing—we weren't the only ones vying for UCF-themed GIPHY stickers.
GIFs and More GIFs
This platform quickly took off and we received incredible feedback. Since it was working, we invested more time and resources into the social platform. My team started thinking of other stickers that would increase student engagement and brand awareness. When ESPN's College Gameday came to campus, we knew it would be a great opportunity to create event specific GIFs.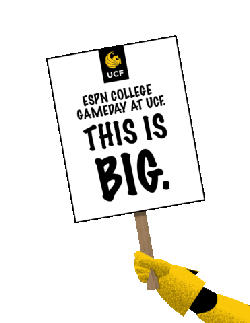 We continued to think of different themes where we could add a UCF logo and our brand's flair. Additional themes included winter, graduation, fundraising, Fiesta Bowl, homecoming, Valentine's Day, spring break, finals week, admissions, pride, and many other sticker packs to encourage prospective students, current students, alumni, fans, and the community to share their love for UCF with their followers.
We knew it was a lot of stickers, but we wanted our stickers to be inclusive of the student experience. Not only did we want stickers for new themes, but we wanted stickers that people associated with UCF, which meant making even the most generic, but highly-used stickers, black and gold.
Measuring Success
Analytics for GIFs are very broad because anytime your GIF appears based on search terms and keywords, it's counted as a view even if it's not used. However, each view creates brand awareness. To try to combat the analytics and see if people use our stickers, we announce new releases on Instagram Stories and encourage our audience to search a specific keyword and tag us.

This social strategy was extremely successful on National College Decision Day (May 1) when we encouraged recently admitted students to share their decision using the "UCF Class of 2023" GIPHY sticker pack. We already knew that National College Decision Day was important to admitted students to share their college choice. So it made sense to create a story showcasing the sticker options they could use. If they're already going to share their decision, we thought, "what can we create for them from the UCF brand?" This was something nice we could do for our admitted students, while increasing our brand awareness. It paid off with the views of the GIPHY stickers (1,156,489!) and with the amount of people who used the stickers and tagged our Instagram account.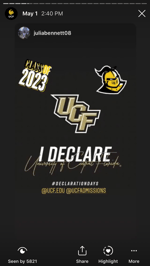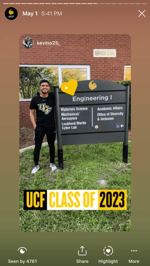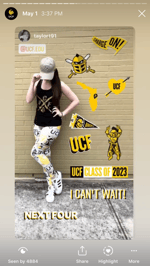 Creating GIFs
How did we create all of these stickers? Our social team used some out-of-the-box thinking to create clean animations that reflected the UCF brand. Brandon Brown, my social media content producer, used Adobe After Effects to develop animations for new and existing stickers. We made an effort to insert a lot of fun and creativity into the GIF animations.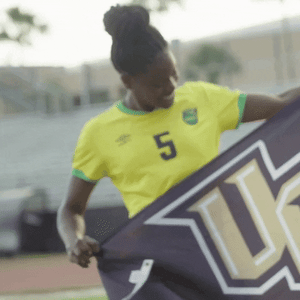 Each sticker's animations are considered from beginning to end—when an animation starts, the previous animation needs to end as the GIFs loop on a social story. This technique makes the animation clean, seamless, and intentional. All of our GIF designs start with a theme that we break into separate animation ideas and elements. Adobe After Effects and Photoshop allow us to break most graphics into several layers that we build back together through animation, creating the final GIF. By loosely following this process we've designed more than 150 GIPHY stickers that provide students and fans creative content to express their feelings about UCF.
With the success we've had implementing and using GIPHY stickers, we're continuing to create and animate all things UCF. Stickers allow our students to share their UCF story and experience to an extended audience who may not experience it otherwise.
Don't miss a single post from Campus Sonar—subscribe to our monthly newsletter to get social listening news delivered right to your inbox.
The post Campus-Created GIFs Generate Student Engagement originally appeared on the Campus Sonar Brain Waves blog.