Are You a Modern Marketer?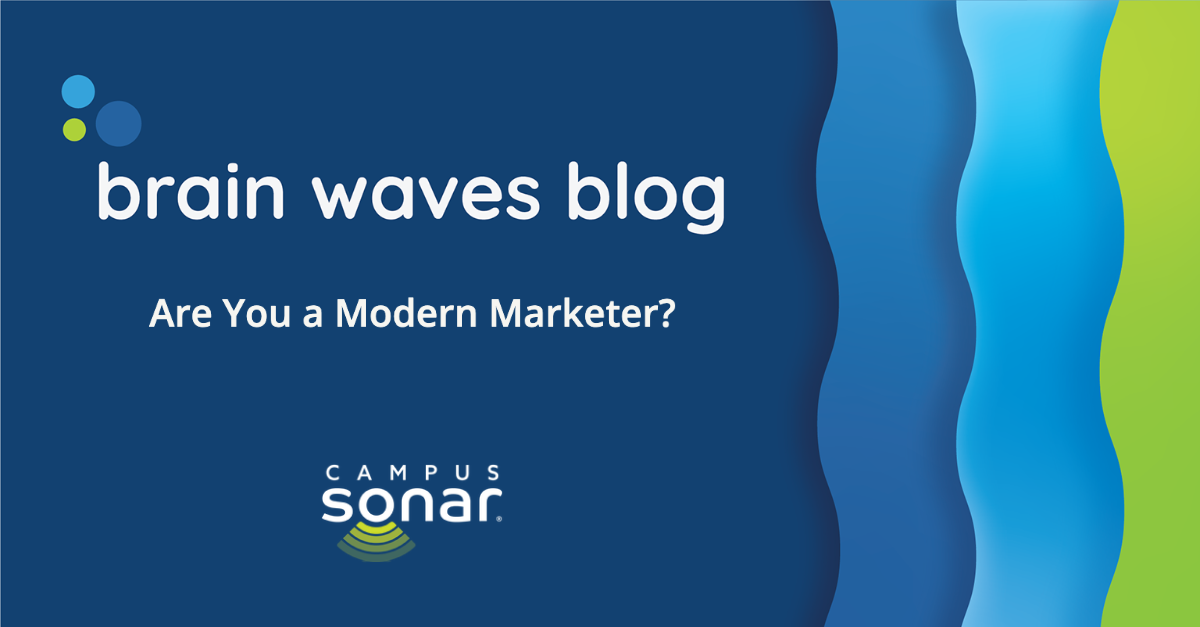 Recently I found myself happy to be stuck in downtown traffic. It meant I had enough time to listen to Building a Modern Higher Ed Marketing Team in one sitting. This episode of Helix Education's Enrollment Growth University podcast featured an interview with Dr. Joseph Brennan, Vice President for Communications and Marketing at the University at Albany.

Every higher education marketing leader should listen to this episode. Brennan's take on strategic planning and structuring positions within a marketing organization is the type of stuff taught in business school (I should know, I was on my way to a strategic alignment course at the UW-Madison Center for Professional and Executive Development when I heard it). In fact, I'd take his argument even further: traditional market research methods, paired with cutting-edge digital methods, allow marketers to gather insights and craft messages that resonate with their audience and achieve strategic objectives.
The Call for Data-Informed Marketing
About twelve minutes into the episode, host Eric Olsen asked if there are any specific positions or abilities that higher education is currently understaffing for. When I heard Dr. Brennan's response, I started clapping my hands and yelled "Amen!"—seriously.
"If we are going to really be first-rate marketers, we have to be data-informed. Data today is prolific. We live in an era of big data, so we need people that know how to systematically gather up this data. And more importantly, get the story, get the strategy, and get the insights out of it. Looking at numbers on a page is one thing, but really understanding the implications for action is quite another. If I had one new position today I would put it into research and data analysis."
This is one of many calls for data-informed marketing from senior higher education marketing professionals in the last year. Mike Barzacchini talked about the importance of market research at the CASE Summer Institute on Communications and Marketing this year. One of my favorite sessions at the 2016 AMA Symposium for the Marketing of Higher Education was Informed Action: Using Market Research to Align Campus Stakeholders and Drive Strategic Success. In a climate where every dollar and project must be justified, higher education can't afford to build strategic marketing initiatives that aren't firmly rooted in data. But where does that data come from? Sources of marketing data have been growing faster than some of us are able to keep up with.
Marketing Data Has Many Sources
Traditional market research methods (such as surveys, focus groups, and interviews), while reliable and rich sources of data about your audience and community, can be costly and time consuming to implement. This is important data as it helps us understand the mindset and decision-making process of our target audiences so we can implement strategy to preserve and measure reputation, improve yield rate over time, or increase donations.
During the last 15 years, many types of marketing data have become instantly accessible if you have the right skill-set. Think website and mobile app analytics, email marketing data, and customer relationship management (CRM) systems. This data helps us understand and measure the outcome of our tactics and strategies, and can be useful in designing informed audience segmentation.
And now a new wave of data collection is here. The 2016 Q3–Q4 Greenbook Research Industry Trends (GRIT) Report details the use of emerging market research techniques. The methods that have gained the most adoption in the last three years are mobile surveys, online communities, social media analytics, and text analytics. These four methods have one thing in common—they focus on gathering data in as unobtrusive a way as possible, without putting participants in a sterile research setting. From a market research perspective, this offers many benefits, such as increased authenticity and honesty.
Modern Marketing Is Powered By Social Listening
Social listening—what we do at Campus Sonar—is one of these methods, and we believe it should be integrated into the research and data practice of most marketing organizations. Like focus groups and interviews, it helps us understand the mindset and decision-making of target audiences using accurate and relevant data. Unlike traditional methods, it's:
Fast
Flexible
Longitudinal
Human
Social listening is not a social media investment. It's a strategic investment to get closer to your students, audience, and community. Market research is just one way social listening can contribute to the strategic objectives of modern higher education marketers. In a few weeks, we'll share a specific case study about how we've used social listening in research projects at Campus Sonar. Stay tuned!