5 Essential Documents to Create a Strategic Social Media Program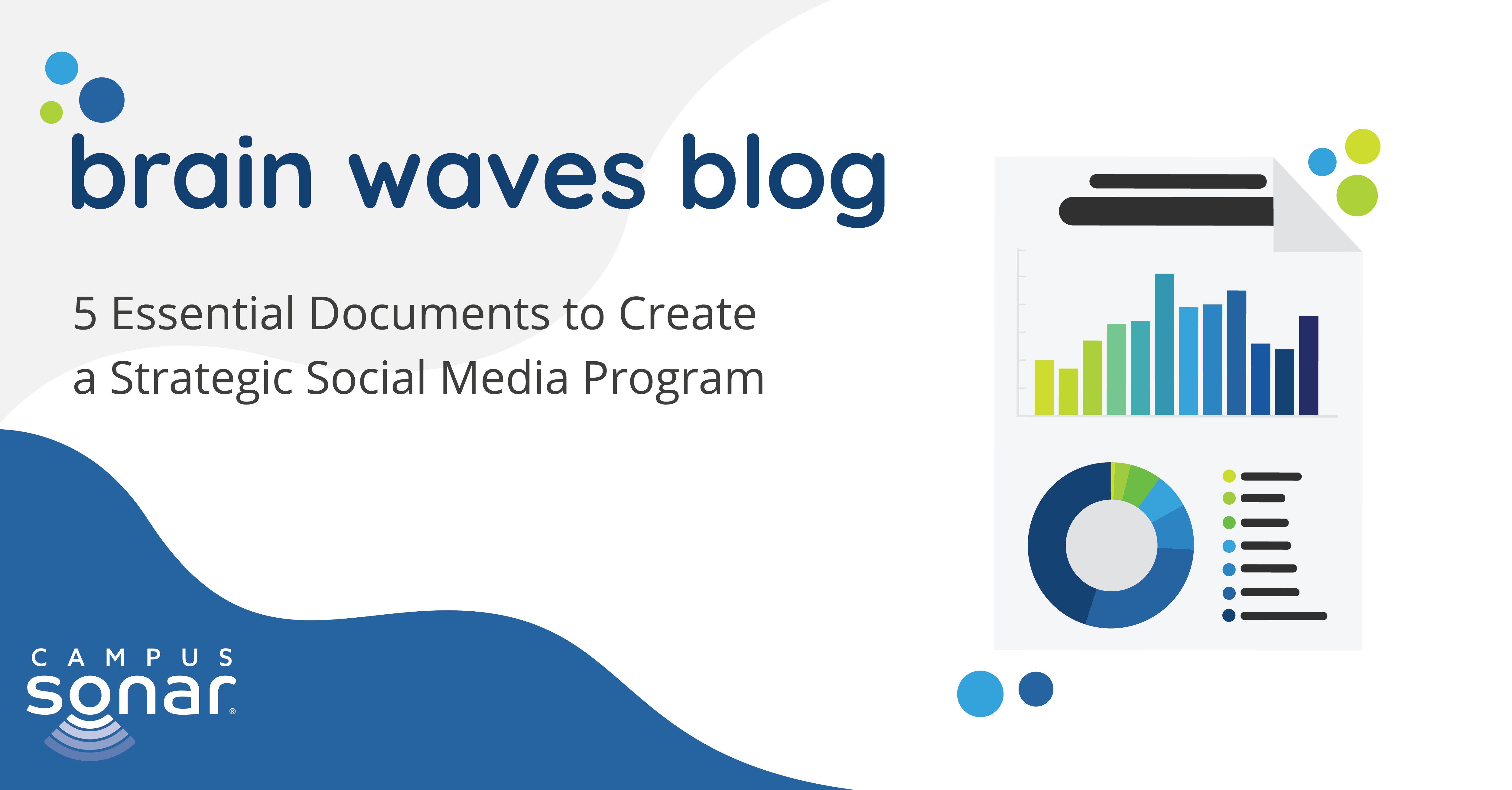 Although they're not the most exciting part of social media management, well-defined guidelines and policies are essential for a consistently effective social media program. In addition to giving you something to turn to in stressful situations, guidelines and policies have a couple of benefits.
Provide a consistent presence and level of service from your accounts, even if they're managed by multiple people.
Support adherence to other communication policies that apply to social media (e.g., brand guidelines, crisis communication plans).
Ease staffing transitions by ensuring institutional knowledge isn't lost during staff turnover.
Protect your campus from reputational harm by providing frameworks for messaging and appropriate levels of account security.
Your campus may have a policy related to the individual use of social media by students or employees. That's not the kind of policy I mean. Instead I'm talking about the guidelines and policies that establish expectations and procedures for campus social media accounts.
In Chapter 15 of Fundamentals of Social Media Strategy: A Guide for College Campuses, I recommend creating five documents related to your social media program, and regularly reviewing and updating them.
Strategic Overview
Administrative Tasks
Content Planning and Publishing
Engagement and Listening
Crisis Communication
If you don't have any of these documents, I've listed them in the order that I suggest creating them. Good news—if you've read Section 1 of Fundamentals of Social Media Strategy, you're well on your way to creating four of the five documents.

Strategic Overview
The Strategic Overview document is the written version of your elevator speech (although it may be more suited for a walk across campus than a quick elevator ride). It shouldn't be longer than two to three pages (or a short slide deck). Your strategic overview describes:
Goals of your social media program.
Target audiences.
Platforms used to reach target audiences.
What success looks like, and how you'll measure it.
Tips
Make sure your goals align with campus outcomes, not just social media metrics.
The general public is not a target audience.
Regularly consult research to

monitor platform demographics

.
Build a cohesive measurement plan that considers all channels and actions social media may influence.
Administrative Tasks
The Administrative Tasks document contains all of the things you have to do on a somewhat regular basis, but not so frequently that they're easy to remember when the time comes. Many of the document's components relate to laws and regulations or risk mitigation. Your campus legal counsel will be happy to know you have this document. To construct it, document how you'll accomplish the following.
Archiving and Reporting
Are you required by any laws or expectations of leadership to keep an easily accessible archive of your content calendars, deleted/moderated content, or inquiries related to specific topics (e.g., requesting disability accommodations)? If so, document a procedure to capture and archive the content. This could be as simple as saving content calendars in a designated drive or taking a screenshot of comments before they're deleted and saving them with a standard filename. There are also service providers (e.g., ArchiveSocial) that do this work.
Once you establish standard reporting procedures, this is also a good place to save that information, including any reporting templates.
Reporting Imposters or Trademark Infringement
When you come across an account that fraudulently represents your campus or one of its leaders, stress can get the best of you. Each platform has procedures for reporting imposters or trademark infringement (i.e., improper use of your logo), and you may need some copyright information from your legal counsel to make a complete report. Document the reporting procedures as well as applicable copyright references for your main trademarks so you can handle situations like this in hours or days, rather than weeks or months.
I benefited from this personally when I managed social media for a student loan servicer. During the government shutdown of 2013, bad actors used our logo (as well as the logo of one of our competitors) to create Instagram accounts spreading fraudulent information about student loan payments and requesting personal information from student loan borrowers. We found these accounts right away through social listening, and were able to report trademark infringement to Instagram that same day. Within 24 hours, the offending accounts were removed and we'd reached out to any individuals who appeared to be influenced by the accounts. Our competitor didn't fare as well, and the accounts misrepresenting them multiplied and lingered for a week. During that time, the media covered the issue and our competitor received negative press. Because we'd dealt with the issue immediately, there was nothing about our business for the media to report on and we weren't mentioned in any of the articles.
Password Management and Security
Good social media password management and related security practices ensure you don't lose control of one of your campus's most efficient and visible ways of communicating with the public. Don't think it can't happen to you—even our largest universities have been compromised. UW-Madison's Twitter account was hacked in May 2017, and three of the University of Michigan's largest athletics Facebook pages were hacked in August 2015. Yet, some campus social media accounts still have simple, shared passwords that aren't changed often enough and don't take advantage of simple ways to deter unauthorized access to accounts. Documenting and following policies that increase the security of your social media accounts protects your campus's reputation and all the content you've worked hard to create.
Use complex, random passwords and change them regularly—at least every 120 days. If you temporarily share passwords with students or alumni for takeovers, you may need to change them more often. Don't use the same password for multiple accounts. Using a secure password manager like Password Safe, 1Password, or LastPass allows you to generate random, complex passwords for each account and share them among team members using browser extensions or mobile apps.
Enable (and ideally, require) two-factor authentication on every account you can. For some platforms, like Twitter, this might not be possible if multiple people manage the account directly, although it would be possible through management software like Sprout Social. For Facebook Pages, every admin should have two-factor authentication enabled on their personal profile. Two-factor authentication ensures the person accessing the account can prove they are who they're supposed to be by using a text message or app notification to verify their identity when they log in from a new device.
Regularly review access for every account you manage—at least annually. Ensure only the necessary people have admin access, and check what third-party apps have access to post using the account. It's also wise to document the process you'll follow when someone who is an admin leaves campus employment.
Compliance with Terms of Service
Finally, to ensure you're in compliance, it's good practice to review the terms of service for each platform you use on an annual basis. Make sure none of your efforts (or the efforts of the vendors you work with) are in violation of the terms of service. For example, if a staff member creates a duplicate/fake Facebook profile in order to gain administrative rights to a Page, that's a violation of Facebook's terms of service and risks the unintended deletion of that profile—or the actual profile of the person who created the duplicate—and loss of access to the Page (if there aren't other admins).
While this may seem tedious, violating terms threatens the existence of the content you've created on the platform and opens up your campus to possible liability. Knowing the terms of the platforms you work with on a daily basis should be core to the social media manager role.
Tips
If at all possible, make friends with folks in legal affairs.
Find out if you have any special compliance or audit requirements.
Use a password manager. Seriously.
Content Planning and Publishing
The Content Planning and Publishing document ensures your social accounts have consistent, on-brand, and accessible content with the appropriate approvals—even if you experience staff turnover. It should include the following.
Rules for content curation.
Content creation procedures and best practices, including accessibility.
Your content framework.
Editorial procedures, including calendars and approvals.
Publishing procedures, including guidance on scheduling.
| | | |
| --- | --- | --- |
| | Examples | % of Content |
| Campus Life & Beauty | Current and historical photographs of UAFS campus, student activities and university events, extracurricular accolades, community visits to campus, campus outreach to community. | 40% |
| Student, Faculty, & Staff Success | Academic and professional accomplishments, student internship and career placements, study abroad experiences, alumni achievements. | 20% |
| Information Posts | Deadlines (e.g., FAFSA, financial aid, applications, enrollment, registration). | 20% |
| University Accolades & Fundraising | State or national designations, grants, gifts, appeals. | 10% |
| Active Engagement | Responding to messages, liking, comment, inviting viewers to follow the account, user-generated stories. | 10% |
* Example courtesy of University of Arkansas–Fort Smith.
Engagement and Listening
Your Engagement and Listening document sets parameters for what you'll monitor and proactively listen for (and why), and how you'll respond to inbound messages. It should include the following.
Where, why, and how you're searching for conversations or mentions.
What types of messages you'll respond to.
How to respond to messages.
When to moderate content or users (e.g., delete, hide, ban).
Tips
Use consumer research to back up your expectations for response time.
Provide guidance to discern between sincere and insincere questions.
Provide guidance to engage on tough issues.
Be aware of the

legal implications

of content moderation, especially for public institutions.
Crisis Communication
There are two types of crisis situations you'll want to document responses to: individual crises and campus crises.
An individual crisis is the result of one person's message to a campus social media account. Document the procedure for responding to or reporting messages from individuals in crisis situations such as threatening self harm or reporting sexual misconduct or anything related to Title IX.
For campus crises (e.g., natural disaster, public health emergency, employee misconduct, unexpected media attention, etc.) social media should integrate into a campus crisis plan. However, it may be helpful to have the social media crisis response plan available directly to social media managers. Include the following, then see our Phases for Social Media Crisis Management for more information on crisis communication.
Who determines the campus is enacting a crisis response.
How to handle non-crisis content on social media (both publishing and engaging) during a crisis.
Who provides crisis communication updates to account managers, as well as what content and responses need approval or guidance, and from whom.
How account managers should report on social media activity during a crisis.
How increased staffing needs will be managed in a crisis situation.
In our book, we included sections at the end of each chapter called Your Turn to help you complete each of these five documents. Or watch the presentation Liz gave at the 2020 HighEdWeb conference and use the Social Media Strategy Workbook to start drafting each recommended policy. If you haven't yet, download a free copy of the book.
This post originally appeared on Campus Sonar's Brain Waves blog.