What's Normal? Benchmarking Higher Ed Social Media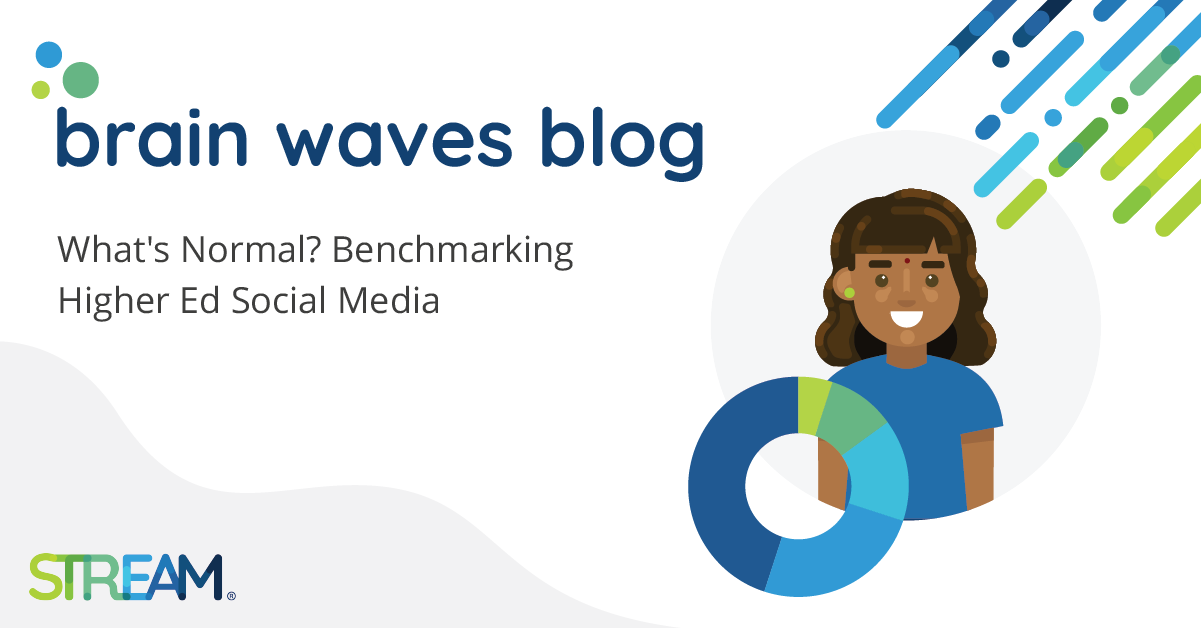 We're sharing a sneak peek into the types of insights our client partners get by digging into some aspects from our report, Social Listening Benchmarks for Higher Education: January 2021. It's intended to support you in analyzing your campus's online conversation behavior against a comparable sample. The report covers online conversation trends in higher education and institutional benchmarks by enrollment size and type. But we also looked at where these conversations were happening—what were the sources of the conversations? It's important to understand where your annual conversation occurs. It informs where to invest your time and effort, and guides your overall content strategy.
Social Media Conversation
We shared in Social Listening Benchmarks for Higher Education: January 2021 that the internet is real life. Social media is how your key audiences and communities share their lives, offering you an opportunity to learn more about who they are, what they care about, and how they feel. And most importantly for you—how they feel about your campus.
In the report, we analyzed six conversation sources. Social media drives the largest amount of online conversation at an average of 73%. This conversation includes mentions from Twitter, Instagram, and YouTube. Twitter is by far the largest data source our social listening software collects, with very few mentions from Instagram and YouTube due to platform and privacy restrictions. Due to the number of users who use both Twitter and other social media sites, findings from Twitter can be considered characteristic of all social media sites.
Conversation Volume: How Many People Are Talking
Social media mentions were 64% to 88% of total annual online conversation for the middle range of our sample. If your campus's social media mention volume is in this range, it's considered typical.
Takeaway: Knowing these ranges helps you monitor conversations to find where they're likely to occur online. Once you learn where mentions of your campus occur you can further analyze how audiences differ on each platform and the best way to communicate with different users.
Sentiment: How People Feel When They're Talking
Social media generates a lot of conversation overall and is the source of the most positive conversation. It's also the source of the most earned conversation (people talking about your campus) compared to other sources.
We found that social media mentions were the least negative of the content sources—likely a surprise to campus social media managers who respond to these mentions. When your campus's negative sentiment seems higher than usual, take a step back for a broader view of your conversation with the goal of quantifying conversation sentiment or gaining additional perspective.
Of total social media mentions, positive mentions ranged from 22% to 35% with a median of 28%. The median of negative social media mention was 3%. The biggest range was with neutral mentions, which were between 0% and 87%, with a median of 68%. If your conversation aligns with these ranges, it's normal.
Takeaway: The general positivity of social channels allows you to leverage them and use the content you see as a barometer for how your audience feels. You can expect some negativity, but if there's a significant and persistent shift toward negative sentiment in social conversation it should serve as a warning, indicating that a crisis could be on the horizon.
Owned vs. Earned Conversation: Who's Talking about You
Social media mentions represent the largest share of conversation for owned and earned audiences. The middle of owned social media mentions fell between 17% and 48% and between 31% and 48% for earned social media mentions. If your campus falls within these ranges, your owned and earned conversation is normal.
The range for owned conversation volume around the median was far wider than the range for earned conversation (by nearly double). This indicates much less consistency in how campuses approach their owned content, and potentially illustrates the impact of earning high rates of retweets and shares, which boosts a campus's owned conversation percentage. While earned conversation volume was predictable based on campus enrollment, program type, or control, the amount of owned conversation varied greatly by campus. This makes sense as each campus social media program is unique, and has different goals, strategies, and resources.
Takeaway: It's helpful to see how your owned conversation stacks up against other campuses, but a better benchmark may be understanding how your earned conversation compares, and whether or not your campus generates social media conversation and brand engagement at levels comparable to your peers.
Owned Social Media Accounts
It was also valuable to analyze the number of owned accounts for campuses that publish social media content. In our sample, the smaller the institution, the more variation there was in the number of owned accounts. Larger schools appeared to have more uniformity in the number of owned accounts by their enrollment size. The middle 50% of owned social media accounts by institution size are:
Very small institutions is between 3 and 17 accounts
Small institutions is between 19 and 46 accounts
Medium institutions is between 30 and 78 accounts
Large institutions is between 86 and 188 accounts
The nature of larger institutions typically means they have more financial and human resources to create and support owned social media accounts.
Owned and Earned Mention Type Breakdown
To further understand your audiences, you can examine their behavior and habits across different types of social media mentions, meaning original posts, shared or retweeted content, and comments or replies. We assessed the breakdown of owned and earned social media mentions by these types. Your conversation is normal if it falls within these ranges.
Owned Conversation by Mention Type
Original posts: 30% to 66%
Shared or retweeted posts: 33% to 67%
Comments or replies: 1% to 2%
Earned Conversation by Mention Type
Original posts: 29% to 46%
Shared or retweeted posts: 27% to 54%
Comments or replies: 8% to 15%
As enrollment increases, the proportion of original social media posts for owned social content decreased. Large institutions with more than 10,000 students posted between double and nine times the original social media content of medium to very small schools. But the proportion of original social media posts to all owned social media content decreased as enrollment increased. A typical range for original posts from large institutions is 21% to 33% of all owned social media content. However, the typical range for institutions with less than 10,000 students is 32% to 64% of all owned social media content.
Large institutions also have a higher proportion of shared and retweeted content compared to institutions with less than 10,000 students.
Large campuses generate 64% to 77% of their owned social media content as shared or retweeted content.
Smaller campuses generate 33% to 66% of their owned social media content as shared or retweeted content.
We expect these ranges to be distinct for campuses with different enrollment—larger campuses usually have more owned social media accounts and more resources to support the accounts over time. It was more surprising to find that as enrollment increases, the proportion of owned social media posts decreases.
However, there's little social listening evidence that campuses with less than 10,000 are driving benefit by posting more original content. The typical range of earned social media content for large institutions is 38% to 49% and the range for smaller institutions is similar, 32% to 49%. This illuminates the potential value of owned comments and replies, not only for all institutions, but for smaller institutions in particular. The typical range for owned comments and replies is 1% to 2%, with little difference by enrollment size.
Takeaway: If you work at a smaller campus (which typically develops original owned content at double the rate of larger campuses), consider putting fewer resources toward the development of owned original content and more toward audience engagement via comments and replies.
Consider These Questions for Your Campus
Does your campus conversation align with the social media volume benchmarks? If you're at the high end, do you know what drives your volume up? If you're at the low end, what opportunities exist to build out additional content and engage with your priority audiences?
When looking at your campus conversation volume and trends, does it follow the patterns seen in benchmarking campuses, or do unique patterns emerge? Are there campus events or other campus activities that influence these trends? How can you use your unique characteristics as a differentiator?
Do you have open lines of communication between your media relations and social media staff? Do you have a process in place to share information or escalate issues if they arise?
Depending on your campus size, can these trends inform adjustments to your strategy that maximize your resources and brand impact?
Are your owned accounts actively engaging with audiences via comments and replies? If not, how might you adjust your strategy to deepen relationships with your audience?
How can you encourage your audience to amplify your owned content and share your messaging?