The Flutie Effect: Capturing Athletic Success in College Admissions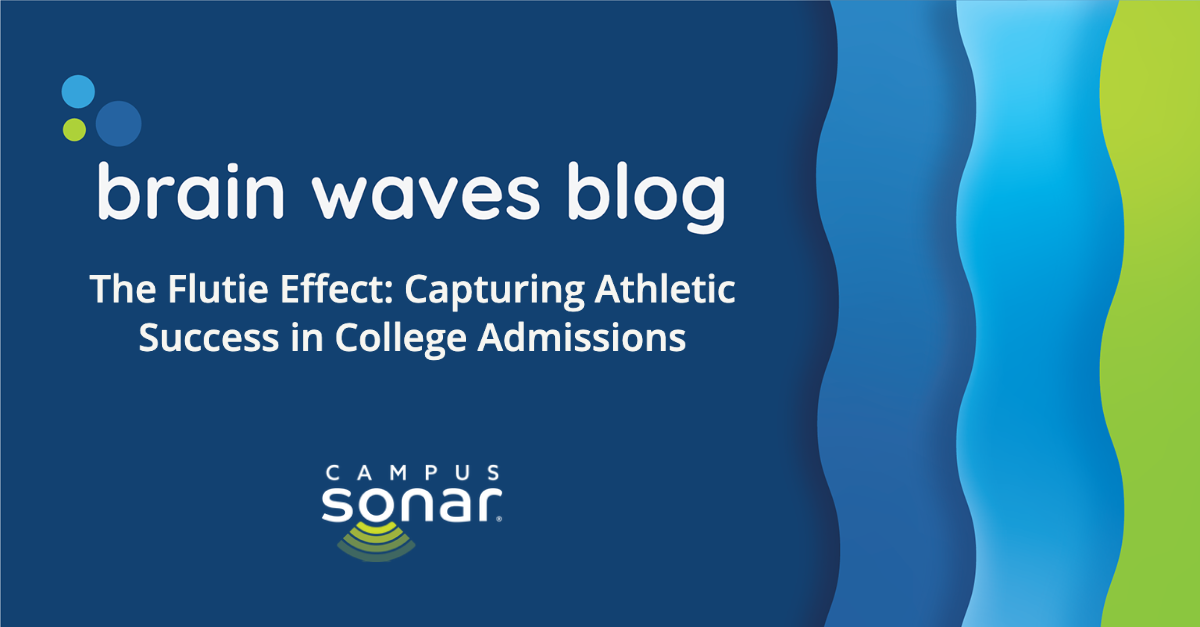 Collegiate athletic programs exist for a number of reasons; namely, they're a huge revenue generator, taking advantage of conference-affiliated and national television broadcasting contracts and merchandising to market their teams and universities.
Every day at Campus Sonar, we have the opportunity to analyze how different segments of an institution affect online conversation and media content. Generally speaking, college athletics is a huge draw, particularly for events on a national stage, such as NCAA's March Madness; however, research from our 2019 Online Conversation Benchmarks for Higher Education report shed light on the positive and negative ramifications that athletic conversation has on an institution. We found that athletics increases an institution's total online conversation by an average of 236 percent and the number of unique authors by an average of 118 percent. Additionally, 64 percent of institutions with an athletic affiliation saw a decrease in positive sentiment in their overall online conversation when our search included athletics.
Doug J. Chung, marketing and business administration professor at Harvard Business School, conducted research in 2013 that explored the quantitative relationship between higher education institutions' athletic success and the volume and quality of their applicants in the coming years in "The Dynamic Advertising Effect of Collegiate Athletics." Chung claims that the most successful marketing campaign an institution can have is a successful athletic team, primarily because of the dominance of college athletics in our nation's media. At the highest level, Division I college football bowl games, NCAA football playoffs, and Final Four basketball games can rack up 20–30 million viewers, making them some of the most watched sporting events in the entire country.
Athletic Success = More Students and More Money
"On average, schools in major athletic conferences tend to attract higher-quality students than those in non-major conferences and that the trend in the percentage of conference wins in football is positively correlated with the increase in the quality of incoming students,"
Additional research from Smith College's economics department in early 2019 shows direct correlations between collegiate athletic success and an increase in alumni donations as well as applicant quality—in terms of standardized test scores. Michael Anderson found that an athletic program that finishes with three wins above their expected pre-season win total can expect a 17 percent increase in alumni athletic donations. Institutions in our benchmark report saw a 315 percent increase in online conversation from admitted students due to athletics-related content (page 19).
The Flutie Effect
In 1984, the University of Miami's prestigious football program engaged in a head-to-head matchup against an underdog opponent, Boston College, led by quarterback Doug Flutie. Flutie had a game-winning Hail Mary pass in the fourth quarter, but his college football legacy is actually the profound effect the nationally televised Thanksgiving Day victory had on the university during the coming years. For the following three years, Boston College experienced an unprecedented 30 percent increase in application volume. Since then, the phenomenon of an increase in college applicants following significant athletic success was coined the Flutie Effect. College marketing strategy evolved to take advantage of this, and we've seen a few notable examples of similar growth and success.
Georgetown University had a 45 percent increase in applicants between 1983 and 1986, during star athlete Patrick Ewing's dominant tenure on the school's basketball team.
Butler University experienced a 43 percent undergraduate application spike after their 2010 NCAA men's basketball tournament run that featured now-NBA player Gordon Hayward and fan-favorite coach Brad Stevens.
Texas A&M experienced an admissions boost following Johnny Manziel's tenure on their football team.
Lehigh University had a rise in popularity during and after their 2012 men's basketball upset over Duke, led by now-NBA player C.J. McCollum.
The most recent manifestation of the Flutie Effect was with a small state school in Central Maryland, the University of Maryland Baltimore County, also known as the UMBC Retrievers. UMBC's stunning upset over the University of Virginia in the first round of the 2018 Men's NCAA basketball tournament marked what is now known as the greatest college basketball upset of all time, and the first time in history that a 16-seeded team beat a first-seed team in the tourney. UMBC used the upset to their advantage with a clear increase in social media engagement and application and admissions volume. Prior to this upset, UMBC's applications and admissions increased by 3 percent each year, but between the 2017–18 and 2018–19 academic years (before and after the victory) UMBC grew their student population by 18 percent, or just under 2,000 additional students—the most significant admissions shift in the college's history.
The Flutie Effect in Division II and III
There's plenty of academic research related to Division I athletic programs, particularly those in Power 5 Conferences (ACC, SEC, Big 10, Big 12, PAC 12); however, it's just as relevant to examine the carryover into Division II and Division III athletic programs.
To investigate, we looked at social listening data spanning the past three years to determine if there was any change in online admissions and/or prospective student conversation for the winners of the Division II and Division III men's basketball tournament in 2017—Northwest Missouri State in Division II and Babson College in Division III. Looking specifically at the 2017 champions, we analyzed their online conversation before the victory and for the two years since, comparing mention volume, sentiment, and segmentation.
After examining the online admissions conversation volume before and after the 2017 championships, it's evident that the two institution's mention volume increased significantly; with the largest increase in prospective student conversation as opposed to current students or alumni. Babson College's online admissions mentions increased by 50 percent between the 2016–2017 and the 2018–2019 academic years. Northwest Missouri State's online admission conversation volume increased by 91 percent during the same period. Both schools also experienced a 50–60 percent increase in the volume of unique authors, specific accounts or individuals who create the content, over the same time.
Apart from the clear increase in online conversation volume, the next step for institutions is to examine specifically how they can use this to their advantage and increase student yield. Coordinating the specific athletic success and integrating it with campus tours and prospective student resources allows admissions offices to make the most of the positive boost gained from winning athletic programs. Universities can capture potential additional applications using their athletic success as a medium for conversation and way to identify engagement opportunities. Using the spike in conversation and interacting with the target students is a great strategy for pulling in prospective students, appealing to the sentiment of school pride that comes along with athletic prowess. It's also a great medium for prospective students to interact with, and relate to, current university students.
In the process of analyzing the online conversation for Babson College and Northwest Missouri State, we identified a few examples of missed engagement opportunities that would have reinforced this strategy.
This new commitment announcement from a future Northwest Missouri State women's basketball player showed significant reach and used college-specific branded content.
Happy to announce my commitment to Northwest Missouri State to continue my basketball and academic career. Excited for the future! @nwbearcatwbb pic.twitter.com/slpkMaM9hQ

— Emma Atwood (@eatwood44) March 14, 2019
Another example shows an engagement opportunity from a non-athlete.
Took my son on a campus visit today. He's thrilled to be a bearcat. @NWMOSTATE pic.twitter.com/YQG95lJ1As

— Braxton Long (@jerrytheknob) April 12, 2019
Northwest Missouri State could have gained a significant number of impressions from a simple response or encouraging message to either of these tweets. Engaging with prospective student athletes is even easier now that the NCAA deregulated recruiting communication for all DI, DII, and DIII schools, allowing athletic department and campus staff to connect with prospective student-athletes via social media.
To make the most of a school's athletic success in terms of admissions and application volume, institutions need to market themselves accordingly; including recognizing and responding to committed and prospective students online.
The academic research, analysis, and examples are proof that collegiate athletics is a huge draw for prospective students and potential donors. Athletic success serves as a common ground that can transform an otherwise loosely knit campus into a true community with increased brand awareness. The higher education environment is ever-changing, yet students are consistently interested in athletic programs, through support and identification with peers who compete on their behalf. It's a matter of pride, and as long as universities continue to promote their campus alongside their athletic programs, there is sure to be a strong student following and steady inflow of prospective students.