Rethinking How We Tell (and Measure) Stories on Campus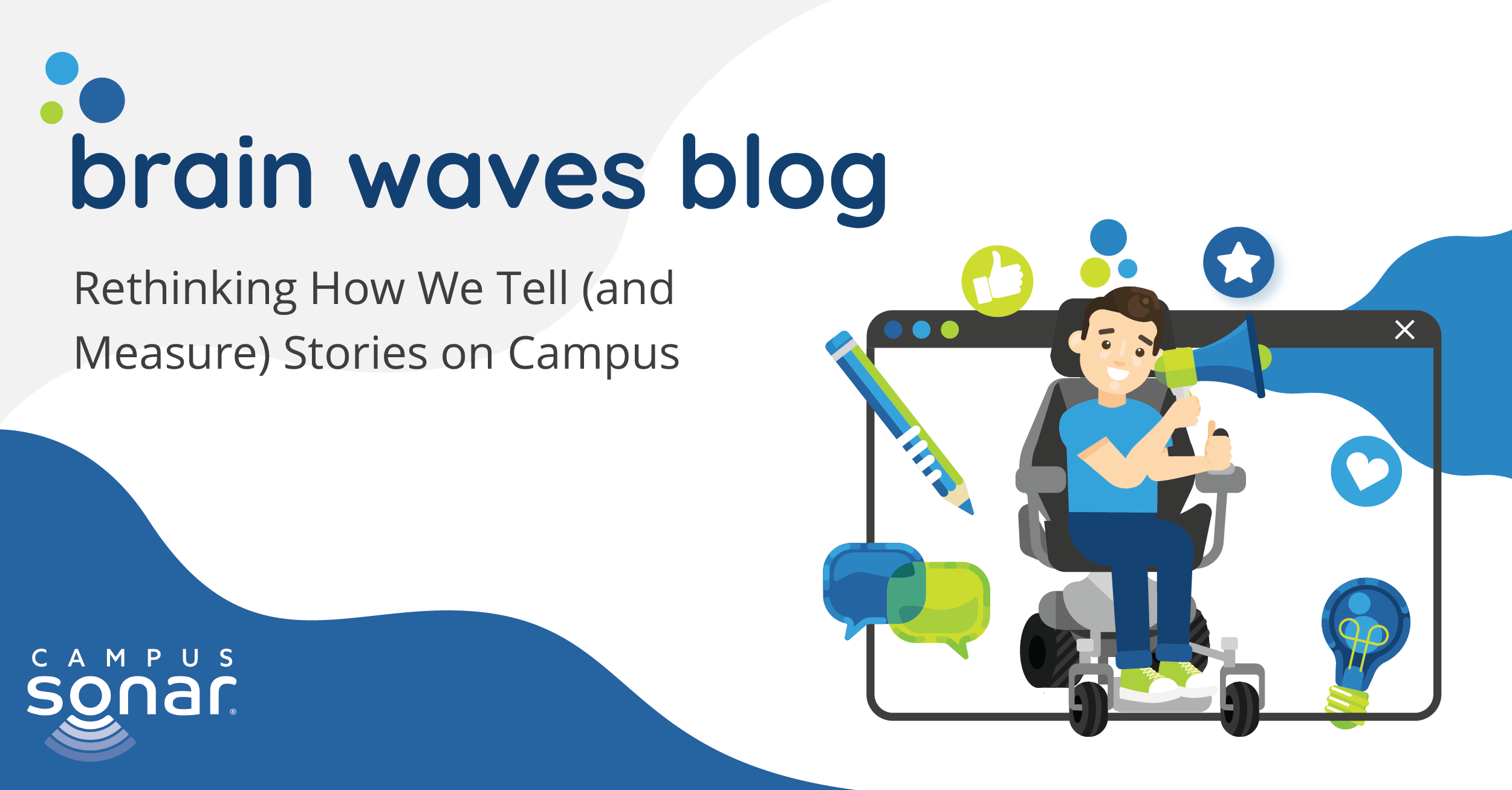 With public perception of higher education in decline, communicators have a particularly important role to play. But that role requires rethinking what we do and how we measure it.
Few sectors long for a return to pre-pandemic normalcy more than higher education, an industry that has shed more than 650,000 jobs, more than 600,000 students, and $183 billion in revenue over the past 16+ months.
The COVID-19 pandemic has created new challenges for campuses across the globe, but it's worth noting that it has also amplified others that existed long before phrases like social distancing became a regular part of our lexicon. In 2019, higher ed was under fire for any number of reasons: cost, lack of diversity, free speech, curriculum, you name it. That year, Gallup said the public perception of higher education declined more than any other industry they track.
It may be tempting for communicators to assume these issues are someone else's problem. After all, tuition rates, admissions decisions, rules for campus assemblies, and the nature of the curriculum aren't exactly under our normal jurisdiction. But this view is shortsighted. Even if we feel the problems facing higher ed are someone else's responsibility, or even if we feel they're overblown or otherwise irrelevant, there's no mistaking the worsening perception problem facing our industry. And who is pressed into duty when there's a perception problem? Hint: it's not the controller's office.
There is a silver lining. We know there is immense value in what takes place on college campuses. We have students on incredible journeys of actualization and discovery. We have faculty creating knowledge to solve humanity's most pressing problems. How do we work to narrow the perception gap and bring the reality of what takes place in our industry into the public conscience?
We may do well to remember the words of the late advertising mogul Howard Gossage, who reportedly said, "Nobody reads advertising. People read what interests them, and sometimes it's an ad." It's still true today, and it applies to higher ed, even if the media landscape has changed: people will read or watch or listen to what interests them, and sometimes it originates with a university.
This is a bit of a good news-bad news situation for communicators. The good news is all you have to do is be interesting. The bad news is all you have to do is be interesting. Make no mistake, communicators will play a critical role in addressing the problems in our industry, but only if we commit to being interesting by taking a hard look at our tactics.
Many of us have expanded our communications mix to include storytelling, but not as many have defined what that is. Or worse, we slap the term on everything we produce because it makes us feel trendy. The news release, letter from the dean on your website, or campus beauty montage are all useful content, but they're seldom classified as examples of storytelling in themselves. These tactics often lack one of the classic components of a story we learned in our English literature class, or they fail to deliver the critical element each story must contain: emotion. Good storytelling in higher ed takes the facts of the life and work of our campuses and adds an emotional layer to influence our audience.
We inform with facts; we influence with emotion.
This is critical today, because as the Gallup survey illustrates, the facts alone haven't been enough to move the needle on perception and build the brand of our campuses or industry. We need to do more to influence public opinion, and authentic storytelling can be an effective tool.
At the University of Notre Dame, a unit specializing in university-wide storytelling is about six years old and works with units across campus to uncover stories that speak to larger campus priorities. The goal is to leverage owned media properties to stimulate broad conversation and increased awareness of key campus endeavors in research, scholarship, and service.
The tactic at the center of this strategy is the long-form story: pieces of often several thousand words of text, brought to life through compelling design, video, and photography. To be clear, long form is only part of the mix and isn't the only way to tell a story. Authentic storytelling can be accomplished through a variety of ways on a variety of platforms.
Notre Dame's efforts help to define storytelling in the strictest sense, but it's far from the whole picture. They still incorporate a robust earned media enterprise and produce a lot of branded content to serve a variety of needs and audiences. These tactics help tell a macro-level brand story that is greater than the sum of its parts.
In all Notre Dame does, one goal remains constant: they want people to read or watch or listen to what interests them, and they want it to originate with them.
As communicators look for new ways to tell our brand stories, so too must we look for new ways and new timetables to measure holistic success. Influence takes time, and we must be committed to changing perception over the long haul. This requires a long-term, concerted effort—one that is collaborative across departments, colleges, and units, and backed by leadership, politically and financially.
And it's here that so many strategic storytelling endeavors fall short. Telling compelling stories, year after year, is no easy feat. But more than the daunting task of being interesting, we believe long-term strategic storytelling fails because, collectively, we aren't actually sure how to measure it or report on its impact.
For higher ed marketers, the measurement of traditional marketing and communications efforts generally falls into three buckets: proxy measures, survey results, and digital analytics.
Proxy measures are appealing because of their accessibility and significance on campus. Not everyone understands or appreciates niche analytics like bounce rate or time on page, but everyone understands whether or not your campus made its class, and further, what achieving (or failing to achieve) that metric means for the campus as a business. With storytelling, however, we're not trying to directly make a class or increase alumni giving. We're trying to change the way audiences perceive our campus. No proxy measure can definitively tell you that.
Most campus-wide proxy measures are also only updated once per year, which means you'll have to work in uncertainty for long stretches of time without a navigational beacon for progress. Because of that, many marketers turn to short-term analytics in the form of click-through-rates, page views, engagement rate, reach, or earned media value.
The value in these metrics lies in their near-instant feedback on individual pieces of content. But influence and perception—again, the ultimate goal of storytelling—can't be proven by analytics alone.
That leaves us with surveys. Surveys are the most natural fit in terms of measuring the impact of storytelling. Questions can be written to capture information specific to brand and reputation, and surveys are repeatable, meaning you can measure progress over time. The shortfall of surveys lies in execution. At most campuses, surveys are repeated years apart, if at all, again creating a void in which practitioners are left to wonder about the broader impact of their work.
We turn to traditional marketing measures because they're familiar to us. But collectively, they fall short with storytelling because they either fail to capture the bigger picture or take too long to develop it.
Using Online Conversation to Quantify the Perception of Your Campus
You need to measure perception over time and in real-time. Luckily, there's a way to find that balance using existing information: publicly available online conversations. These conversations include social media updates from students, posts and comments from prospective and admitted students on forums, and news articles from local, regional, and national journalists.
At the individual level, each mention contains keywords or phrases that help you understand how the author perceives your campus. Better yet, these mentions largely occur organically, providing more authentic, in-the-moment perspectives than do responses prompted by carefully worded survey questions.
When left unstructured, as is the case on most campuses, these mentions provide little value at the individual level, and take the form of an overwhelming fire hose of information when viewed collectively. That's because, depending on your campus size, there are anywhere between a few hundred to a few hundred thousand mentions published every year. Only by adding structure to the dataset can you unlock its superpower.
How you use online conversation to measure perception depends on your strategic plan, campus goals, or brand pillars, but at the highest-level, you need to categorize your conversation by topic or theme. At the more advanced level, you may consider additional layers of segmentation by considering audience, source, and/or athletic-focused conversation.
By prioritizing the coding of your conversation to match brand pillars or strategic priorities, you can credibly and directly describe the impact of your strategic storytelling to senior leaders or board members on campus. Coding for pillars or priorities allows you to answer questions like, "How often do people mention world class research when talking about our campus?" and "Are we increasing the volume of that conversation year-over-year?"
Each additional layer of segmentation opens a new depth of analysis. By focusing on audiences, for example, you could analyze content published by the campus versus content published externally by students or alumni. Focusing on content sources allows you to track brand aligned conversation posted in news outlets vs. individually on social media, blogs, or forums. That means you could answer questions like, "Which brand pillars do the media report on most frequently?" and more importantly, "Do the aspects of our campus most frequently covered by the media reflect our strategic priorities?"
Notably, tracking this data over time provides a rolling time period in which you can measure progress. Monthly or semester-long results provide you with short-term checkpoints on the impact of your storytelling on perception and brand. Long-term, you'll see progress over years, but more importantly, you'll compare progress over the entirety of that time period, rather than comparing two separate moments in time several years apart. Are you moving the needle in the right direction? That's perception 101.
When we eventually emerge from the COVID-19 pandemic, it's important to remember that business as usual wasn't exactly good for business. The challenges facing our industry may not be in the normal scope of communications, but telling the story that changes perception will be. Perception doesn't change overnight, however, and the traditional approaches to measuring marketing efforts each possess an inherent flaw that make them ill-suited to measuring the impact of strategic storytelling. There is a way to track perception in real-time, however, using data that's already at your disposal. Fail to take advantage of it, and you're unlikely to have the kind of long-term investment needed to make any difference at all.
---
Learn more about how social listening helps you understand the public perception of your brand, have greater control, and provide data to back up your campus branding strategies and initiatives.