In higher education (like every other industry), brand management is one of a college or university's top priorities. With social media and the media molding the public's perception of your brand, it's your job to stay on top of your reputation—creating content that contributes to the conversation and aligns with your strategic goals. How do you know you're doing that? First you need to understand the conversation about your brand using three key metrics: share of voice, owned vs. earned conversation, and brand attribute conversation. Today I'm diving into owned vs. earned conversation, but you can also find more details and case studies in The Higher Ed Social Listening Handbook.

What Is Content Strategy?
Kristina Halvorson, the goddess of content strategy, provides a definition of content strategy in her book Content Strategy for the Web:
"Content strategy guides your plan for the creation, delivery, and governance of content."
Examples of content strategy in action include your content matrix (i.e., the topics and desired mix of content you create) and your editorial calendar (i.e., who publishes content and when they publish it). While content governance is a bit beyond the scope of this article, the creation and delivery of content—in particular, social media content—can and should be informed by social listening insights. One of the insights that should inform your content strategy is an understanding of your owned and earned conversation.
Owned and Earned Conversation
Now that I've defined content strategy, let me explain the difference between owned and earned conversation. Owned conversation is everything your organization says on the internet, which is the content created by branded social media accounts and websites. It also includes shares (or amplification) of this content by others. Earned conversation is content created about your organization that originates from non-branded sources (e.g., personal social media accounts, journalists, blogs, and forums). This includes conversation that individuals have with your branded social media accounts (i.e., replies and comments).
At Campus Sonar, we segment owned and earned conversation by conducting a social media audit to identify all branded social media accounts and websites. We categorize every mention or share of content from those accounts as owned and all other mentions are categorized as earned. This segmentation allows us to analyze top topics, emerging topic trends, and audience behavior to identify differences between owned and earned conversation, that ultimately inform content strategy. Let's walk through some examples of each type of analysis.
Top Topics
One illuminating use of owned and earned conversation is to compare the top topics of owned social media posts with the top topics of earned online conversation. This can often identify subjects that your community is talking about that you're not currently covering in your online channels. On the flip side, you may see that some of your most commonly used phrases are often not repeated by your audience, suggesting that they're not resonating.
The word cloud illustrates the top topics of owned conversation from one year of posts from the main social media accounts of a technical college in the Midwestern United States.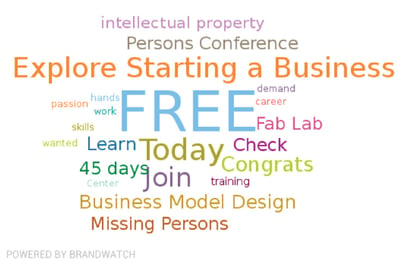 This campus clearly promotes a few key programs and events—especially their FREE events. Not surprisingly, FREE is one of the most common phrases we see in owned conversation from colleges and universities.
Compare this to the top topics of earned conversation from approximately 450 authors who wrote something about the campus over that same year. There is very little overlap between the two conversations. The word "free" still shows up in earned conversation, but always in association with a free tuition program that they recently announced. In their owned conversation, the college used the word "free" in relation to the cost of events on campus. The audience is clearly interested in talking about specific training programs and continuing education sessions that the campus wasn't promoting online, and the popular topic of "high school" certainly warrants more investigation.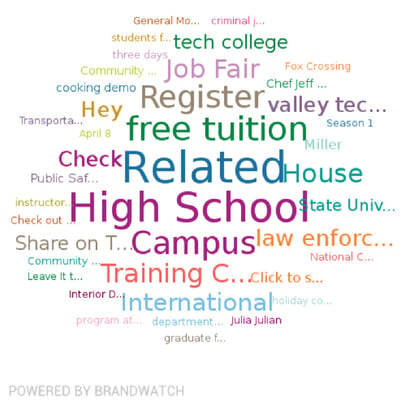 Trending Topics
For up-to-the minute relevancy, it can also be valuable to examine the difference between owned and earned conversation's trending topics. When you know what topics are trending or fading for your audience, you can spot areas of concern, relevant memes, resurfacing evergreen content, or even unexpected earned media. Here's an example of this analysis in action.
The trending topic chart plots the topics from Alverno College's owned conversation over a 31-day period from mid-January to mid-February. (Campus Sonar hasn't worked with Alverno; we're just using their conversation as an example). At the end of the analysis period, they used admissions campaign hashtags (#BeInDemand, #AlvernoStrong, #dreambig) and the phrase "helping her reach her dreams" as they highlighted successful students, promoted an upcoming rec sports/athletics event, and shared some great earned media from FOX6 News.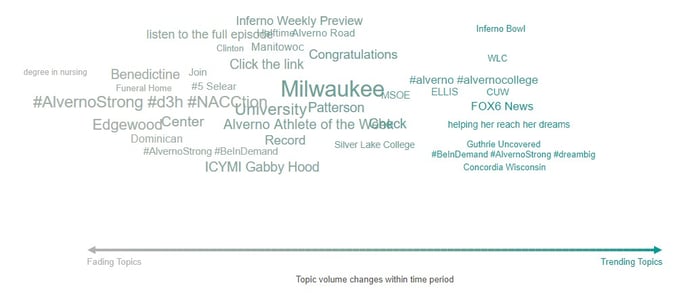 The earned conversation trends show a different story, however. While "grad student balances basketball" directly relates to the FOX6 earned media, other topics included a recent athletics matchup that didn't turn out well for the college, chatter about an upcoming leadership information session that wasn't promoted on owned accounts (e.g., "begin your leadership journey," and "details and RSVP"), and excitement about a summer Illustration Intensive hosted at the college. Armed with this analysis, a social media manager at Alverno might decide to adjust her content strategy to talk more about the leadership information session and the summer Illustration Intensive.

Audience Behavior
The behavior differential between owned and earned conversation can also help you derive valuable insights. For example, looking at the volume of conversation at different hours of the day could identify opportunities for increased reach and engagement with owned content, such as determining when to have staff available to engage and when to dial back on posting. In the example below, we've charted the owned and earned conversation for a large state university within a 31-day period by hour of the day. For the most part this university tracks well with the activity of its audience, but for some reason it favors posting at 2:00 p.m. over 1:00 p.m. This is in direct opposition to audience behavior, which takes a nose dive at 2:00 p.m. after a noon to 1:00 p.m. peak. There also seems to be an opportunity to post more content at 6:00 p.m. during peak audience activity and to dial back posting during the 9:00 p.m. hour, when they're actually posting more than their audience.

Content that Resonates with Your Audience
These examples illustrate how social listening enables you to gain a clear understanding of what the general population is saying about your campus, which influences others' view of your campus reputation. By listening to your audience and creating content that resonates with them, your earned conversation will follow—creating a reputation management strategy that works. Learn more about share of voice and brand management in previous blog posts or download the handbook.
Don't want to miss a single post from Campus Sonar? Subscribe to our monthly Brain Waves newsletter to get the latest and greatest about social listening in higher education delivered right to your inbox.
The post How Owned vs. Earned Conversation Analysis Informs Content Strategy originally appeared on the Campus Sonar Brain Waves blog.