Engagement Opportunities: Who's Talking About Your Campus?

A key outcome of social listening is the ability to identify real-time opportunities to engage with your audience groups when they're talking to your campus or about your campus.
The key in that sentence is "talking about your campus" in addition to talking to your campus. Responding to campus constituents when they mention or tag you is easy, but identifying engagement opportunities when a prospective student or alum is talking about you is entirely different. So what does that latter situation actually look like? Glad you asked.
Traditional Engagement Opportunities
In many cases, engagement opportunities look like the one below.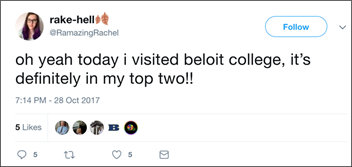 This tweet meets multiple criteria for a traditional engagement opportunity.
It mentions an institution (Beloit College) by name but doesn't tag them.
It's a tweet by an individual, making it easy to respond from a campus account.
It's a tweet about an individual's near real-time experience, or interaction, with the institution.
The beauty of a post like this is that it's ripe for response. Even better, that response is likely to surprise, and even delight, the individual behind the original post, since they didn't tag the school and thus don't necessarily expect a response. That creates an easy win for a college engaged in social listening, since the right response should, at the very least, gain a new follower, and best case a new member of their next entering class.
Going Beyond Traditional Engagement Opportunities
Engagement opportunities like this are gold for social media managers. But thinking about engagement opportunities in this narrow context limits our opportunity to surprise and excite members of your audience who may be at a different lifecycle stage with your campus.
Consider the following Instagram update.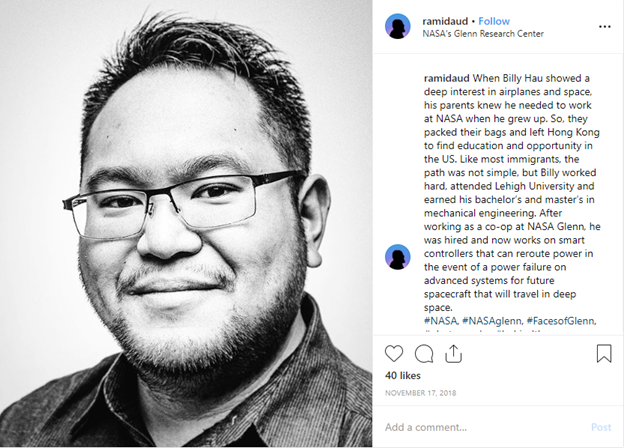 There is so much that's right with this post. It contains a beautiful headshot and a feel-good story. It also shares where the individual graduated, though without tagging the school (social listening FTW!). In short, it's the exact type of alumni profile that a college or university would welcome and feel proud about.
But is that post an engagement opportunity? By traditional definition, no. Why? For starters, the post doesn't come from the alum directly. Furthermore, the school in question here, Lehigh University, isn't mentioned as a result of a current interaction, where engagement would be most impactful.
And yet common sense should tell you that there is so much to gain by engaging this alum. Perhaps that communication could start, reignite, or increase philanthropic activity. Or maybe it could lead to an internship opportunity for current students. Maybe Billy, the alum in this example, would return to campus or virtually visit a class for a panel or guest lecture. Or maybe reaching out to Billy would simply change his sense of alumni identity, a success in and of itself. Either way, what is the downside of engagement?
Engaging Examples
Alumni generally love when their alma mater reaches out to them and doesn't ask for money. When the team in Cornell University's Alumni Affairs & Development office began experimenting with automated happy birthday emails, they saw a 47% open rate and a measly .001% unsubscribe rate. Even better, then received responses from alumni with comments like, "Thanks very much for your lovely birthday wishes. I am having a fabulous day today!" "Well, that was a surprise. Thank you." and "Thanks for the birthday greeting. Where do I pick up the cake? Just kidding … Cheers!"
And when you can surprise an alum on a more personalized matter, the results can be even more rewarding. Madeline Goldfischer, Assistant Director of Regional Alumni Chapters at Sarah Lawrence College, was scrolling through Facebook one afternoon when she noticed an alum post about his recovery from a surgery, rendering him to his couch. He didn't mention his alma mater in that post, but Madeline was still listening. And in this case, engaging. She surprised that alum by mailing him a dog toy that he could use to play with his dog from his couch while he recovered.
And when that alum did recover? Well, wouldn't you know it, he became an alumni volunteer and a donor. All because somebody from his institution was listening and cared enough to buy a dog toy.
Engagement opportunities, by definition, are fairly broad. But by expanding your perspective on posts that are worthy of engagement, you can build more authentic relationships with members of your audience at every lifecycle phase. If you feel like you're missing opportunities to engage a prospective student or alum, give us a shout. We'll discover hidden mentions about your campus and help you engage campus constituents of all types. Dog toys not included.
Learn more about social media engagement in Chapter 10 of Fundamentals of Social Media Strategy: A Guide for College Campuses.