4 Ways to Understand Your Competitive Landscape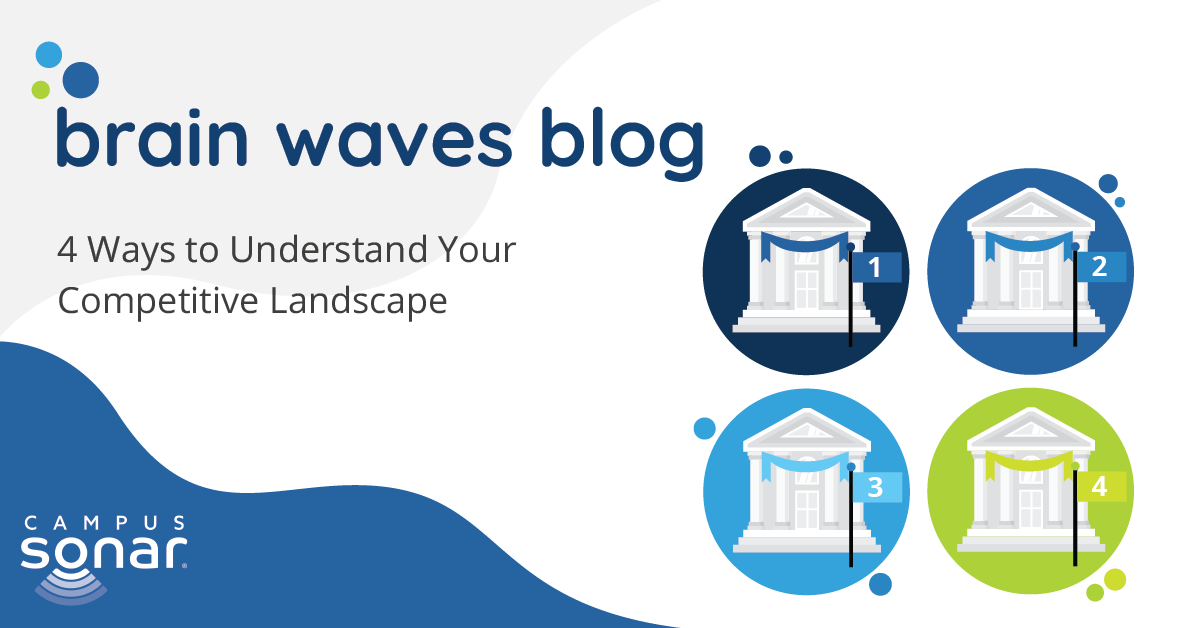 Harvard and Yale. Ohio State and Michigan. UNC and Duke. Competition within higher ed exists on several different playing fields. Some campuses compete for a coveted top spot in academic rankings. Others exist in close geographical proximity, competing with each other for local and regional students. Others compete primarily on the turf or hardwood, but substantially differ academically.
Competition is a fundamental part of life and business, but is deeply nuanced in our industry. That's especially so with larger campuses, where competitive sets often differ amongst individual colleges and units. A campus may have one competitive set for undergraduates, a second set for its business school, and a third unique set for its law school.
In these circumstances, many campuses keep media and digital ad buys within central marketing to avoid units bidding against each other on the same keywords or audiences. That's a wise strategy, but if you're centralizing your digital and social ad strategy, it's important to understand the nuanced nature of competitors. And yet, the feeling seems to be that there's room for improvement in that regard.
But even if you're a small, Bachelors-granting campus, competition is a core part of building, managing, and adapting your brand. But how do campuses build their competitor set in the first place? And how often should those competitors be reviewed? The answer varies widely across our industry. For some, especially at the grad and professional levels, competitors are based on a campus's place in rankings. But that's just one factor to consider. Marketers also use cross-application data, physical location, and search engine marketing analytics. Others rely on subject matter experts on their campus, like their dean or department chairs.
If the method for gathering competitive intelligence and building competitive sets varies, so does the willingness and ability to look beyond competitors. It's not enough to know who you're competing with; you need to know how you can compete more successfully.
4 Ways to Understand Competitors
At Campus Sonar, competitors are a common topic of discussion with clients. At a high-level, they want to know who they compete with and how they stack up. Or, at a deeper level, they want to contextualize trends on their own campus by benchmarking it against their competitive set, or gather competitive intel by tracking events or decisions from other campuses within their competitive set.
Whether you're starting from scratch, or looking to do an advanced analysis, Campus Sonar has you covered. Here are four ways we've used social listening to help clients better compete.
1. Audience-Based
If you're building a competitive set from scratch, or are open minded about who you consider a competitor, your best bet is starting with an audience-based analysis. Why your audience? You've likely heard the phrase, "your brand isn't what you say it is, it's what they say it is." They, of course, are your audience. Like brand, your competitors aren't who you say they are, so much as who your audience perceives them to be.
By researching your online conversation with a specific audience in mind, we can tell you exactly who those competitors are as determined by your audience, and more importantly, how you stack up within that set.
When we conducted this style of research for an engineering school within a public flagship, we found more than 13,000 mentions from prospective and admitted students that revealed which campuses were most commonly mentioned alongside our client. At a more granular level, we were able to show them which competitors they were mentioned alongside from prospective students building their list of options, and how that differed from the competitors admitted students weighed their acceptance offers against.
Once we established competitive sets based on lifecycle stage, we went even deeper. We analyzed the same prospective and admitted student conversation to compare our client to their competitors on conversation volume, sentiment, and content sources. By focusing on these three metrics, we were able to quickly show our client their share of voice among their target audience, communicate areas of opportunity where they could capitalize on competitor weak spots, and uncover websites where conversation was happening about competitors but not our client. Additionally, we were able to segment conversation by the most commonly mentioned programs, helping them see how their competitive set changed based on major.
This report generated critical intel for SEO, comm flow, and ad buy strategies. But the best part: our research surfaced two new competitors who weren't on their radar.
2. Competitor-Based
If you're more confident in your existing assessment of your competitive set, analyzing your online conversation with competitor campuses as a starting point can provide you with valuable nuance that can help you, colleagues in central marketing and communications, or agency partners better understand your areas of strength and opportunities to compete more successfully.
When we look at online conversation with a focus on competitors, we're looking to establish a broad base of conversation metrics and insight. This often includes conversation volume across all competitors and per competitor, as well as a share of voice breakdown between your campus and each identified competitor, helping you understand where you sit within your competitive set.
Additionally, we provide insights into each competitor, including their ratio of owned and earned conversation, top accounts and topics of conversation, and top mentions across channels of conversation like social, news, blogs, and forums. We also look into specific aspects of their conversation—such as the percentage of conversation driven by athletics, conversation volume from prospective and admitted students, and conversation volume from and about alumni—and compare it to your campus.
Conducting competitive research in this form is all about brand. From a positioning standpoint, this research allows you to understand your position relative to competitors—and refine your strategy and positioning accordingly. From a promotional standpoint, these insights help you ensure your messaging and positioning are working to your best advantage. And by understanding your key differentiators, you'll be able to confidently put resources toward attracting the students who are the best fit for your institution, developing programs that help you stand out from the competitive field, or building brand awareness in academic areas where you may lag behind the field.
3. Topic-Based
Competitive intel can also be deployed strategically to help contextualize data to key stakeholders; data around a single issue or having taken place during a defined time period. In times of crisis or tension, for example, examining competitor conversation can help put your own in perspective. 50,000 online mentions of a negative topic or event can seem like a lot; 10,000 mentions probably seems more palatable. But those same 10,000 mentions become significantly more sobering if you understand that volume to be significantly higher than your peers.
In the summer of 2020 a small, private liberal arts college found itself, like many others across the country, experiencing campus-wide online activism by prospects, current students, and alumni—challenging the college's reputation and straining relationships with their audiences.
Their communications and marketing team wanted to not only understand the extent of these negative conversations, but benchmark it to their competitors to help contextualize the data to key stakeholders at the team, cabinet, and board levels.
In this instance, we performed a targeted analysis of conversation related to three key themes over a period of several months. We then analyzed that online conversation for our client, as well as three other campuses within their competitive set. In doing so, we saw that our client experienced negativity beyond that of peer campuses. More importantly, we were able to identify specific steps their peers took to mitigate their own issues, and the decision that started our client down a different path. Combined with their personalized data analysis, this competitive insight helped them better explain the extent of their damage and explain how leadership could adjust their process and decision making next time their campus faced audience criticism or negative publicity.
4. Event-Based
In many cases, competitive intel is about painting a more complete picture. In other cases, it can boost your efficiency.
For one Campus Sonar client, the spring admissions season brought with it a tedious daily exercise: manually checking competitors' mentions from students on Reddit, College Confidential, and other sites to understand when their competitors were making announcements or decisions regarding their waitlist. Our client didn't want to be the first to do so, but they also didn't want to be substantially later or the last within their competitive set to take certain actions.
For this client, we configured automated email alerts surrounding waitlist-related topics and keywords from prospects and their parents that mentioned our client and/or its top 10 competitors on social media, forums, and blogs. We then sent our client a daily email, eliminating hours each day that otherwise would have been spent manually crawling the internet.
But this intel did more than save our client time. By looking at the data on a weekly and monthly basis, they were also able to understand when conversation about specific competitors peaked, where online this conversation took place, what topics of conversation were most discussed, which competitors they appeared most frequently alongside, and how competitor mentions differed depending on if the author was a student or a parent. That's intel that goes far beyond efficiency.
Social Listening FTW
Competition may be a fundamental part of higher education, but it's also deeply individualized to each respective campus. Your research goals might be focused on identifying members within your competitive set or understanding how you stack up to individual competitors. Or maybe you're more interested in using competitive intel to contextualize your reporting to key stakeholders or making your team more efficient. Any of these research goals could be part of our Targeted Analysis research—highly customized research that answers the most critical questions about your campus, including who your competitors are.
Whether you're starting from scratch or looking for advanced analysis, social listening can not only provide you with a more complete picture of your competitive set; it can help you compete more successfully. And if there's anything standard about competition in higher ed, it's that we all want to win.
Don't miss a single post from Campus Sonar—subscribe to our monthly newsletter
to get social listening news delivered right to your inbox.
This post originally appeared on Campus Sonar's Brain Waves blog.