What We're Hearing about The Higher Ed Social Listening Handbook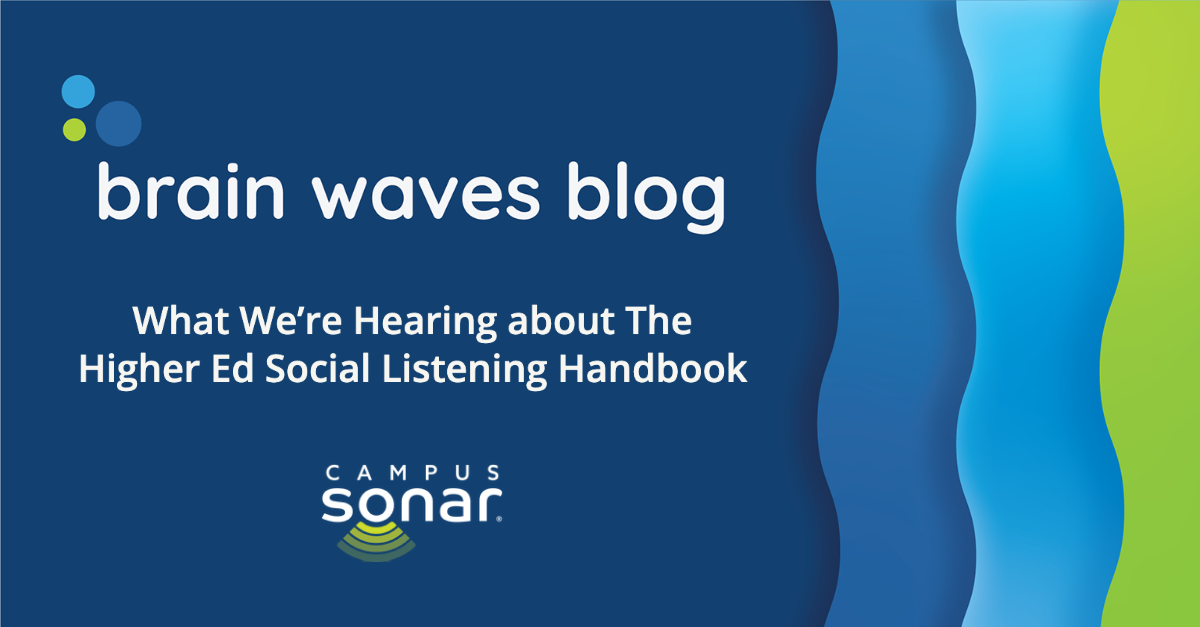 This winter I wrote a book. I wanted to document everything I've learned about social listening for the higher education industry—why it's important, how to do it, and the strategic impact it can have on campus. To make sure it reaches as much of the industry as possible, Campus Sonar is giving it away for free. So far, 100 people downloaded it. I reached out to those folks recently to get some feedback about the handbook and, in the spirit of transparency; I'm sharing that feedback publicly.
Praise for the Handbook
As I'd hoped, readers had some good things to say. I received two thoughtful emails that were music to my ears.
A Web Content and Digital Marketing Coordinator at a community college shared:
"I thought it was very informative and full of helpful information for schools at different budget levels. We are a small community college with a small communications/marketing staff, and we can't afford social media listening software, but I found many practical tips, especially in the crisis management and student engagement sections."
A Vice President of Digital Strategy in alumni relations at a large public university shared:
"I think it is a perfect document to share with smaller teams that think the task of listening is complex and daunting. The tools can help, but the knowledge of how to start the process is key."
At a conference this spring, the Assistant Director of Digital Engagement at a small, elite private college told me that the model for a strategic approach to social listening (see page 6) was exactly what she needed to explain the value of social listening to other communicators on campus.
Suggestions from Readers
I also received some valuable constructive feedback, which we'll consider as we create additional materials for the higher education community. If any of this resonates with you, or if you have more to add, please let me know in the comments!
Make the influencer content more relevant to small, community-based institutions
Develop some content specific to community colleges, which have special needs
Turn the handbook into a series of webinars that could easily be digested with all the people responsible for social accounts on campus

Quite a few people responded that they hadn't had a chance to read it yet, or that they were surprised by how long it was when they downloaded the file. It's true that it's lengthy: 99 pages and close to 25,000 words. I have a lot to say about social listening in higher education! If you're interested in the basics of social listening, or one of the five main applications covered in the handbook (crisis management, student engagement, brand management, influencer marketing, audience research and conversation analysis) just jump to the appropriate section.
Get Your Copy Today
If you haven't yet, now is an excellent time to download The Higher Ed Social Listening Handbook. Share it with friends and colleagues! If you have questions or feedback, leave them in the comments of this post or email us at info@campussonar.com. Happy reading!
Don't want to miss a single post from Campus Sonar? Subscribe to our monthly Brain Waves newsletter to get the latest and greatest about social listening in higher education delivered right to your inbox.
The post What We're Hearing about The Higher Ed Social Listening Handbook originally appeared on the Campus Sonar Brain Waves blog.