What We Really Think About Word Clouds
Social listening and word clouds are synonymous, for better or worse. They're quick and easy, and provide a visual representation of the terms that occur most often in any qualitative data set. For someone familiar with that data set (say, a collection of tweets from a conference) a word cloud can hold meaning by highlighting aspects of the conversation they were already familiar with. A good example of this is the word cloud of social media conversation during the 2017 HighEdWeb Annual Conference.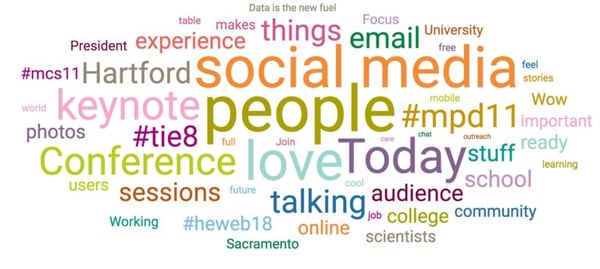 It reflected the hot topics as well as the warm feeling the attendees have toward each other, as evidenced by Dave Tyler's conference reflection.
The Danger of Relying on Word Clouds
Where we get in trouble with word clouds is when we rely on them to convey insights to someone unfamiliar with the details of the data set, or when the data set is culled from a diverse mix of sources and uses lots of synonyms to describe similar ideas. This is particularly true when you move beyond the conference tweet use-case. Online conversation about a conference represents the shared experience of many people seeing and hearing the same content at the same time. Common phrases resonate because they're often quoted by speakers. When analyzing organic conversation originating from many people in many different places (the case for most campuses), topics are more dispersed and require more sophisticated analysis than a word cloud. In both situations though, word clouds are indicators, not insights.
Understanding What Word Clouds Are
Word clouds are a quantitative representation of qualitative data. In fact, there is a data table that powers every word cloud. The frequency of each word or phrase in a data set is counted to create the word cloud. Here's a word cloud from the online conversation about the 2017 AMA Higher Education conference and the corresponding data table.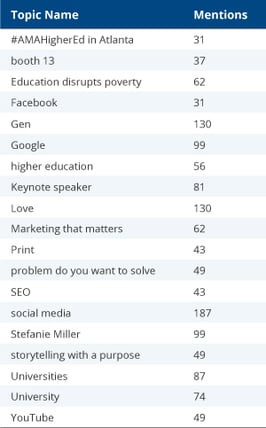 The more a word or phrase appears in a data set, the larger it's displayed on the word cloud. Sometimes the cloud will be coded for sentiment (green = positive, red = negative, gray = neutral). Proximity of words or phrases in the word cloud to each other, for example, has no significant meaning.
Moving Beyond Word Clouds for Conversation Analysis
Qualitative researchers are familiar with coding their data around themes. This is an extremely useful methodology to use to compare online conversation. It gets beyond word clouds and provides a structure to data analysis. By coding conversation data, we can look at the conversations about the community feeling expressed by many HighEdWeb attendees by coding mentions of "my people," "friends," "community," "they get me," etc., as "sense of belonging." Other mentions of "data is the new fuel" and "keynote" can be combined with other references to Tatjana Dzambazova's mind-blowing keynote and coded as such. This is why Campus Sonar analysts are one of our greatest assets—in-depth online conversation analysis requires a human understanding of a data set in order to provide the structure appropriate to the questions you're looking to the data to answer.
Great Uses for Word Clouds
Don't think we're word cloud haters. We use them all the time! They're good to look for irrelevant conversation (we use it regularly to clean data). They're good to search for glaringly obvious differences in conversation between two audiences (e.g., a campus's owned conversation compared to their earned conversation, or your campus's online conversation compared to a competitor's). Word clouds combined with trending data can help identify topics that are fading or emerging to inform your engagement or crisis response strategy.
Amber, a Campus Sonar analyst, detailed how she dove deep into a data set of 800,000 conversations about dropping out of college in a recent Brain Waves post. She started with a word cloud, but had to add additional structure to the data to complete an analysis that produced insights.
Of course, we also love to share word clouds of conferences we attend. And we have no plans to stop doing that.
Using Word Clouds in Reporting
We believe that reports from social listening should be actionable, not just informative. This requires analysis to identify insights. While you may see word clouds in our reports, they'll never be the center of attention. If you create or receive social listening reports that don't go beyond a word cloud, think about the additional analysis you could do to create insights. If you need some assistance...well, that's why we're here.
Don't want to miss a single post from Campus Sonar? Subscribe to our monthly Brain Waves newsletter to get the latest and greatest about social listening in higher education delivered right to your inbox.
The post What We Really Think About Word Clouds originally appeared on the Campus Sonar Brain Waves blog.