It was just over a year ago when I first heard the magical phrase "social listening." I was at the second annual Library Marketing and Communication Conference in Dallas, Texas, when I heard Maria Atilano, a librarian from the University of North Florida, present at Shut Up and Listen How We Used Social Listening to Connect with Students and Build a Community. If you're familiar with the idea of finding your "golden nuggets" at conferences this presentation was like a 20-piece McNugget (minus all the sodium and regret).
One of the golden nuggets that I picked up from Maria's presentation was that I was already doing social listening! It was social listening that came from direct mentions or on-campus hashtags. But I was surprised to learn that some institutions weren't even doing that base-level listening. I was happy to know that I was on the right track.
Personalized Social Media
I work in an academic library. My library's social media audience is intimate and our budget is small to nonexistent. Fortunately, the tips I got from Maria's presentation gave me tools to improve my social listening at no additional cost.
Maria spoke about how important it was to "put an emphasis on listening." I started by tracking keywords and hashtags within a certain radius of our library, using Tweetdeck. I watched the library's and the university's geotags on Instagram. This became a part of my daily routine, not just something I did when I thought about it.
I quickly found that the size of our audience worked in our favor! It allowed me to have more personal interactions with the students who were talking to or about us. These connections created advocates for the library's social media.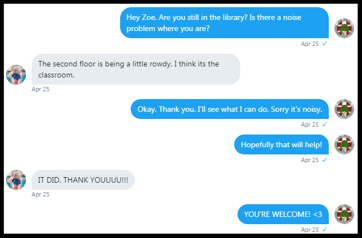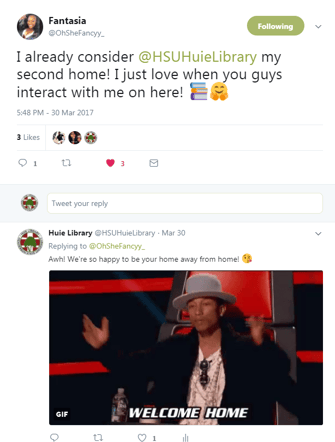 Personal interactions helped create advocates for the library's social media.
Social Media Advocates
Advocacy is super important to me. People have outdated ideas of what libraries provide so having students help us promote the library's story was huge. Students that I listened to and responded to on social were far more likely to share or promote our content in the future. Go figure, right? If you listen to your students and treat them well, they appreciate it and respond positively!
For example, it's almost always too cold in the library. I suspect this is one of the reasons why librarians own so many cardigans (the other being that they are incredibly stylish). In most cases, this is a problem I don't have the power to change. In one instance, we had a student who was a tutor in the library. They were at work in the library, not feeling well, and (from the sounds of it) dying of hypothermia. I was at a service desk when they tweeted about it. I sent them a DM, tracked them down, and lent them a blanket. This student consistently RTs and attends our events when they can. I can't say for certain it was because of the interaction with the blanket, but I'd like to think so.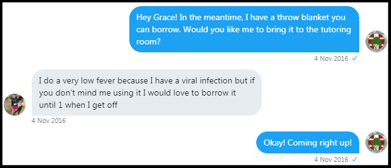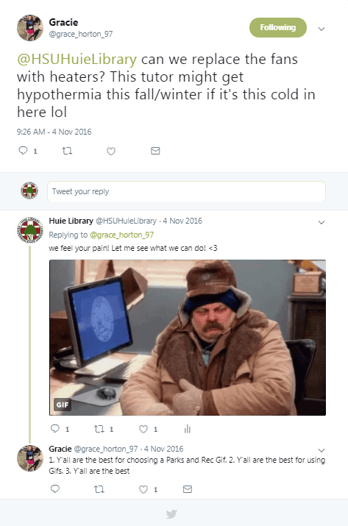 Personal interactions helped create advocates for the library's social media.
The Joy of Customer Service
There are a lot more little stories like this, and it's an aspect of social listening that makes me love my job. Most of my job is social media management, but another major part of it involves traditional customer service roles. I love that social listening allows me to combine the two parts of my job that bring me the most joy.
Speaking of joy, recently I had the opportunity to share a poster on my library social listening story at a conference. My favorite part of the experience was when a woman from a large university told me that her son was starting his first year of college at a much smaller university next year. It put her at ease to know that her son might be on the receiving end of the customer service and kindness that can result from social listening. For her, it meant someone was going to love and take care of her son when he was away from home. Taking care of students and helping them succeed is what we aim to do, right?!
This is only one way to use social listening. I know I'm only scratching the surface of social listening's potential, and it's exciting. I can't wait until social listening is something all of higher ed does!
Don't want to miss a single post from Campus Sonar? Subscribe to our monthly Brain Waves newsletter to get the latest and greatest about social listening in higher education delivered right to your inbox.
The post Using Social Listening for Customer Service: A Librarian's Journey originally appeared on the Campus Sonar Brain Waves blog.