"Our campus is small; there's no way there's enough conversation about us to justify investing time or money in it."
"We don't do much on social media, so there's no use in thinking about social listening."
These are common statements I hear at conferences, and it's so hard for me to not immediately jump on my soapbox and start preaching. I know in my gut that most campuses can gain valuable strategic insights from understanding their online conversation, and that conversation is happening with or without an investment in social media from the campus.

This was on my mind as I looked into the data we collected around the number of authors involved in conversations about campuses as part of our 2019 Online Conversation Benchmarks for Higher Education report.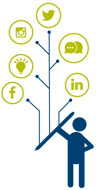 Just to make sure we're all on the same page, when we talk about "authors," we're referring to individual contributors to public, online conversation. An author could be an individual's or organization's account on Twitter or Instagram, the publisher or commenter on a blog, user accounts on forums like Reddit, or journalists on online news sites. Authors are our best approximation of the number of humans contributing to conversation on a topic. So when you look at author data, imagine the humans behind the numbers. They're who you're ultimately trying to understand to inform your campus strategies.
Analysis is looking for patterns. (Yes, the author and conversation volume data discussed here excludes athletics.) When I looked at the unique authors data visualization in our report, I knew there had to be more to the story. The range is enormous—what does it mean for different school types? What does that median of 843 authors mean in the context of the overall conversation about the institution? What can institutions with below-average author participation expect to gain from analyzing their online conversation? It was time for a deep dive into online conversation research.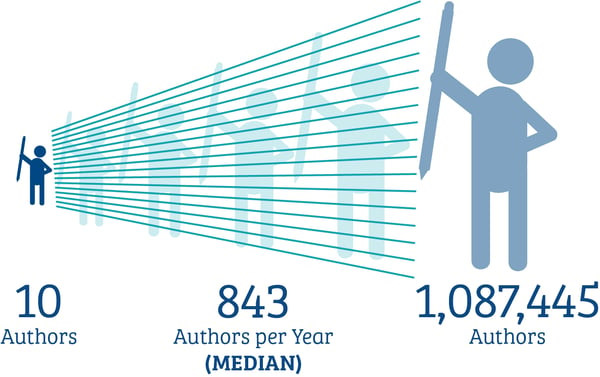 Deep Dive: The Relationship between Authors and Mentions
While this range is helpful and important for us to report to the industry, it doesn't tell us how many authors any particular campus can expect to contribute to their online conversation, or what the relationship is between unique authors and total conversation. So I dove into the benchmarks. (You've read the second half of the report where we break this data down by institutional characteristic, right? It starts on page 21.) And, I made a surprising discovery.
No matter the size, type, or control of your institution, there is a consistent relationship between the number of authors and the number of mentions of an institution. Whether small, large, graduate, undergraduate, faith-based, or health-focused, most campuses can expect to see between 6 and 10 mentions per author.
The exception is public doctoral institutions who see quite a few more mentions per author. You can find the full list of author benchmarks in the following table, with the newly calculated mentions per author metric. In our data set, large institutions (10,000+ students) and very small institutions (less than 1,000 students) each saw about nine mentions per author. The total annual conversation volume is over 135x higher for large institutions, but each human talking about the very small institutions is just as important.
So yes, larger campuses have more conversation than smaller campuses, and public institutions (which are often larger) have more conversation than private institutions. But it's not because their students and constituents talk more; they just have a larger audience.

If I told you that 800 people were willing to provide insight into the experience at your campus of 1,500 students on an on-going basis, would you turn down that opportunity because you know the campus with 35,000 students down the road was able to get feedback from 19,000 people?
The contributions individuals make to the conversation about higher education institutions seems consistent regardless of size or institutional focus. In aggregate, they can help you understand your brand, the student experience, or how alumni feel. At the individual level, you can increase your ability to support student mental health, or help a student see the financial potential of the talent they've developed in your fine arts program. Even the smallest campus will see dozens of audience research opportunities every year, if they just listen.
Institution Characteristic

Median Unique Authors

Median Annual Conversation Volume

Mentions Per Author

Control
Public

625

20,260

32.42

Private Nonprofit

425

4,164

9.80

Private For-Profit

76

670

8.16

Size
Exclusively Grad

206

1,811

8.79

Very Small (Less than 1,000)

152

1,386

9.12

Small (1,000-2,999)

850

5,318

6.26

Medium (3,000-9,999)

1,427

10,784

7.56

Large (10,000+)

19,681

188,357

9.57

Program Type
Art/Music/Design

244

1,811

7.42

BA: Art/Science, Diverse, BA/Associates

409

3,509

8.58

Professional: Business, Law, Technology, Other

209

1,386

6.63

Doctoral

13,323

181,149

13.60

Faith

151

1,466

9.70

Masters

566

5,655

10 .00

Health

91

811

8.91
For a full description of how these characteristics are defined and how the metrics were calculated, read the methodology appendix, which starts on page 28 of the 2019 Online Conversation Benchmarks for Higher Education report.
Don't want to miss a single post from Campus Sonar? Subscribe to our monthly Brain Waves newsletter to get the latest and greatest about social listening in higher education delivered right to your inbox.
The post Using Online Conversation Benchmarks: The Authors behind the Conversations originally appeared on the Campus Sonar Brain Waves blog.