Using Online Conversation Benchmarks: Higher Education Admissions Conversation

May 1 is National Decision Day. High school seniors all over the country have been visiting campuses, applying for admission, and are now making decisions. What's the decision process like and what do students say during the process? Tim Jones, Chief Communications and Integrated Marketing Officer at Beloit College shares that "decisions are made using a complex mix of facts and feelings that don't always make sense together." One way to get a handle on students' thoughts, feelings, and conversations around the decision process is through social listening.
Our 2019 Online Conversation Benchmarks for Higher Education: A Campus Sonar Social Listening Study provides insight into who's talking about your campus, how much they're talking, and other characteristics that can help inform institutions' engagement strategies.
Who's Talking and How Much
When we analyzed historical online conversation data for 65 higher education institutions throughout October 2018, we found that students are online, engaging in conversations that influence their enrollment decision.
On Twitter, Instagram, and forums, institutions heard from—or about—prospective students from not at all to 6,483 times annually. The median of the range was one, with less than half of our sample only rarely hearing from prospective students online. When we excluded an outlier with 6,483 mentions from or about prospective students, the range became 0 to 221. However, the median for the new range was still one. The majority of our sample (48 institutions) received less than 10 mentions from or about prospective students in the sample period.
But admitted students were a completely different story. Half of our sample heard from admitted students less than 13 times annually, while other institutions heard from them nearly 30,000 times in a year!
Annual Conversation from Admitted Students

What the Conversation Volume Means
Prospective and admitted students have very different online conversation behaviors. Prospective students are lurkers, searching out any and all information they can find about an institution, but not necessarily engaging in conversation. Research from The 2017 Social Admissions Report found that 35 percent of students find social media to be very or extremely useful in their college search, but according to our conversation volume analysis, they don't seem to participate as much as consume the information.
Admitted students transfer the excitement of making a decision to their online conversation behavior. If you're listening where these students share this excitement online, you have opportunities to:
Engage with admitted students
Demonstrate your commitment
Provide them with exclusive information
Listening for, responding to, and engaging in these conversations can translate into not only having meaningful interactions with these students, but also in identifying clear ROI from tuition revenue or fundraising efforts.
The Conversation Breakdown
As part of our benchmark report analysis, we investigated institutional characteristics within our sample to identify trends between public versus private institutions, differences by enrollment size, differences between program types, and the impact of the athletics conversation.
Institution Type
When looking at institution type, we found that private nonprofit institutions may not capture the same amount of non-athletic conversation as public institutions, but they almost always outperform public institutions in terms of non-athletic admissions conversations. If we exclude the outliers, private nonprofits see up to 3,074 annual mentions from admitted students, while public institutions in our sample only had up to 1,525.
Enrollment Size
The enrollment size of an institution showed competition for online awareness between small- and medium-sized institutions. The range of their admissions conversation was 0 to 432 and 6 to 426, respectively. Large and very small institutions were polar extremes in their volume of admissions conversation—0 to 277 for very small institutions and 187 to 43,609 for large institutions.
Program Type
Institutions that offer masters/doctoral degrees had a higher level of conversation about admissions. The ranges for all other program types—art, music, design, BA and BS, and professional institutions had very similar ranges of conversation about admissions.
Conversation Metric
Art/Music/Design
Bachelor of Arts Bachelor of Science
Professional: Business, Law, Technology, Other
Admissions Conversation

Median: 13




Range: 1-468

Median: 27




Range: 0-674

Median: 6




Range: 0-432
Athletics
Athletics has such a large and varied impact on online conversation that we removed it during our first analysis to focus on the rest of the conversation. When we added it back in, we analyzed a number of different metrics related to athletics. We found that institutions with an athletics program averaged 55 percent of their total conversation from athletics-related topics. When we combined all conversation, the volume increased by an average of 236 percent.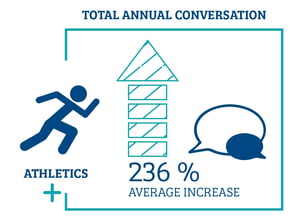 We also took a look at the athletics admissions conversation, finding that the athletics-related conversation from prospective students increased by 71 percent on average (but only consistently for institutions with more than 3,000 students). The mentions were primarily from student-athletes meeting with coaches, touring facilities, or meeting potential teammates.
The impact of athletics-related online conversation from admitted students and families showed that nearly all of the institutions in our sample (regardless of size) saw a 315 percent increase in online conversation from admitted students. Institutions who participated in non-NCAA athletics had the greatest percentage increase in online conversation from admitted students due to athletics-related mentions.
Increase in Admitted Students Conversation due to Athletics

The Impact of the Athletics Conversation Volume
This analysis tells us a lot about how athletics impacts online conversation.
Smaller institutions receive significant online recognition from admitted student athletes. As student athletes post about admittance, their online network likes, retweets, and comments—a lot. With the recent changes in restrictions for NCAA Division III, institutions should engage with their admitted athletes. Another way to engage is to publish narratives on their athletic accounts about first-year student athletes, why they chose the institution, and their first-year experience.
Prospective student athletes talk more about larger institutions. Listening for these conversations offers you opportunities to manage the impact the conversation has on reputation and sentiment.
Student athletes talk about admittance regardless of institution size.
What This Means to You
The strategic insights we uncovered about prospective and admitted students can help you create actionable outcomes that align with your institution's goals. Possible outcomes might include:
Understand the public perception of your campus, especially in relation to specific areas of study
Create more engaging content that resonates with traditional-age prospective students
Develop marketing materials and admissions conversations using differentiators identified through competitive online conversation analysis
Increase your conversations with prospective students by spotting real-time engagement opportunities
Refine your engagement strategy for prospective students
We hope the report is a starting point for you to understand how much conversation may be occurring about your institution and allow you to analyze your institution's online conversation behavior against comparable institutions. Using the benchmarks in the report may help you convince your campus leaders that social listening is a strategic investment that can provide insight specific to your institution, identify engagement opportunities, and help you achieve specific campus goals.
Don't want to miss a single post from Campus Sonar? Subscribe to our monthly Brain Waves newsletter to get the latest and greatest about social listening in higher education delivered right to your inbox.
The post Using Online Conversation Benchmarks: Higher Education Admissions Conversation originally appeared on the Campus Sonar Brain Waves blog.