Out on the internet, just around the corner from wherever you're reading this, someone is posting on Instagram about their student experience at your school. It might be bad. It might be good. It might be the perfect piece of content that a prospective student needs to see in order to make that final decision to apply and enroll at the institution you work so hard to tell people about. This content is out there—I guarantee it. But you have to be listening to find it. And you have to have a plan in place for sharing it and fitting it into the content strategy you're working with to achieve your institution's goals.
It all starts with knowing where and how to listen.
There's a lot of noise on the internet, and you'll go deaf if you try to listen to it all. For the purposes of this discussion I'm going to focus on Instagram.

Instagram is a great and no-cost social media listening tool. All you need are some tags to search—both the hash- and geo- kind—and it also really helps if you've developed a super strong institutional hashtag. If you aren't checking that hashtag at least three times a day you're missing out on good content. Again, people are sharing about you right now! The sooner you know about it the sooner you can take action.
Perhaps, for example, someone has found a very dangerous environmental situation on campus. They posted about it on Instagram but they haven't alerted campus facilities about it. That's where you come in! You can screenshot the image and pass it on to someone who can do something about it. Then you can comment on the post that something has been done! Now you're listening and engaging at the same time—a surefire recipe for social media success.
In another example, someone else posted a beautiful picture of your campus and used the official hashtag for the school. The picture is so pretty that you want everyone in the world to see it. First, ask permission to share the photo, then (assuming permission is granted) share away and bring on the good quality metrics! User generated content: check; engaging content: check; telling our story: check. And all because you were using free social listening tools.
---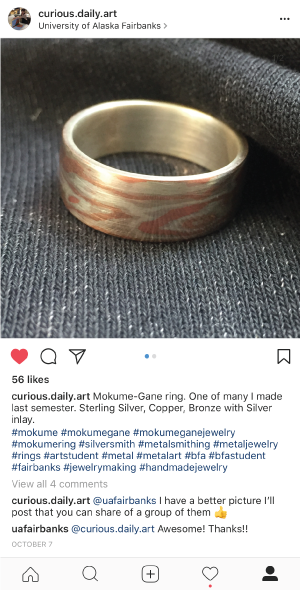 The artist's Instagram post, sharing the jewelry that won the Alaska Metal Arts Guild award.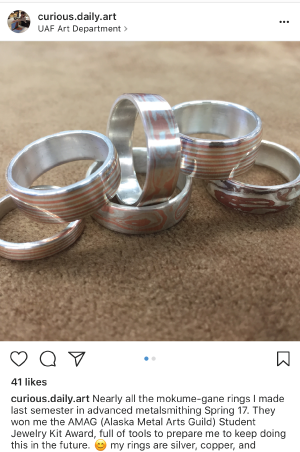 The artist's original Instagram post of her work from her classes at the University of Alaska Fairbanks.
---
Recently a former student from the University of Alaska won a jewelry-making award and shared images of her work on Instagram. I asked permission to share the post and the user posted some higher quality content for me to share. Then I posted the image to Instagram and Facebook.
This was an important piece of content because it showed work happening in the school's College of Liberal Arts. It also demonstrated how a CLA degree could turn into a career after graduation. All too often the STEM programs are highlighted as the main engines of workforce development, but here was a chance to show an artist working as an artist.
As I hoped, the content got gangbuster engagement, and resulted in connecting the artist to new customers who may potentially commission work from her. It was the perfect combination of professional success—sharing content people liked—and personal satisfaction—having a positive impact on someone's life.
---

My Instagram post sharing the artist's award and her story.
---
You're probably already doing a bit of social listening every day. Checking reviews on Facebook, making sure no one has mentioned you on Twitter. The real power of social listening comes from extending the range of your hearing beyond what people are saying to you. Listen to what they are saying about you—to their friends, to their peers, to the community. Those voices are saying things that your institution needs to hear. And you might be the only person in a position to listen and do something about it.
Don't want to miss a single post from Campus Sonar? Subscribe to our monthly Brain Waves newsletter to get the latest and greatest about social listening in higher education delivered right to your inbox.
The post Using Instagram for Social Listening originally appeared on the Campus Sonar Brain Waves blog.