5 Free Social Listening Tools Support Higher Ed Social Justice Efforts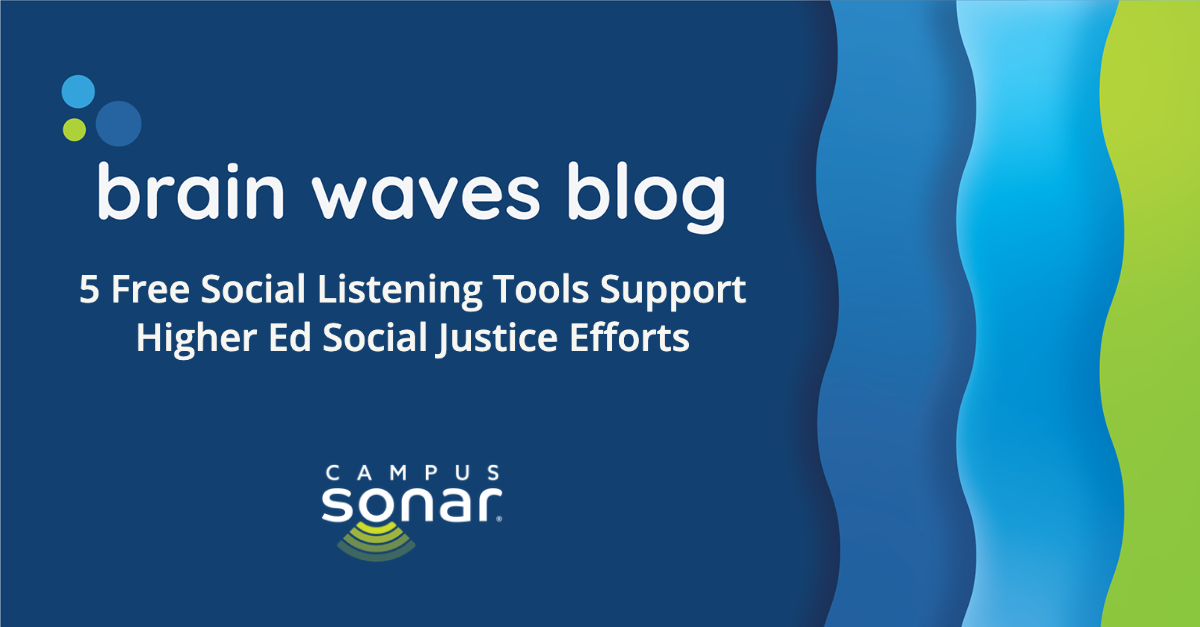 Campus Sonar recognizes the important, necessary racial justice conversations happening in the United States right now. Rather than continue with new content as if nothing has happened, we're republishing an older post with an updated introduction to clarify how social listening can support campus social justice efforts.
In 2020 daily life is drastically changing, and the changes are far from over. Listening to your audiences is more critically important than ever. From keeping a pulse on your campus during the pandemic to supporting social justice efforts—social listening gives you insights to take quick and informed action.
Strategic social listening can identify marginalized voices on your campus, enabling you to better understand their experience and amplify them both online and off. In our April 21 Coronavirus Higher Education Industry Briefing, we demonstrated how social listening could be used to elevate and understand the voices of Black and brown people within our communities (we revisited the topic on May 5 and May 19). Find these mentions by looking for the words black or African American alongside your standard campus terms, or trending hashtags like #BlackLivesMatter, #StopKillingUs, or #BLM. Some campuses may have specific hashtags Black students are using to tell their story, like #BlackAtMizzou.
As we kick off Pride Month, think about how you can use social listening to understand and support your LGBTQIA+ population on campus. In addition to #Pride2020 and #PrideMonth, make sure your listening doesn't neglect spaces where queer people are active online, like Twitter, TikTok, and Tumblr. I've noticed a significant overlap between the LGBTQIA+ community and higher education community on all three platforms.
Intent matters. Campuses can use social listening to understand, support, and amplify marginalized voices. Others may use similar tactics to target or harass the same voices. Your support and allyship can counteract some of the harmful messages your community may receive on social media.
Here is the original post, updated to reflect any platform changes since it was first published.
Social listening is a modern research method that can be implemented at varying levels of sophistication—starting with something simple and free to catch engagement opportunities, all the way to strong, strategic social listening that supports key institutional goals.
Don't know where to start or have the budget to support any paid social listening tools or services? Here's a list of free social listening tools and tactics, and how they can be used in higher education.
Free Tools to Get Started
Advanced Twitter Search
Twitter is the largest single source of online conversation data and you can conduct simple Twitter searches for free. Visit the advanced search page and you'll receive some prompts to write a contextual search using the following categories: words, accounts, filters, engagement, and dates. You can use an advanced Twitter search to identify opportunities or uncover intelligence relevant to your campus.
Learn more about the campus visit experience by typing college OR campus in the "All of these words field," visit, tour, and any other relevant terminology (like Preview Day or Open Days—whatever your campus uses) in the "Any of these words" field, and the city where your campus is located in "Near this place." This is especially valuable if your campus is the only one in the city.
Find people talking about applying to your campus by typing your campus name in the "All of these words field" and apply, applied, applying, application in the "Any of these words" field.
Search results default to top. Change the sorting to latest if you want to see results in chronological order.
This is just an introduction; there are many more combinations of terms you could search for. Once you have a Twitter search that pulls in relevant results, note the search terms that automatically populate at the top of the page. If you copy this text and save it (maybe in a social listening Word or Google document), you can use one of the following tools to monitor it live.
Tweetdeck or Hootsuite
Both Tweetdeck and Hootsuite allow you to monitor subsets of Twitter live, using a multiple column format. While people often create columns for those they follow, @replies, and DMs, you can also create columns to follow a hashtag or the results of an advanced Twitter search. Create a new Search column, and paste the text you copied from your advanced Twitter search. The column will update in real-time to catch engagement opportunities as they happen.
Instagram Search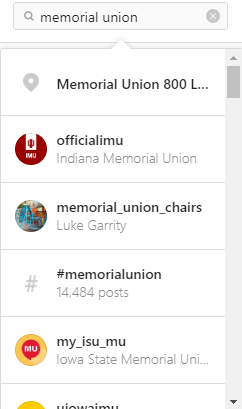 There are two ways to use Instagram search for free social listening—locations and hashtags.
Searching by location enables you to find the content people posted while they were on campus, even if they didn't tag a campus account or use a campus hashtag. This type of search is best conducted in the Instagram app. Type a location (e.g., your campus name, names of buildings, or other popular campus locations) in the search bar. When the results appear, toggle the menu below the search bar to Places and you'll be able to view all posts that were tagged with that place. You can also do this on a desktop by typing building name in the search bar and choosing one of the results that have a place icon, rather than a circular account avatar. If you don't see a location result, you might be using an abbreviation; try spelling it out. In the sample image, the first result is a location of a campus union.
You can also use Instagram search to find posts with a particular hashtag. The process and results here are pretty straightforward; add the hashtag to the search bar and see what you get.
For all Instagram search results, you'll see Top Posts first, which may not be the timeliest. Scroll down to Most Recent if you want to see the most recent posts.
Followerwonk
Followerwonk is a free tool from Moz that allows you to learn a bit more about the characteristics of Twitter followers. This is an introduction to the type of insights you might find if you want to use social listening data for marketing personas. Using the Analyze tab in Followerwonk, type in any Twitter account to learn more about its followers, including locations, most active hours on Twitter, words from their bios, inferred gender, and spoken language. This tool can help you learn more about the people who follow your owned accounts, or even accounts of your competitors or peer institutions.
Mention
For the price of your email address, you can access some basic social listening functionality via a keyword search on Mention. With no email address required, you can find individual results from places like Reddit, blogs, and Twitter, and a summary of sentiment, top keywords and hashtags, users, and sources. It also offers a few simple exports. Don't assume that every single source or mention is captured here, but if you want at-a-glance insights, it can be helpful.
Start Listening
The free tools listed here are a great way to get an idea of what online conversation exists about your campus or other topics you may be interested in. If you want to dive deeper, we have another free resource for you! Download The Higher Ed Social Listening Handbook for an in-depth tutorial on social listening, as well as its application to five strategic campus goals: engagement opportunities, brand management, crisis communication, audience intelligence, and influencer marketing.
The post was adapted from 5 Free Social Listening Tools for Higher Ed on Campus Sonar's Brain Waves blog.