Social Listening on a Budget

Social listening is one of the most important parts of a social media manager's job. It's crucial to protecting and furthering the brand, as well as knowing the sentiments of your audiences. When your brand is a college or university, it's also a great way to learn about trends and, if you keep track, to identify (and hopefully respond to) unusual issues and valuable insights. Another way to look at it is: social listening can be step one in what my fellow guest blogger Erika Boltz calls "issues management."
Here's an example of social listening. A few years ago, I noticed (because I kept track through social listening) an unusually high number of complaints about wifi issues on campus during a short time period. I provided concrete data about the issue to higher ups and let them know it needed correcting. Fast. Thankfully the wifi issues were resolved and now our IT department even has their own social media accounts.
IFTTT—Free Social Listening
For smaller institutions or those with tight budgets, I have a solution. I do social listening for free but I don't do all the work. Thanks to a very helpful tip from Erik Clark during a higher ed conference presentation, I learned about IFTTT. What's that? It's short for "If This Then That." It's a miracle site and I've barely tapped into its powers. Erik sets up "recipes" so any time a tweet contains a particular keyword, his recipe sends the tweet to a Google Sheets document. It can be any keyword, or even a hashtag. The concept has been life changing for me.
Setting Up IFTTT
Recipes have evolved and are now called "applets" (not really a great name…) and there are a lot of options for creating them. Here's how you can organize tweets you want to keep track of.
Set up a Google account if you don't have one already.
Visit Twitter Search to Google Spreadsheet and click "Connect."
Connect your Twitter account and Google / Google Drive accounts when prompted.
Once both are connected, click "Settings" in the top right.
Take this next part slow. You don't need to change everything.

Say "yes" to notifications when the connection is live.
In the "New tweet from search" section, update the "Search for" with the keyword or hashtag you want to track.
In the next section, "Add row to spreadsheet," update the spreadsheet name to whatever makes sense—I usually use the keyword.
Leave everything else as is.

Go to the bottom and click "Save"!
Wait for someone to use your keyword and let the magic happen.
Set up additional applets for other keywords or hashtags related to your campus.
Wait and Listen
Once it's all set up, a few things will happen when someone posts a new tweet with your keyword.
A new folder is set up in your Google Drive called "IFTTT/Twitter."
A new spreadsheet is created with the name you gave it.
The tweet is added to a row in that spreadsheet. It's not going to look pretty.
I recommend a few changes to the spreadsheet to make it easier to read.
Extend Column B until it's easier to read.
Play around with the text wrapping until Column B makes you happy.
Wait for more tweets to come in.
Use Column F as a place for notes. I highly recommend adding the word "Reviewed" next to the second to last tweet that you review. I usually move this as I go, so I can search "reviewed" and find where I left off. I say second to last because if you add it to the last tweet, it gets wonky with future tweets and you'll have "reviewed" copied into each cell of new tweets. As new tweets come in, I work my way down. Copy and paste "reviewed" to show where you reviewed.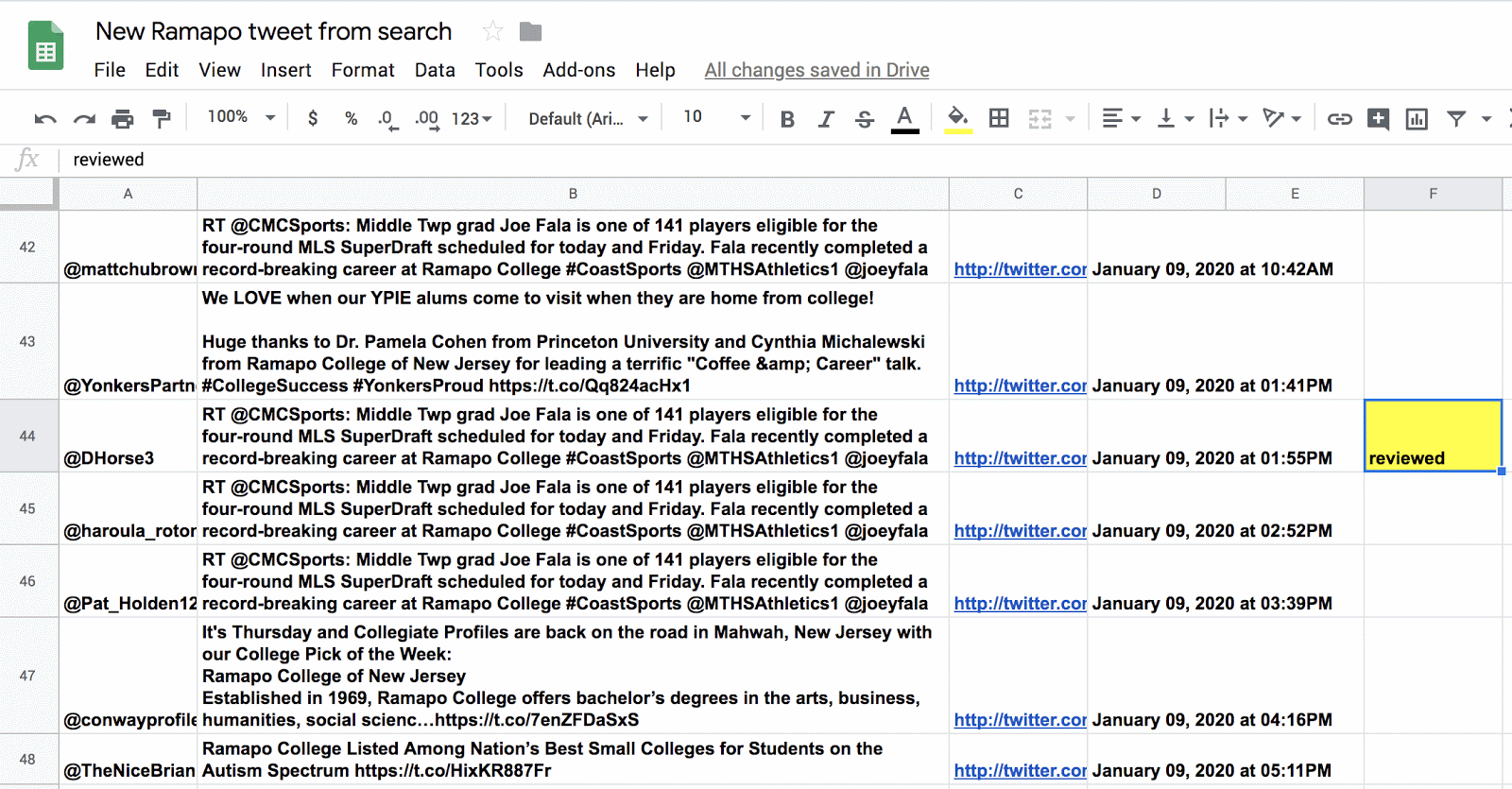 Considerations
Okay, so you're up and running—what are other great things you need to know?
You can delete rows and it usually doesn't affect new tweets that are added. Sometimes there's a hiccup and a new spreadsheet is created for no reason. Just go with it.
You have the URL link to every tweet that is captured—even tweets that were deleted. I usually write "deleted" in Column F when this happens if the tweet was about us.
You can search other terms in your sheet to look for similar tweets. For example, look up "wifi" in tweets that have the applet saved for "Ramapo."
Use the listening to help your customer service! You can spot tweets that you or another account need to respond to such as: accepted student questions, a confused prospective student, an angry current student, a lost parent, etc. You can spot tweets that are good to keep track of as FYIs or for another department to know.
Tweets are added in almost real time, so keep your spreadsheet open throughout the day, and check it from time to time.
Depending on your website's URL, tweets with your website (ours is ramapo.edu) that don't actually mention your name in the tweet are pulled, too!
Unfortunately it's not all sunshine. Here are some cons with this system.
After a certain number of tweets (I think 2,000?), IFTTT creates a new spreadsheet. Revise the name of the old one so you don't get confused about which spreadsheet is current.
If your college or university's name includes a word associated with other things/places/areas/locations/towns/states, etc., your applet will pick up all of them.

For example, Ramapo College of New Jersey is often called "Ramapo" or "RCNJ" by students, alumni, faculty, staff, prospective students, the community, etc. However, "Ramapo" is the name of many other things located in two states!! (We're on the border of New Jersey and New York). There's at least one high school, school district, town (in NY!), shopping centers, roads, a police department, high school football team (the college does not have a football team), rest stop, river… I think you get the point.

It's in a spreadsheet. Just text. No pretty pictures. No colorful graphs. If you work better with visuals, this may not be right for you.
*There is the potential to receive a lot of tweets with nothing to do with your campus, but I've found it becomes very easy to spot almost all irrelevant tweets. If a series of tweets contain the word "football," I can normally tell by the usernames or teams if the tweet is about the high school team. Or if the tweet says, "I can't believe Ramapo doesn't have a football team" … it's pretty easy to know that the tweet relates to us.
Thankfully, you can click on the links to the tweets to check them out further. You can see if you recognize the account, if the person says anything in their bio about being a student or alumnus/na, or read the thread to get a better picture.
What's Next
What else besides your college or university's name can you have IFTTT save tweets about?
Your graduation hashtag
Your alumni hashtag
Your annual fund campaign's hashtag
Your incoming class's hashtag
Nicknames for your institution
The list is endless.
Setting up and successfully using IFTTT to track tweets and perform social listening might take some time and practice. It might be a little confusing to get set up with IFTTT, and it might be a little confusing to review the tweets until you get into a rhythm. But for me it's been a lifesaver and pretty easy to adapt to. I hope this helps make at least one person's life easier.
I'm happy to answer as best I can questions if you need more info! You can reach me at @reeltake.
Note from Liz at Campus Sonar
You may wonder why a company that sells social listening services asked a guest contributor to write about how they conduct social listening for free. I asked Alex to write about this because I see firsthand how hard it is for some social media managers to get buy-in for strategic social listening. Knowing it may take years, you need to start somewhere. Alex's method is a start. As she explains in the "cons" section, it's not perfect and can return a lot of noise. What we offer campuses is very different, and I'd invite you to learn more about it. But if social media is just a tiny part of your job, your budget is zero, and you want to be more responsive to people on Twitter, Alex's method is a great way to start. Thank you so much for sharing this in detail, Alex.
~Liz Gross, Campus Sonar CEO
Don't miss a single post from Campus Sonar—subscribe to our monthly newsletter to get social listening news delivered right to your inbox.
The post Social Listening on a Budget originally appeared on Campus Sonar's Brain Waves blog.