Plan Your Best Higher Ed Marketing Conference Year

I have a habit of using lists to help me reflect and intentionally plan for the year ahead. What were my highs/lows? What do I want more/less of? Everything from books I'd like to read and skills I'd like to learn or sharpen, there's a good bet I've got a list going to help keep my lizard brain focused on what's important. And conferences are no exception. With so many conferences to choose from, loaded schedules, and limited budgets, I know how fun yet daunting conference planning can be. Here's a roundup of some Sonarian favorites to help plan your next season of conference bliss!
Conferences to Consider in 2020
Before we dig in, a few reminders for a happy conference.

You don't have to tweet it all. It's okay to shut down Tweetdeck and simply be, absorb, and soak up a session without the need to document it all. We're all different, but for me, some of my happiest conference moments happen when I allow myself to fully submerge in the experience without the pressure to have the wittiest, most informative Tweet.

Take a power nap. I understand the inherent guilt that comes with not wanting to miss a single session. But giving my introverted heart a short break for rest and quiet protects my focus and energy at conferences. We're all uniquely human and taking what we need to care for ourselves is never a weakness.

Connect deeply. Rather than feeling a need to talk to all the people and do all the things, allow yourself time for deep connection, eye contact, and meaningful interaction with the people who matter most. As you meet new faces and form connections, allow yourself the time and space to give these folks your full attention.
Conferences I've Attended
October 17-21, Little Rock, AR
To me, this conference has it all: a wide range of specialty-focused tracks with topics ranging from crisis management to the power of being human at work. And most importantly, an intelligent, generous, and amazingly kind community of higher ed professionals who care about sharing knowledge and support beyond job titles and departments.
April 15-17, Boston, MA
This social media focused conference is a must for anyone craving a specialized, smaller group setting to dig into the logistical details and tactics behind higher ed social content and campaign planning. It's a great blend of marketing, alumni, and advancement professionals connecting the dots to meet the changing needs of their institutions. This year's conference is co-chaired by our very own Steve App and the ever-brilliant Ashley Budd; it's sure to be 🔥 with the very best in strategy and audience-centered content ideas. Plus, with Steve and Ashley at the helm, you may learn something new about social listening in higher ed.
HEE's presenters, content, and organization always deliver. I love the efficient format and clear action-oriented takeaways from each 10 minute session. I also appreciate the accessibility of digital delivery, paired with a thoughtful online community fostered by Karine Joly. I even met one of my closest higher ed friends, Erika Boltz while we attended an online HEE class together!
August 3-5, Salt Lake City, UT
A versatile and internationally recognized three-day summit focused on the integrated digital strategy through hand-selected, topic-targeted tracks and thoughtful keynote speakers.

Social Media Strategies Summit, Higher Education |#SMSSUMMIT
Oct 16-17, New York, NY
This summit offers a wide range of speakers and topic-based panels composed of many #hesm thought leaders. My favorite part of the summit is the wide range of examples and tips from varying institutions and lots of opportunities to chat with attendees.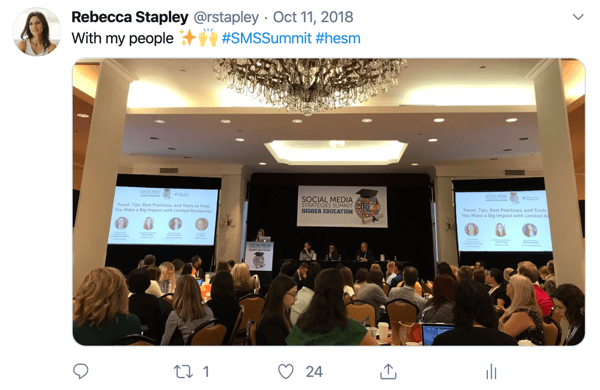 RAISE

|

#RAISE2020
July 30-31, Boston MA
Hosted by EverTrue this conference is a great combination of higher ed transferable knowledge presented by for-profit industry leaders. The heart of this conference is exploring new horizons in fundraising, while staying ever focused on elevating engagement and audience connection. I was charmed by the authenticity and energy of this conference and compiled my top takeaways from the 2018 conference.
NACAC | #NACAC20
September 24-26, Minneapolis, MN
Admissions professionals face the most difficult challenges of our industry head-on, often with limited resources and little recognition. This conference brings together enrollment professionals at all career stages to get to the heart of these issues. NACAC delivers strength through shared experience, industry knowledge, and tools to help EM teams remain agile and courageous enough to be the first responders in recruiting and enrolling students in the face of uncertainty and change.
When I first walked through the venue doors, past a selfie station at SMW Chicago my first thought was "did I accidentally enter a rave?" Subdued it is not, but this conference boasts big brand names and brilliant speakers. While it's not higher ed focused, I came away armed with creative inspiration for a social specific video, photography ideas, and value-driven content. They also have a killer podcast.
Other #Sonarian Favorites
November 15-20, Chicago IL
What separates AMA from other conferences is the people. They land keynote speakers who are unmatched at other conferences, attendees are incredibly diverse both in their focus areas and seniority, and the exhibit space features vendors and agencies that can deliver on any need your campus may have, as well as ones you haven't even thought of yet.
May 17-20, Minneapolis, MN
What makes Confab great is that, aside from the quality of speakers, it doesn't take itself too seriously. It's a casual event that can feel like a neighborhood block party just as much as a professional development conference. Confab no longer offers a higher ed-focused conference, but the general one is still worth attending. It features amazing higher ed speakers, inspiration from other sectors, and, of course, cake. —Steve App
June 11-12, Bristol, UK
This UK-based conference focuses on content strategy. It's run by Pickle Jar Communications, and it's absolutely not a sales pitch conference. Rather, it feels like an intimate gathering, almost invite-only, of some of the smartest content strategy and content marketing people in the industry.
January 29-30, Orlando, FL
This conference prides itself on having very few, if any, main stage speakers from higher education. Rather, they bring in the best digital marketing and "sales" (re: admissions) experts they can find and leave it up to the audience to make connections to their work. There are higher ed specific breakout sessions led by really smart people.
I find that the strategies and tactics discussed are generally more forward-thinking and sophisticated than many of the higher ed only conferences. —Liz Gross
Happy conferencing from all of the #Sonarians, we might even see you there!
Don't miss a single post from Campus Sonar—subscribe to our monthly newsletter to get social listening news delivered right to your inbox.
The post Plan Your Best Higher Ed Marketing Conference Year originally appeared on Campus Sonar's Brain Waves blog.