New Research for Admissions Pros: Insights from Students' Conversations About their College Search

TL;DR: Our admissions research is available and you can download it here.
At colleges and universities, enrollment is everyone's concern. Amidst changing demographics, evolving recruitment guidelines, and the declining percentage of adults who feel college is important, the job of recruiting and retaining students is particularly challenging today—and it extends beyond the admissions office.
Understanding the mindset and experience of prospective college students is crucial to designing effective recruitment strategies. To further this understanding, our team looked to online conversations about college admissions—almost 125,000 of them on Twitter, online forums (like Reddit), and Instagram over three years. Our analysis of this data—as well as implications and opportunities for admissions professionals—is in our latest report: Social Listening in Higher Ed: The College Admissions Journey. You can download it for free.
As you read it, share your thoughts on Twitter or Instagram with #AdmissionsStories. Tell us what you like, what additional questions you have, or even offer some critical feedback. We're here for it.
To introduce the report, I want to highlight a few things we learned that you can use to inform your recruitment and marketing strategies. I'll also explain a few of the social listening analysis techniques that enabled us to generate our insights. Keep an eye on this blog (or our newsletter) for additional posts highlighting and applying our admissions findings.
Actionable Insights for Admissions and Marketing
While these are all admissions focused, I know enrollment marketing is handled differently from campus to campus. These insights apply to the admissions team as well as anyone who manages campus (and athletics) social media accounts, websites, or other digital properties. Don't think this is all we have for you—the report includes 30+ pages of analysis. To start, here are a few opportunities Rebecca Stapley, Campus Sonar Strategist, identified.

Undergraduate Admissions: While there are certainly opportunities to connect with students who have an affinity for a particular discipline (18% of students discussing undergraduate admissions mentioned STEM), don't overlook the students represented by the 42% of undergraduate admissions conversation without reference to a particular major. These students are likely still figuring it out, but it doesn't change their desire to belong and feel confident in their choice of school. The largest incoming major is undeclared and the average student changes their major three to four times—they are 18 after all. How are you reassuring undecided students throughout the admissions funnel?

Athletics and Admissions: There are opportunities to connect and align with athletics recruitment milestones that are slightly different than the general admissions funnel. Do you know the timeline and protocol for athletics recruitment at your school? Is there athlete-specific content and messaging? For many institutions—particularly small private colleges and universities—this is a large percentage of the student population. How can you make them feel seen, heard, and part of the larger accepted student community?

Social Media Strategy: The high-volume times for admitted student conversation online are February to May 1 and August. This is yield, and potentially melt. Do you have yield and melt social media strategies in place? They should include consideration for athletics recruits, capturing and amplifying positive sentiment to appeal to the next class (they're watching!), creating community for accepted students, and addressing their biggest concerns and anxieties.

Content Strategy: Insights in the report highlight psychographics, not just demographics, putting you into the headspace of your prospective student audience. They're curious about college life, anxious about the application, financial aid, their wellbeing, and resources on campus. Use these insights to inform your content. Be proactive in being helpful on your website, during campus visits, and at college fairs to ease students' stress before it arises. Even if this type of information exists on your website somewhere, how are you translating it to multiple channels where your students are hanging (and stressing) out?
Social Listening Techniques and Nuances
Social listening is both an art and a science. With every project, analysts make choices: how to collect data, how to determine the relevance of mentions collected, how to construct categories and subcategories, how to compare and contrast data points, and ultimately how to display results. Most choices require context—that is, information gathered from other sources to help make sense of the data. We took care to explain many of our choices and techniques throughout the report so you learn about social listening while gleaning admissions insights. Here are a few techniques Reed Scherer, Campus Sonar Social Media Data Analyst, used that may be new to you. We call these explanations Nerd Notes.

You may be familiar with sentiment analysis (if a post is positive, negative, or neutral). In this report we also introduce analysis of emotions like anger, fear, or joy. Both types of segmentation are driven by machine learning in our software, and are improved with spot-checking by a human analyst.
Custom categorization and segmentation increases the value of social listening analysis. It helps you get beyond standard metrics to consider aspects of the conversation that relates to your specific questions and strategic goals. In this study, we used multiple ways to segment the conversation based on key words and language patterns. (See page 30 in the Appendix for more details.)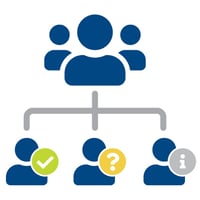 Enrollment stage: Mentions were categorized as prospective, admitted, or general, allowing us to understand nuances in volume, topics, and timing of conversation at various stages in the enrollment funnel.
Athletics: Mentions were categorized as athletics-related or non-athletics, allowing us to analyze the conversation of athletic recruits versus general admissions conversation.
Institution specificity: Mentions that named specific colleges or universities were analyzed separately from general mentions of the admissions process. Spoiler: A mention about admissions is more likely to be positive if it names an institution.
Schools, programs, and majors: We categorized school type (undergraduate, law, business, medical), and areas of focus (STEM, business, social sciences, etc.,) to understand how topics of each conversation differed.

Geographic analysis can provide useful segmentation for large datasets like this one. But, geotags are only captured from certain page types (e.g., Twitter, Instagram), and aren't present on all posts from those page types. It's important to understand if geotagged mentions are representative of your entire dataset (ours were).

One of the attractive aspects of social listening is the ability to easily combine quantitative and qualitative reporting. In the first 18 pages of the report, you'll see quantitative analysis: numbers, charts, and graphs. Pages 19 to 27 focus more on the individual mentions that highlight findings of our analysis. I'm especially fond of the timeline on pages 25 and 26 that highlights one student's admission's journey, as told through tweets.
Sources of social listening are always changing. For instance, the way we accessed Instagram changed during the analysis period of this report, and YouTube wasn't available for historical analysis (although it is for our ongoing work). Understanding this context is key to avoiding misguided conclusions, like "Students stopped posting about college on Instagram in 2019!" (They didn't, but the way to find those mentions changed.)
Go Beyond Your Social Media Strategy
After reading this report, I hope it's clear that insights gleaned from social listening can inform your entire admissions strategy—not just the social media portion of it. Online conversation data can inform the prioritization of recruitment geographies, messaging for print and email campaigns, admissions officer talking points, and more impactful campus visits. And yes, it can also increase your odds of timely social media engagement with students who consider your institution.
So—download the report. Tell a friend. Tell your boss. Tweet your thoughts with #AdmissionsStories and @CampusSonar. If you apply insights from the report to your work, we'd love to know.
Don't miss a single post from Campus Sonar—subscribe to our monthly newsletter to get social listening news delivered right to your inbox.
The post New Research for Admissions Pros: Insights from Students' Conversations About their College Search originally appeared on Campus Sonar's Brain Waves blog.