There is a widely known concept in sales and marketing that if you sit back, relax, and simply listen to your buyers, they'll tell you everything you need to know. While it makes sense in theory, very few people have the patience to stay quiet and listen. Higher education is no exception.

There's no way to mask it—people have a hard time listening. Brilliant ideas come to us in the middle of the night and we'll stop at nothing to tell every soul we know (and don't know) about them. Forget surveying our audience to see if the new-found idea has legs; earplugs go in, head goes down, and we get to work implementing what we think is the greatest idea in ages.
Then something happens. No one else believes in our bright idea the way we do. It flops, and we're back to the drawing board. For some reason we continue to repeat this same pattern. It happens every day in higher education enrollment marketing. The admissions team sits around a table and throws out new ways to reach prospective students and their parents. A few strategies are agreed upon and staff members get to work fulfilling their part of the plan.
As the enrollment/admissions comm flow is executed, counselors text prospective students about how beautiful campus looks today. Emails pop into inboxes touting news about an award the college recently won. The problem? Sometimes, the intended audience of eager high schoolers simply doesn't care. The message failed to connect emotionally with the prospect and is filed away with the rest of the generic content they saw that day.
So what happened? While the intention of the admissions team was positive, they missed a key piece of the marketing puzzle. No one bothered to listen to the prospective students, recognize their pain points, and connect with them emotionally to solve the problem. They made assumptions about what these 16- and 17-year-olds wanted to hear and spent significant time and money carrying out their plan—losing a massive opportunity.
Why Do Emotional Connections Matter?
Let's think for a moment about buyer behavior. As much as we want to believe that choosing a college is different than making other purchases, it isn't. Ultimately, people of all ages make small and large purchases based on emotions.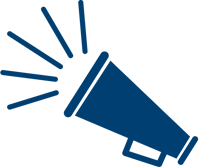 It makes sense, then, to talk about the student experience to your target audience in a way that connects emotionally. "On a lifetime value basis, emotionally-connected customers are more than twice as valuable as highly satisfied customers. These emotionally connected customers buy more of your products and services, visit you more often, exhibit less price sensitivity, pay more attention to your communications, follow your advice, and recommend you more—everything you hope their experience with you will cause them to do" says Harvard Business Review. Not only can you market in a way that makes authentic connections with the right students, but you're more likely to retain them. Actually, they may end up being your biggest fans and tell the rest of the world just that.
So how do you learn enough about prospective students and their parents to understand what makes them tick and form that connection? You stop and listen.
What's the Best Way to Listen to Prospective Families?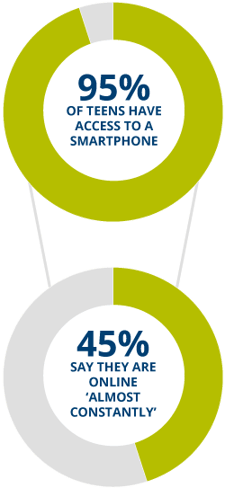 It's easier than you may think. Showing up on social media, where both students and parents consistently hang out, gives you a bird's eye view of what's important (and not important) to them during the stressful college search process. According to Pew Research Center, "95% of teens have access to a smartphone, and 45% say they are online 'almost constantly.'" YouTube, Instagram, and Snapchat are the platforms that high schoolers use most often, which makes YouTube and Instagram prime places for you to start listening.
It's no secret that people spill nearly everything on social media. As leaders trying to make connections with a very specific market, there is an abundant opportunity to see and hear what's meaningful to prospective students. Today, reaching parents of prospective students is also critical. Where do they hang out online? Mostly Facebook and YouTube, according to Pew's research.
If you pay attention, posts, likes, and comments begin to fill your 'emotional connections' bucket. When prospective students use social media to talk about problems they have, write them down. If your institution can solve that problem, let your prospects know how via your marketing efforts.
Here's an example of how this works. A college in the Midwest is trying to recruit more students from the west coast. The admissions team thinks they should avoid conversations about weather because "it's always gorgeous out west." They start following some west coast students on Instagram, and see comment after comment about how it's such a bummer that the weather never changes in Southern California. West coast students yearn for the turn of the seasons.
Now that a pain point has been recognized, the Midwestern college can use language in their marketing messages to west coast prospects that talks about the beautiful seasons their students get to experience. Maybe they reference activities such as visiting the local pumpkin patch and enjoying apple cider on a crisp day. Posts on Instagram could highlight a snowball fight on campus last winter.
As west coast prospects see this content, and message after message seems to fit exactly what they desire, they form an emotional connection with the college. Soon enough students realize that the Midwestern college they've been hearing from is the perfect spot to enjoy a new climate and landscape—and ultimately their college career. The college used prospective student conversations to change the perception of their institution.
Why? Because the enrollment team listened and formed a unique connection that no other college could. Meanwhile, their competitors are sitting in a windowless room discussing all the "brilliant" ways to reach more prospective families. Which enrollment team do you want to be on?
Don't want to miss a single post from Campus Sonar? Subscribe to our monthly Brain Waves newsletter to get the latest and greatest about social listening in higher education delivered right to your inbox.
The post Listen and They Will Tell: Why Social Listening Is the Key to Increasing Enrollment originally appeared on the Campus Sonar Brain Waves blog.