Are You Listening? Leverage Podcasts to Meet Your Goals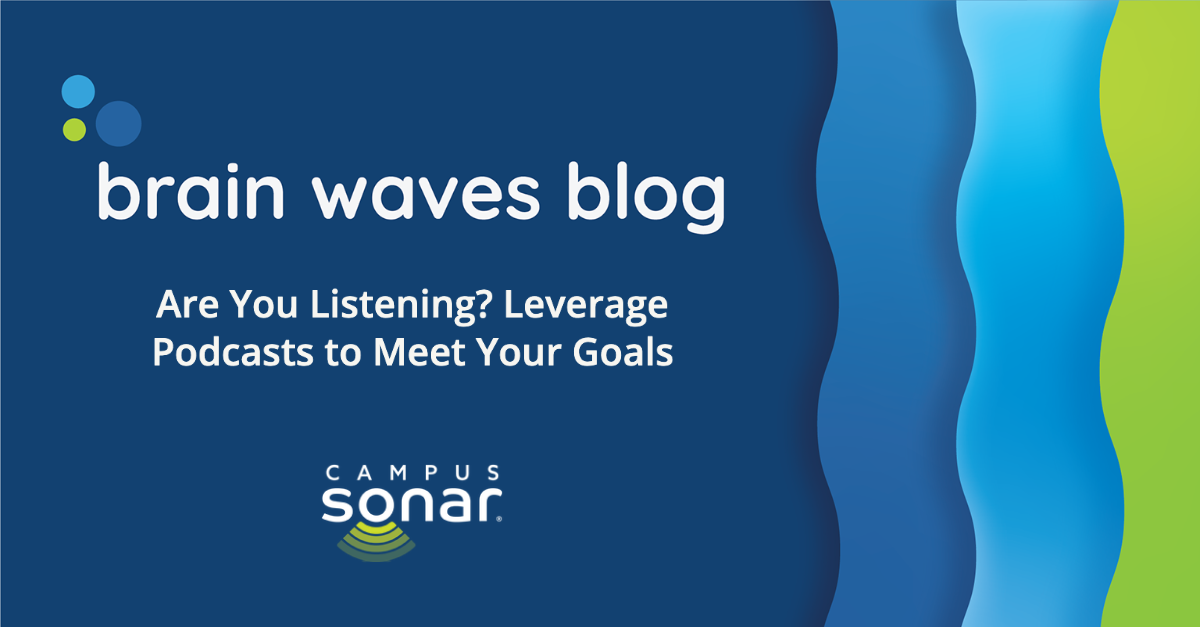 On the bus. In the shower. At work. Doing dishes. Before bed. A growing number of people are doing it anywhere and everywhere—listening.
Listening to podcasts, that is.
What can those in higher education do about this awesome new medium? Many campuses are starting to experiment and others are brainstorming ways to jump in. But how can you leverage podcasts to achieve departmental and institutional goals? Take a listen.
Podcasts in a Nutshell
The Pew Research Center reports nearly 40 percent of Americans have listened to a podcast at least once, and 50 percent are aware of them. That's a huge potential audience which continues to grow! In 2006, only 10 percent of Americans reported they were filling their earbuds with this new medium.
The number of podcasts available to listeners grows by leaps and bounds year over year. Nearly double the amount of podcasts were released in 2015 than the year before, accounting for nearly one-third of all podcasts listed in iTunes at that time.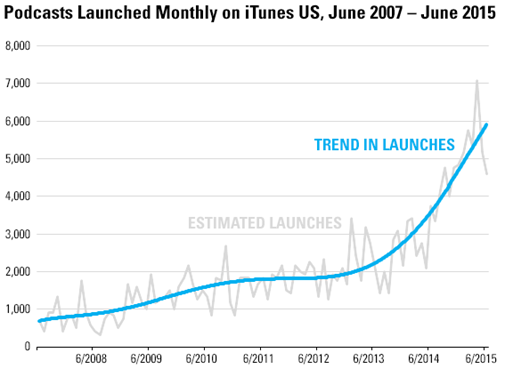 Starting a Podcast on Campus
Before jumping into a podcast it's super important to—you guessed it—listen.
What are the priorities being discussed in your division and on campus?
Ultimately, this podcast should solve some sort of problem. Maybe it is enrollment, or building a closer relationship with alumni, or serving as a way to communicate with the on-campus community.
Start subscribing!
This is actually super important. You wouldn't make an Instagram account without ever trying the platform, right? Take a listen to some podcasts on topics you like, from other campuses, or pick from your podcast player's "top rated" list. It will give you ideas on format, length, music, and most elements of a podcast.
There are a growing number of podcasts produced on campus as well as those focused on breaking down silos in higher ed:
ConnectEDU Network is the first podcast network for higher education and serves as a resource for professionals across divisions. With different hosts and podcast formats, it's a great springboard for determining what will and won't work for your institution.
Listen to your own voice.
After planning a podcast, record a test episode (this may even become episode one!) and listen to all of it. Many hosts hate hearing the sound of their own voice, but listening back to that first recording will bring many lessons about audio quality, length, and content.
Don't talk too much.
As a podcast host, if your format brings on a guest, it's important to listen instead of talk. Many podcasts adopt the "weekly guest" format with one consistent host. The role of the host in this situation is to ask the right questions so the guest can do the talking, not the other way around.
Digging into Metrics
While scarce, it's important to dive into podcast metrics to understand what is and isn't working for your audience. Are your number of downloads decreasing episode over episode? Increasing? This is how you can listen to what your audience does and doesn't want!
Aside from relying only on the data your audio hosting service provides, another great way to figure out which episodes are resonating with your audience is to flex that social listening muscle. Take note of what your audience is saying about your podcast on social media platforms, but more importantly, gauge the reactions to each episode after you post them on your institution's social media profiles. Did a post about a new episode get an exceptionally high number of shares, likes, or engagement? You should also encourage your audience to engage with you and provide feedback about the show, both on social media and on podcasting platforms.
It's not uncommon for podcasts to promote a listener survey inside one or more of their episodes. Listeners are encouraged to visit a link in the show notes that gives the host and producer a better idea of listenership demographics including age, location, and (in the case of higher education) the relationship to the institution. These surveys can be eye-opening and guide future episode content.
Because it is a relatively new medium, and very new for higher education, podcasting may take some guesswork to get it just right. There's no magic formula for making a great podcast on campus, but by understanding the problem the podcast is working to solve as well as the audience's preference, anything can be possible.
Happy listening!