A Change of Perspective: Find Alignment with Your Institution's Mission

Why are we here?
Go ahead and get that second cup of coffee before we dig into this weighty question. I'll wait.
So why are we here—here meaning higher education broadly, and in marketing, communications, social media, admissions, advancement, alumni relations, or any number of related roles, to be more specific?
Do you show up to work each day to manage your institution's social accounts? Develop alumni programming? Recruit the next class of students? While those are the things you need to accomplish in your role, there is still a big "why" waiting to be answered.
Ultimate Line of Sight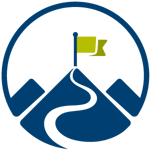 There's a concept called ultimate line of sight that helps individuals and teams align themselves and their work with the ultimate goal for their institution. When I worked at the University of Michigan I was fortunate to have a manager who believed in the importance of this alignment, and led our team through an exercise that broadened each team member's perspectives on their contributions. I consider myself a strategic, big-picture thinker, so it was humbling when I struggled initially to think big enough. But once it clicked, I viewed my work in an entirely new light—I was helping shape institutional priorities and strategies.
I'll use my own worksheet from several years ago, when I was a web content manager, as an example:
I … maintain the school's website.
So that … information is clear, accurate, and easy to find.
So that … site users successfully accomplish the goal of their visits.
So that … they apply, make a donation, or otherwise engage with the school.
So that … the school attracts the students and resources it needs to thrive and achieve its mission of a healthier world for all.
My ultimate line of sight: I … maintain the school's website so that the school attracts the students and resources it needs to do important public health work that makes the world a healthier place for all.
Well that got really big, really fast. Suddenly, my work on the website enables life-changing public health work? Indirectly, but yes. Many of us work in higher ed because we feel a personal alignment with its mission, but it can be easy to lose sight of how much our individual contributions matter.
Line of Sight: Social Media Manager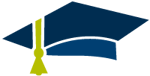 So if you're a social media manager, what's your ultimate line of sight? You're nurturing your online communities so that …? It isn't simply to increase your follower count and engagement metrics. Those may be some of your goals, but there's a bigger purpose driving your work. You're helping your institution reach the communities it serves, deliver timely news and information, and build trust and foster relationships with individuals so that it achieves its mission of education and knowledge creation.
Line of Sight: Director of Admissions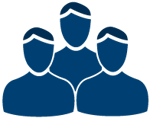 If your role is in admissions, you work to bring in the next class of students. You're answering questions and reviewing applications so that …? You need to reach your target numbers, but you're also directly building the future of your school. Buildings and history are part of what makes an institution, but without people to carry forward its foundational work—knowledge transfer and creation—an institution is only its history and buildings. There is no college or university without students.
Your Own Line of Sight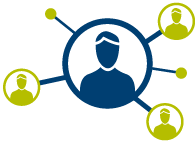 I encourage you to try this for yourself, regardless of your role. If you're struggling, start with the first line and describe what you do in clear and simple terms. Then look at your institution's mission page—and I know you all have them! These examples highlight what I mean:
"Washington University's faculty and staff strive to enhance the lives and livelihoods of students, the people of the greater St. Louis community, the country, and the world."
"Boston University is committed to generating new knowledge to benefit society."
"Emory University's mission is to create, preserve, teach, and apply knowledge in the service of humanity."
From there, connect the dots between your daily contributions and your larger purpose, and don't be afraid to let it get big. If you share this with your teams, you'll find it not only helps individuals understand how much they each matter, but also helps teams see how each person's contributions fit together. The outcome is so much greater than the sum of the parts.
My Line of Sight
I'm challenging myself now to fill this out again for my new role here at Campus Sonar:
I … lead client success efforts at Campus Sonar.
So that … our clients, the individuals and the institutions, can develop data-informed strategies, communications, and programs.
So that … they successfully build relationships with their most important audiences.
So that … our campus partners attract the students and resources they need to fulfill their missions of education and knowledge creation.
So that … an educated population and new understandings improve the quality of life for individuals and populations.
My ultimate line of sight: I … lead Campus Sonar's client success efforts so that our campus partners fulfill their missions, improving the lives of individuals and populations.
It got big again, didn't it? But the ambition and promise of higher education is pretty big, too.
Don't miss a single post from Campus Sonar—subscribe to our monthly newsletter to get social listening news delivered right to your inbox.
The post A Change of Perspective: Find Alignment with Your Institution's Mission originally appeared on the Campus Sonar Brain Waves blog.