How to introduce Amanda? There's her academic experience (she has a Master's degree in Education Policy Studies), her research experience (she's been published 11 times and is formally trained in qualitative and mixed methods approaches), and her professional experience (in both K–12 and higher education settings). She joined Campus Sonar in 2019 as a Social Media Data Analyst, and applies her background in qualitative research to delivering high-quality social listening research and insights to Campus Sonar clients.
What I love about working with Amanda: her endless positivity, complete nerdiness, deep attention to detail, comprehensive analysis and reporting ability, and focus on finding insights that matter.
Learn a little bit more about Amanda—from Amanda herself!
Since you've started working at Campus Sonar what have been your biggest discoveries or things you've learned as an analyst?
I've learned so much—it feels like each day brings a new discovery. Two things come to mind for me, and both represent the foundation I use for my analyses:
No matter how niche a topic is, you can find it on the internet. And you can use a combination of words and Boolean operators to sleuth that topic out of the depths of the interwebz and into your software. It takes some careful searching, lots of testing, and likely a long and complicated string of Boolean with nested operators and kerbillions of parentheses … but dang it, you can isolate that topic with a high degree of relevance. With that:
Parentheses are the worst. Okay, not the worst worst, but when you've written that highly complex string of Boolean to grab that niche topic and you've got lots of nested operators … well, parentheses are challenging. BUT. If you color-code them while you write your Boolean, you'll be just fine.
What's one thing about social listening that you think everyone should know?
It matters and it makes a difference, but it has to be done right. That means a careful pairing between a smart human and software. Together, we identify mentions about institutions that may otherwise be hidden, and we can smell a crisis just as it starts to brew. People talk about everything on the internet—the serious, the ridiculous … it's all there, waiting to be understood so you can meaningfully connect with your audience.
I know I was asked for one thing, but if you're a research buff, it's also important to know that social listening is inherently mixed methods. There's a quantitative component related to metrics such as volume, but also a qualitative aspect with the words that are used. And it can stand alone or be supplemented with traditional research methods to answer all of your burning questions.
What's something unique that gets you excited (either in social listening or real life)?
I'm a nerd at heart, so most things about social listening get me hyped. After writing Boolean and populating dashboards, I really really enjoy examining patterns that emerge … patterns that may not be noticed outside of a data visualization. I'm naturally a very curious person, so I nerd out pretty hard when I see something interesting, investigate it further, and find an opportunity for a client to meaningfully capitalize on that pattern or trend. I also really enjoy writing the narrative that underlies social listening data—our findings are a story waiting to be told.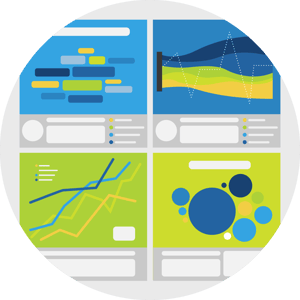 Outside of work, I get excited about potatoes. Like all potatoes, in any form. My husband learned a trick to making THE FREAKING BEST potato wedges by soaking them before baking in the oven. Just try it. It will change your life. Then he seasons them with a 7 Chili spice blend, and it is just … wow.
Learn more about Amanda and her love for social listening in her blog posts and by following her on Twitter. And watch the Brain Waves blog in July for more analyst profiles.
Don't miss a single post from Campus Sonar—subscribe to our monthly newsletter to get social listening news delivered right to your inbox.
This post originally appeared on Campus Sonar's Brain Waves blog.