Earlier this year, Campus Sonar analyzed conversation about the 2017 HighEdWeb conference. Now that the 2018 conference is over, we set out to compare the conversations.
People Talked—But Not As Much
In 2017, there was a heavy volume of conversation, but I found that mention volume dropped 38% from 2017 to 2018. Yes, there were fewer attendees—but only 3% fewer, definitely not enough to account for the stark change in conversation. What changed? We dug deeper to look for differences between and share our methodology of conversation analysis.
In both 2017 and 2018, around 57% of the authors mentioned HighEdWeb just once. Additionally, between 1-2% of the authors mentioned HighEdWeb more than 100 times. However, 60% of the mentions in 2017 were from authors with less than 100 mentions, but in 2018 76% of the mentions came from authors with less than 100 mentions.
This led me to question whether the most impactful authors from the 2017 conversation were missing from this year's conversation. I looked at the impact score, which shows the potential impact of an author, site, or mention on a logarithmic scale between 0-100.
52% of the 2017 authors with an impact score greater than 20 remained in the overall author list in 2018.
Overall, however, 22% of the authors had an impact score greater than 20 in 2018—a 1% increase from 2017.
With impactful authors still in the conversation and the bell curve of mention volume by author relatively constant from 2017 to 2018, I still hadn't identified the reason for the decrease in mentions. Maybe folks retweeted more in 2017?

It turns out the breakdown of original tweets, retweets, and comments remained similar from 2017 to 2018 as well. So, why did people talk less? There could be a variety of reasons—even something as simple as last year's presentations may have had more tweetable sound bites.
While I'm not able to concretely say why the 2018 conversation volume was lower, I turned instead to analyze what people talked about—what was different? What was the same?
The People Who Did Talk, Talked Differently
Folks didn't use the conference track hashtags nearly as much this year. This was immediately evident when the segmentation I set up for the 2017 analysis captured less than 25% of the 2018 conversation, compared to more than 40% of last year's conversation. After manually digging deeper, the biggest changes I found were:
Conversation around the Technology in Education (TIE) track went from 25% of the conversation in 2017 down to 11% of the conversation in 2018. To determine this change in conversation, we could supplement social data with more traditional audience research, like attendee surveys. This could help identify whether the change could be attributed to the type of content offered at the conference, overall changes in the education industry, or something else entirely.

65% of high school seniors say #HigherEd websites don't have enough info to answer their questions but have too much content to read. How's the readability/scanability of your website? People consume content in snippets. #heweb18

— Seth Meranda (@smeranda) October 22, 2018
Usability, Accessibility and Design (UAD) accounted for 11% of the conversation in 2017 and increased to 20% in 2018.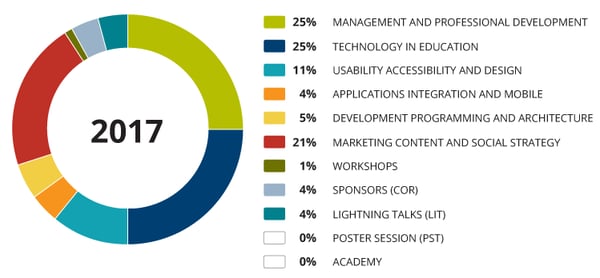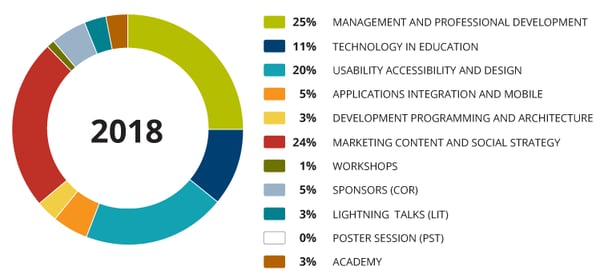 Accessibility and Inclusivity
That 20% increase in UAD track conversation… Ya'll are still focused on accessibility and inclusivity (because you're not a-holes).
Why be inclusive? Because we're not a-holes. @cdorso #heweb18

— Becca Is Editing (@BeccaIsEditing) October 22, 2018
Attendees are particularly passionate about live captioning and streaming events, two techniques that help everyone enjoy online content. The conference hashtag was also used to draw attention to WPCampus's request for an audit of their "Gutenberg" editor, a new editor for WordPress. WPCampus is a community of web professionals, educators, and people dedicated to the confluence of WordPress in higher education.

Karaoke, Red Staplers, and Keynotes—Oh My!
Next I looked into the terms people used frequently in the conversation. For the 2017 analysis, six popular themes beyond the track conversation were identified—Inspiration/Encouragement, Passion, Food, Social Networking, Travel, and Reflections. I used this same framework to dive into topic categories in 2018. Knowing that the size of the word in the word cloud correlates to the frequency of the word mentioned, I found that red stapler, best of track presentations, keynotes, social events, and #karaokeplane are still favorite topics of online discussion in 2018.
Top topics from the "Social Networking" category:

Top topics from the "Inspiration" category:

(Pssst—can you see best of conference winner Erin Supinka in there holding her own with keynote speakers SirKenRobinson and Manoush?) Aww yeah, #ladyboss.
Erin Supinka: 141 mentions
Sir Ken Robinson: 182 mentions
Manoush: 188 mentions
To Sponsor Hashtags, or Not—You Get Where I'm Going
The well-promoted hashtag #hewebgold, sponsored by a vendor at the conference, didn't really take off the way I think the vendor would've hoped—we picked up around 60 mentions using this hashtag. For comparison, #kareokeplane had around 100 mentions.
Of the mentions that use the #hewebgold:
20% of the tweets using the hashtag were from the vendor promoting the hashtag.
About 27% (16) of tweets using the hashtag were original, non-vendor submissions by 10 unique authors (19 authors if you include retweets). For comparison, there were 638 unique authors using #heweb18 and 45 unique authors using #karaokeplane.
As it turns out—just over 3% of conference attendees from the U.S. (non-vendor or agency) engaged with #hewebgold.
Things Aren't Always What they Seem
We found lots of great trends and observations in the HighEdWeb18 online conversation data, but before performing the data analysis we had completely different expectations and perceptions of what we would find.
We expected the conversation to follow the same trends and insights that I uncovered in 2017. But we found a different story in the data, showing that the only way to really uncover who's talking, what they're talking about, and what they think is by listening to the conversation and performing deeper analysis when needed. For Campus Sonar, social data as one tool in our larger tool box that helps us decide one of many paths to take.
And at the end of the day, there was still a good amount of conversation around HighEdWeb. Our parting golden take-away? We agree, FOMO is for losers. Social listening data can help ensure that you don't miss out on critical conversation insights.
FOMO is for losers. #heweb18 #hewebgold

— Lisa Nguyen (@lmwst36) October 22, 2018
Read Rochelle's analysis of the 2017 HighEdWeb conversation to understand the conversation, who influenced it, and the topics they were talking about.
Don't want to miss a single post from Campus Sonar? Subscribe to our monthly Brain Waves newsletter to get the latest and greatest about social listening in higher education delivered right to your inbox.
The post Digging Into HighEdWeb18 Conversation originally appeared on the Campus Sonar Brain Waves blog.