TLDR: I'm hosting #emchat on Thursday, March 5 at 8:00 p.m. CT. The topic is "Social Media Engagement and Listening Strategies for Yield." Read on for a preview of chat questions, and—if this is your first chat—to learn how to participate.

One of the things I love about working in higher education is the collegiality (I didn't even learn what that word meant until my first campus job). Although institutions compete for many of the same students, many professionals freely share knowledge, experience, mentorship, and lessons learned. Traditionally this was done in-person at conferences, and you'd be lucky to attend once a year. For the last decade, it's been evolving—and I'm pleased that it's evolved in favor of introverts. Social media has created an environment for individuals from all levels of the organization to come together around common topics from the comfort of their office or couch. All that's needed is a smart phone or internet connection, and you'll gain instant access to professionals around the country, even if it's your first day working in the industry. One of my favorite places for this connection is Twitter, and through #emchat it's become a top source of admissions professional development for hundreds of enrollment management professionals.
Why I Love #emchat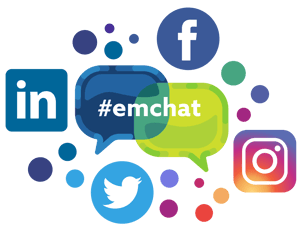 I'm pretty passionate about this chat, and social media as a general avenue for professional development. My higher education career coincided with the dawn of social media, and for more than a decade I've purposely connected with thousands of higher education professionals on Twitter, Facebook, Instagram, and LinkedIn. Twitter holds a special place in my heart because it's where I met some of my closest colleagues, and where I learn something new every single day.
If you work in enrollment management or simply want to understand more about college recruitment, admissions, and retention, #emchat is a must. Founded in 2011 by Jennielle Strother, Vice President for Enrollment Management at Concordia University Texas, and Alex Williams, Vice President for Marketing Integration at RHB Global, the community has been going strong for over eight years. On its face, you may think #emchat is just a hashtag. Add "#emchat" to a tweet, and it's cataloged with all the other admissions and enrollment thoughts on Twitter. But truly, it's so much more. Relationships start and grow here. People find team members, bosses, mentors, and great friends. And along the way, we learn from and with each other, discussing some of the key topics in the profession. If you're not following #emchat, you're missing out on the best ongoing admissions professional development out there.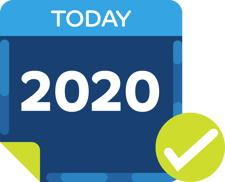 The community continues to evolve. In 2019, Will Patch, Enrollment Marketing Leader at Niche, stepped into the coordinating chair. He makes sure the #emchat website is up-to-date and there's a full calendar of relevant topics and moderators. While folks post with the hashtag on a regular basis, the best networking and professional development opportunity occurs on Thursdays from 8:00 p.m.–9:00 p.m. CT. This is when the live chats occur. (Never joined a Twitter chat before? Here's a quick how-to.) If you haven't checked one out, it's time to change that right now.
Thursday Chats: Valuable Admissions Professional Development
Each week has a different topic, moderated by a volunteer from the #emchat community. On Thursday, March 5, 2020 I'm moderating a chat on "Social Media Engagement and Listening Strategies for Yield." Here's how a chat generally works, and how you can prepare for the next one.
Introductions
At 8:00 p.m. CT on the dot, the moderator identifies themselves and gets things rolling. For the first 5–10 minutes of the chat, people introduce themselves so you have an idea of who's around. You likely have an admissions counselor, an admissions director, a VP of Enrollment Management, and the head of an enrollment services provider all in the same chat. It's an inclusive community. Even if you don't plan on tweeting much, introduce yourself! You'll likely pick up a few new followers who can develop into professional relationships (and you should follow new folks as well).
Questions
After introductions, the moderator poses questions, starting with Q1 for the first question, Q2 for the next, and so-on. Usually you don't know the questions in advance. But I have a special treat for you; here are the questions I'll ask on March 5.
Let's not make any assumptions before starting this chat (and help out any newbies). Can you share what you mean when you refer to "yield"?
Do you think social media plays an important role in yield? Why or why not?
How does your social strategy change when you focus on yield, rather than recruitment?
Does social media influence any of your offline yield efforts?
Let's talk about social listening! First, some background: we know prospects talk about their college acceptances and enrollment decisions online. Campus Sonar studied almost 125K of these convos last year. See what we learned in our free report Social Listening in Higher Ed: The College Admissions Journey.
5. Have you or your institution ever searched for online conversations relevant to yield? Why or why not?
6. Do you do anything to promote yield conversation on social media? (e.g., accepted student hashtags, prompts to share, etc.)
7. Where (on what sites/networks) do you listen for conversations relevant to yield? What sort of content or opportunities have you found?
Answers
Participants share answers to the questions, starting their tweets with A1 in response to Q1, etc. Don't forget to include the #emchat hashtag with each response so it shows up in the feed! Often answers spark additional discussion between chatters—that's fantastic! We're all there for connections and continued learning. If you join late (or even the next day) it's okay to answer a question that's been out there for awhile.
Final Thought
Often, the moderator asks participants to share a final thought. Responses to this prompt often start with FT. You may choose to summarize the discussion, highlight something that stood out to you, or pose a question that still remains. Final thoughts are often a springboard to ongoing conversations with individuals later that night or the following day.
For the Overachievers: Prep In Advance
If social listening is a new topic for you, learn more and how it relates to admissions in Social Listening in Higher Ed: The College Admissions Journey. This free study, based on analysis of almost 125,000 online conversations from students about the college admissions process, offers valuable insights you can start using today to improve your online and offline yield strategies—as well as start planning for your recruitment strategies this summer and fall. If you have questions about the study, you can always find me on Twitter at @LizGross144, or catch the whole Campus Sonar crew at @CampusSonar. Feel free to tag #emchat while you're at it.
Missed the #emchat?
Read up on the conversation.
The #emchat topic tonight is "Social Media Engagement and Listening Strategies for Yield." I'll ask a question, starting the tweet with Q1, Q2, Q3, etc. Tweet your response to each question with A1, A2, A3, etc. If you're behind, that's ok! Don't forget to add #emchat.

— Liz Gross (she/her) (@lizgross144) March 6, 2020
Don't miss a single post from Campus Sonar—subscribe to our monthly newsletter to get social listening news delivered right to your inbox.
The post Continuous Admissions Professional Development on Twitter with #emchat originally appeared on Inside Higher Ed's Call to Action blog.