What does Campus Sonar have planned today? Liz visits Beloit College to talk to Tim Jones about his experience partnering with Campus Sonar, the handbook spotlight features brand and reputation management, and Liz chats with Tyler Thomas from the University of Nebraska in Lincoln.
Social Listening: Just Do It!
As one of Campus Sonar's founding partners, Tim Jones at Beloit College was looking for a strategic partner in social listening. Beloit College looking for a partner who could help them pay better attention to the conversations that were happening around the college and around their brand. Campus Sonar provided expertise and insight into the process of social listening, identified opportunities, trends, and patterns, and analyzed where Beloit's strategy could exceed expectations.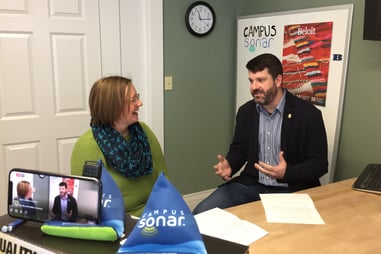 The humans at Campus Sonar (it's more than just software) helped Beloit college better understand the comprehensive conversation—insight and expertise that's been invaluable in their digital brand reputation.
As a client, analyst Amber sends Beloit College a weekly conversation summary that provides Tim and his team:
Opportunities to better engage their audiences, to capitalize on interests
All conversations—allowing them to go back and engage with any they may have missed
Patterns and trends that emerge
More opportunities to shape content and create social strategy
Time to focus on strategy, not operational assessment
Tim's final advice about using social listening in higher education:
Just Do It!
Watch Liz and Tim chat about their partnership.
Handbook Spotlight: Brand and Reputation Management
Brand and reputation management are key to reaching your institution's strategic goals. The Higher Ed Social Listening Handbook includes three key metrics for brand management. They help a brand manager understand the conversation about their brand, particularly in relation to their competitors or the conversations that others are having about them.
Share of voice
Owned vs. earned conversation
Brand attribute conversation
Plus, don't miss the case studies featuring Beloit College and Terry College of Business at the University of Georgia. We've covered them in blog posts, but learn more by downloading the handbook.
Watch the video to catch Liz's additional tips on brand management.
Tyler Thomas and #casesmc
Tyler Thomas wears a few hats these days. The Director of Content Integration at University of Nebraska-Lincoln, he's also chairing the CASE Social Media and Community conference next month in New Orleans, LA. He's also an author and a self-proclaimed foodie—it's no wonder he and Liz get along!
Planning the #casesmc conference was more difficult than Tyler thought. It took time and strategy to determine the best holistic approach. But, the conference is sold out so Tyler and the planning team must've done something right! If you're not able to attend, there will be plenty to see on the back channel.
The conference is focused on community with tons of great programming. There's always a lot of hands-on application and Tyler loves what he can learn from others and the opportunity to share his learning with the community.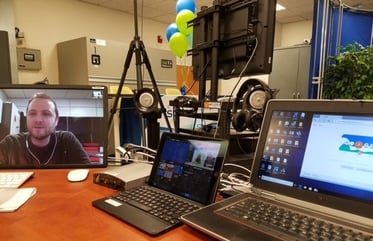 Sessions to watch for:
Josie Ahlquist's session
Survive and Thrive Managing Social Media
Podcasting Panel
Watch the video to find answers to some of the conference rumors Liz and Tyler have been hearing—including beignets and prizes for in-session and back-channel attendees—and learn how Liz and Tyler pick their session topics.
Up Next
#CampusSonarLive Week wraps up with Nicholas Love from NC State, Andrew Cassel live from Alaska, a handbook spotlight on identifying engagement opportunities, and (last, but not least) Ashley and Emily review the anatomy of a Social Listening Snapshot. See you tomorrow!
The post #CampusSonarLive Week Day 4 originally appeared on the Campus Sonar Brain Waves blog.