Our week of live fun wraps up today with Nicholas Love from NC State, Andrew Cassel from the University of Alaska in Fairbanks, a handbook spotlight on identifying engagement opportunities, and a review of the Social Listening Snapshot from Ashley and Emily.
Nick Love's Strategic and Innovative Social Listening Approach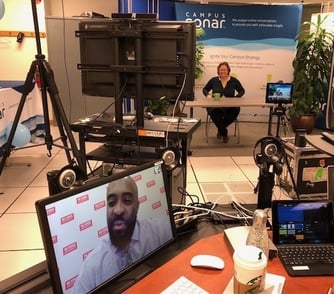 Social listening is key to driving your content strategy—that's what Nick Love has learned as the Director of NC State's Social Media Strategy Hub. He explains to Liz how developing a strategy hub has helped them become a center of social media excellence that's operated by like-minded specialists with deep vertical expertise. The specialists are charged with elevating awareness and engagement of the NC State brand through the lens of social media. Nick explains the hub in even more detail in his Brain Waves blog post.
Learn how Nick leverages social listening to create content that is relevant and resonates with your audience. Nick drops a new term on Liz (a gifographic), he and Liz share information about their SXSW EDU presentation, and Nick has a wild idea for an innovate way to shake up social listening in higher education. Catch Nick's video here!
Get Provocative with Andrew Cassel

Andrew Cassel loves to talk social media and believes that it can save the world. For him, it's encouraging to see how active young people are on social media. From a content perspective, social listening gives him an idea of what people are interested in and talking about, enabling him to determine what content "his people" want to see. Or is it his "audience" or "community"? #CampusSonarLive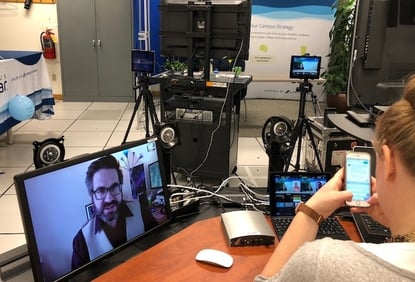 To create his content strategy, Andrew uses social listening to see how the community is connecting with each other and to see that he's not alone. He wants to see what students and faculty are sharing. He finds the content people are interested in and digs in to provide even more relevant content.

Provocative thought of the day—we're so data dependent that we forget to use our hearts.
Watch Andrew's video to hear Liz and Andrew debate the importance of data and heart in social listening.
I think hearts and data go together, @lizgross144 @andrewbcassel! #CampusSonarLive pic.twitter.com/iOqDcdPUEC

— Susie (@readsusieread) February 23, 2018
Handbook Spotlight: Identifying Engagement Opportunities
Liz's Friday Fireside Chat explores identifying engagement opportunities from The Higher Ed Social Listening Handbook. Good enrollment managers and alumni affairs teams never let any type of inquiry go untouched—but all of the inquiries don't in come through traditional methods. Social listening can help you make the best of every single engagement opportunity. The key to finding them is knowing how to look and what to do once you find something. How do you do that? Watch the video, then download the handbook.
The Anatomy of a Snapshot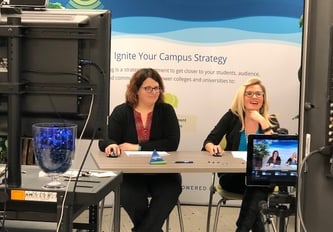 To close out the week, Ashley and Emily provide an Anatomy of the Social Listening Snapshot. The Snapshot analyzes the metrics to help you build strategy to provide a comprehensive overview of your institution's use of social listening. Campus Sonar offers two kinds of Snapshots—free and paid.
Learn more as Emily and Ashley provide a high-level overview and walk you through a sample Snapshot from UC Sunnydale.
Behind the Scenes at #CampusSonarLive
We had a great time producing #CampusSonarLive. We hope you were able to watch some of the videos and interact with us. If you missed any, find them on the blog. Now we're back to our real work instead of talking to our internet friends all day. It's been real!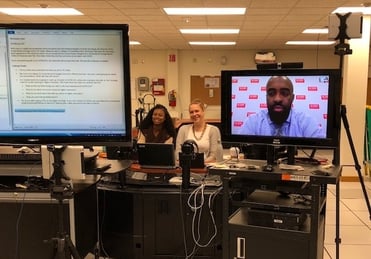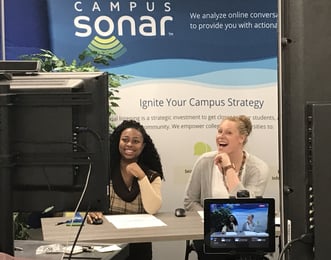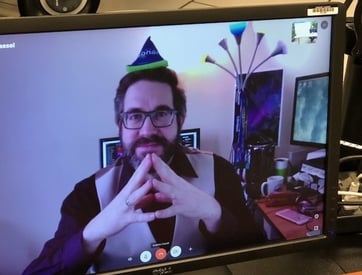 The post #CampusSonarLive Week Day 5 originally appeared on the Campus Sonar Brain Waves blog.