Live week continues with an audience research spotlight, learning about customer service in the library from Susie Kirk, and speaking with Ashley Rains about how Spring Hill College defined their true brand.
Handbook Spotlight: Audience Research and Conversation Analysis
Join Liz in a fireside chat as she discusses audience research and conversation analysis from The Higher Ed Social Listening Handbook.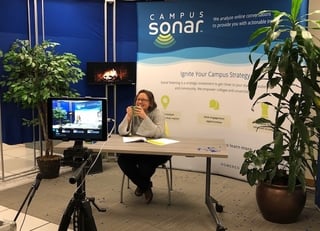 Review the difference between audience research and conversation analysis
Understand why these are exciting methods to apply to market research
Learn how you could do perform this analysis on your own, without expensive software
Review a case study explaining how these might apply on campus, particularly in the admissions office
Plus, learn the four reasons Liz is obsessed about using social listening as a research tool.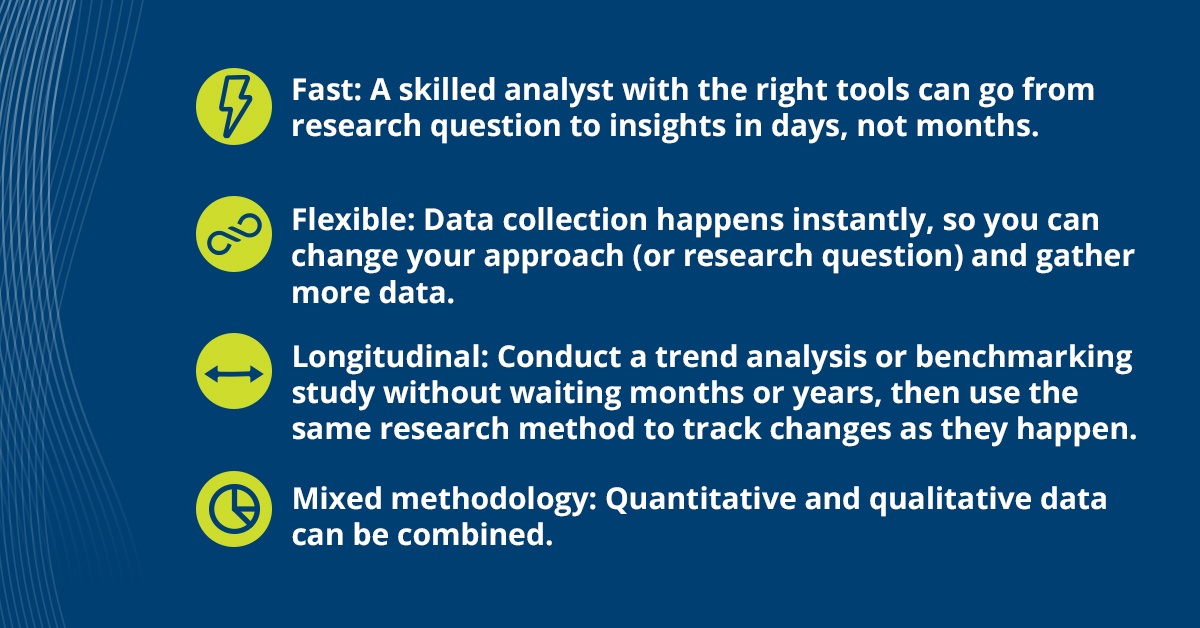 Want to learn more? Find out what questions you might be able to answer with this research method and learn Amber and Emily's analysis secrets that you can apply on your campus.
Watch Liz's video and download the handbook.
Social Listening as Customer Service
Susie Kirk is the librarian at Huie Library at Henderson State University (HSU) who has a passion for reading, customer service, and student success. As the library's listener-in-chief, she gets a massive endorphin boost whenever she knows she's helped someone. Susie had an epiphany when she realized she could use social media and the customer service aspect of her job to accomplish this.
Susie loves to promote the library through videos, cultivate one-on-one interactions with students, and find new and innovative ways to build a customer service program with zero budget. She provides more details about her social listening program in her Campus Sonar blog post.
Watch Susie's video to learn more about her, something she and Liz have in common—and why Liz has her feet on the desk.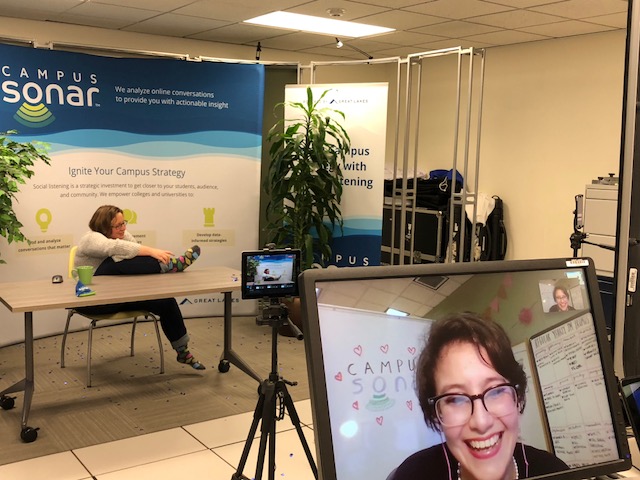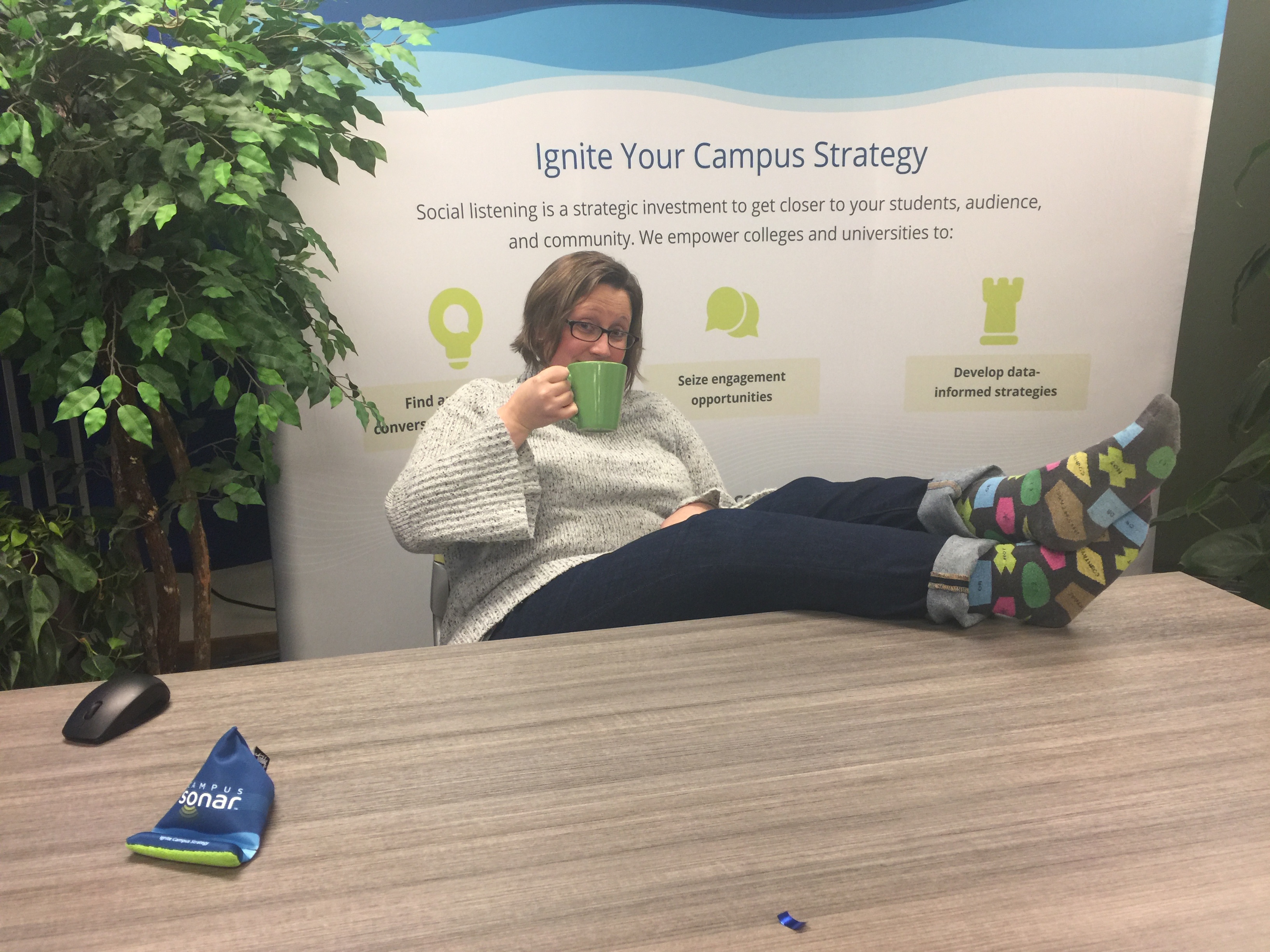 Ashley Rains Builds #SHCFamily
Campus Sonar and Spring Hill College (SHC) collaborated on an audience analysis that helped SHC refine their brand. The effort required Ashley to explain the terms to colleagues who have less familiarity in the digital space. Ashley used her experience as a public speaking teacher, explaining that audience analysis is similar to reading the room. Social listening is finding the conversation that's out there, regardless if the intention is for you to find it. It's organic conversation that's real and not sugar-coated—as they're knows to say in the south.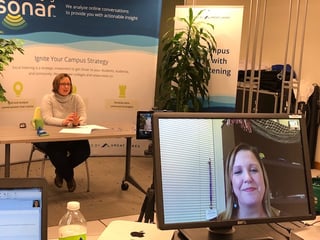 The results of Campus Sonar's research have been enlightening. SHC has learned how prospective and admitted students decide where to go and that the students want feedback. SHC wants to engage with them and they've been able to interact by monitoring the students' conversations.
Ashley says that they're always searching to find that brand, but if they don't really know what it is, they're just guessing. What they found with Campus Sonar is that the idea of "family" resonates significantly across the board from current students to alumni. The perspective that Campus Sonar gave them for their strategy was an "aha" moment.
Watch the video and download the handbook to read the SHC case study on audience analysis.
What's Next?
Catch us tomorrow as Campus Sonar travels to Beloit College, explains the importance of brand and reputation management, and mediates Liz and Tyler Thomas as they discuss social media in the community.
The post #CampusSonarLive Week Day 3 originally appeared on the Campus Sonar Brain Waves blog.