Welcome to Day 2! Today you'll meet Campus Sonar friend and partner Josie Ahlquist, listen in as strategist Ashley Tanner interviews analysts Emily and Amber, and learn more about crisis management.
Recipe for Success: Liz and Josie
Liz and Josie can chat it up anytime! Today's interview is their second in less than a week (Liz was last week's guest on Josie and the Podcast) and they still have plenty to talk about—why Josie doesn't play softball, getting into triathlons, where Josie grew up, and how she's like a unicorn. But they also chat about podcasting (Liz is a huge JATP fan) and Josie's higher education experience in the digital space.
Josie's goal for her podcast is to educate and empower her listeners. She gets the most satisfaction when she realizes her podcasts actual reach people and make an impact. She's improved her public speaking and interview skills, and learned that confidence and creativity go hand-in-hand. Her recipe for success is:
Confidence
Creativity
Honesty
Ability to make meaning
Josie and Liz also discuss the term "thought leader," and whether or not they should start their own podcast. Have any name ideas? Send them our way!
Watch Josie's video to learn more.
Meet Emily and Amber
Campus Sonar Strategist Ashley sprinkles some fairy dust on Amber and Emily—learning what brought them to Campus Sonar, what they like about their job and social listening, and what surprises them.
Watch the video to learn the answers to our Analyst Quiz, or check out @lizgross144 on #CampusSonarLive—she gives away some the answers!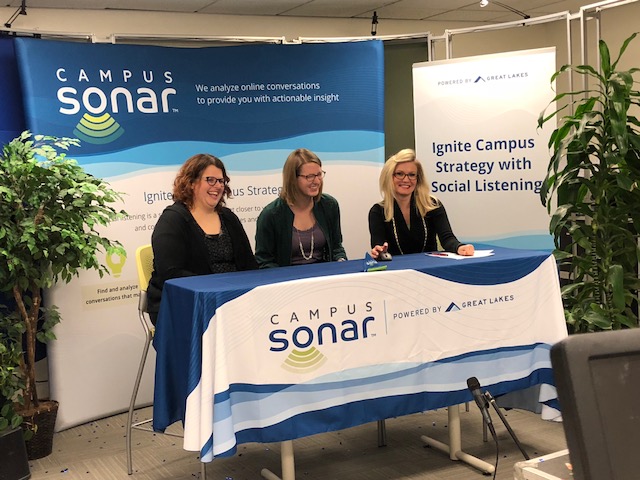 Analyst Quiz
What grade did Emily and Ashley attend together?
What country did Amber live in?
What country did Emily visit simply because of the Instagram photos?
What do Amber and Emily love about their job?
Amber and Emily believe social media builds ___________________.
Remember, Campus Sonar analysts are always listening!
Handbook Spotlight: Crisis Management
When we started talking about social listening in higher education, crisis was the only thing we talked about. It's now grown to encompass much more, but crisis management is still a major player in the social listening suite of strategic implications. The Higher Ed Social Listening Handbook walks you through using social listening in a crisis and how it can better inform your response.
Liz (and the handbook) cover:
Strategic questions that you should be able to answer about the crisis using social listening.
The six key crisis metrics that you want to use—and make sure your leaders understand so you're ready to take action when a crisis occurs.
The five key crisis questions you should be able to answer in a crisis.
Four steps to using social listening in a crisis.
Catch Liz's crisis management tips in today's video.
Stay tuned tomorrow for interviews with Susie Kirk, Ashley Rains, and more from The Higher Ed Social Listening Handbook on audience analysis.
The post #CampusSonarLive Week Day 2 originally appeared on the Campus Sonar Brain Waves blog.