In Part 1, Campus Sonar analyst Traci detailed the Social Listening Snapshot she prepared for a campus partner. But finding guest insights via Trip Advisor hotel reviews was just the first step. Our analysts provide a thorough review of your social listening data—you'll have the whole story so you can develop actionable insights that will impact your campus immediately. See what Traci discovered next.
Athletics Behind the Wheel
A few months ago, I was asked to deliver a Social Listening Snapshot to a client who wanted to understand the general conversation around the college and brand perception. The client shared their brand attributes of academics, location, athletics, liberal arts, ethnic heritage, and religious affiliation.
With my destination known and my route mapped out, I wrote my search query to capture general conversations about the college. My query found approximately 27,000 online mentions of the college, confirming that their mention volume was similar to other private institutions of comparable size. This was a familiar route for an analyst but just around the bend there's a blind spot for most clients.
Volume
Investigating the total mention volume during the snapshot period by month, I identified seasonal lulls similar to other institutions with the lowest volumes in December and June/July. A spike in conversation volume occurred in October and November, a common time to see spikes due to homecoming events. But the November spike was caused by a nationally covered news story about a football player and more than usual athletics coverage. The event was a top trending news story with headlines amplifying the individual as a "football player."

Top Five Most Active Individuals on Twitter
Also during the snapshot period, I found online mentions from more than 1,700 unique authors−which was on par with other private institutions of similar size. The top five people tweeting about the college were athletic department employees, with the exception of a proud father of a current student athlete. It's common for athletics-affiliated authors to dominate the conversation in an institution of this size, but it often surprises our clients.
| | | | |
| --- | --- | --- | --- |
| Rank | Description | Matching Tweets | Following |
| 1 | Current Assistant Athletics Director for Communications, Previous Director of Sports Information and Head Baseball Coach/Sports Information Director. Alum Class of '88. Retweets college athletics-related content. | 230 | 371 |
| 2 | Proud "Baseball Dad" of current student athlete. Retweets college athletics-related content. | 210 | 138 |
| 3 | Current Head Baseball Coach. Tweets about college athletics. | 160 | 4,038 |
| 4 | Current Associate Head Women's Soccer Coach. Retweets college soccer-related content. | 150 | 286 |
| 5 | Current Athletic Director. Tweets about college athletics. | 150 | 222 |
Brand Perception & Athletics
Based on this analysis, only one brand attribute drove their brand perception−athletics. It's common for athletics to dominate the conversation, but the fact that five other brand attributes were muted stopped me in my tracks.
To quantify just how much of the conversation related to athletics, I segmented the athletics-owned accounts and sports terms related to the college athletics teams. Athletics conversations represented 70 percent of the whole conversation.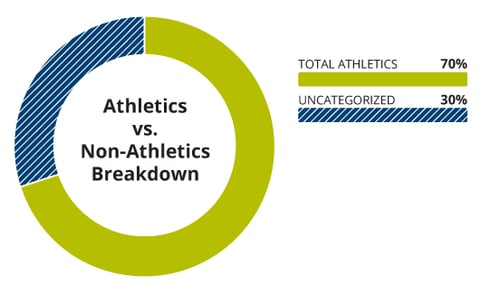 But it wasn't just fans who drove the conversation. Owned athletics accounts talked about athletics almost as much as the population at-large. In fact, as she looked at the client's owned conversation, our strategist noticed that there were twice as many posts about athletics as there were about anything else, and these posts were more likely to be retweeted than other campus content. The campus community clearly supports athletics, but are the campus accounts doing enough to highlight the campus's other brand attributes?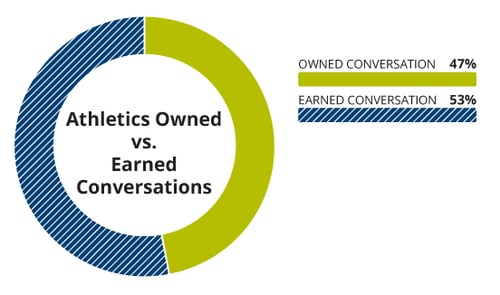 To understand the athletics conversation even more, I created categories for each sport held at the college. This allowed the client to hone in on the most popular sports within the conversation.

I started this journey to meet the client's need to understand the general conversation around the college and brand perception. My findings determined athletics steered the conversation.
Strategic Insight
This Social Listening Snapshot presented an interesting dilemma for the client. If athletics is the brand attribute they want to amplify, they have an opportunity to harness employee and parent engagement to better promote their athletics brand. The Athletics Director may be very interested in this analysis! However, if the college wants to focus more on location, liberal arts, ethnic heritage, or religious affiliation, there is a lot more work to be done.
A partnership with this campus would start to segment the entire conversation by brand attributes, and understand what (if anything) is already being said. We can learn from small pockets of engaging conversation, and provide recommendations for enhanced marketing and communications strategies. As the campus implements the strategies, we can monitor the conversation in real time to see if the expected changes (i.e., increased conversation about additional brand attributes) occur.
On the Road Again
The next stop on our road trip is targeted marketing. Watch for Part 3 of A Traveler's Guide to Social Listening Analysis on the Brain Waves blog. In the meantime, don't forget to read Part 1 and learn more about the Social Listening Snapshot. Time to Hit the Open Road!
Don't want to miss a single post from Campus Sonar? Subscribe to our monthly Brain Waves newsletter to get the latest and greatest about social listening in higher education delivered right to your inbox.
The post A Traveler's Guide to Social Listening Analysis: Behind the Wheel originally appeared on the Campus Sonar Brain Waves blog.